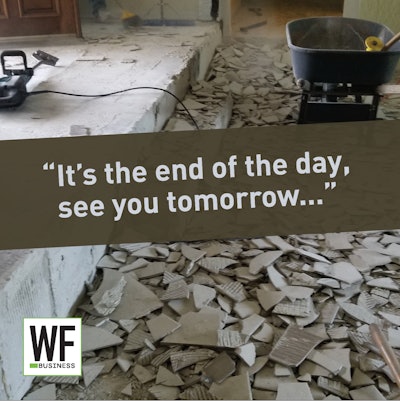 I remember working in Brentwood, Calif., back in the mid '90s, in a wonderful home on the side of a hill. Brentwood is an exclusive community near Los Angeles, and this home was memorable because it had an "inclinator" just like the then-recently constructed Luxor Hotel in Vegas. The home had no driveway—we had to ride the inclinator to knock on the front door. At street level there was an intercom button that allowed the homeowner to allow or dis-allow visitors the treat of knocking on the door.
I was to perform a simple refinish on a dining room and hall, and the customer chose Medium Brown stain. She was petite and wore her white hair up in a stylish arrangement that signaled to me her high station in life. She was a widow, and her husband had been a heart surgeon who worked at Cedars-Sinai Medical Center nearby.
At this point you are probably wondering how I remembered so much about this client after nearly 30 years, but allow me to explain.
For those who do not know me, I try to act professionally while working in a client's home … but this client yelled at me, right in the dining room, accusing me of "not treating her home properly." I felt wounded! To tell you the truth, I cannot recall exactly what was the offense I committed (perhaps I struck it from my mind in a subconscious defensive move on my part), but for the experience cast an indelible mark in my memory. Maybe I left the door open or tread with solid steps instead of a gentle gait. It had to be something of that sort considering her high station and the opulent status of her home. I must've had a deer-in-the-headlights look of shock when she made her accusation, but I recall apologizing and immediately modifying my behavior from that moment forward.
Fear not, the job ended well and she gave me a tip of which the largesse I have never encountered since: four—count them FOUR—cases of wine her husband had specially vinted (by contract) but had never had the chance to taste. Each bottle even had his flipping name on the label, complete with his title as surgeon. Perhaps she was cleaning out old memories, or maybe it was because she didn't like his taste in wine, but I like to think it was some type of reward for the work I performed, or maybe for being so reactive to her feelings and concerns.
Let's speed this up a few months later—keep in mind I was still new to my contracting career. I was working on an install, sand and finish for a contractor named Ted, owner of Ted Putnam Construction. Ted dominated a unique niche in my area of being a high-end contractor serving distinguished homeowners. As I was leaving for the day, I said, "See you tomorrow," and walked out the door. Quickly Ted shouted to me as I was halfway to the curb: "Where do you think you are going?" I said I was going home, and he replied, "I don't think so! Come back here and clean up your work area and roll up your tools. What do you think we have going on here?! The family is still living in the home, and you don't leave my jobs like that—EVER."
I felt humiliated to be caught like that. I thought it was okay because, being new, I had seen how other contractors left their jobs, and I wanted to be like everyone else so I wouldn't stand out. I honestly thought that was the way it was done. My work area had pieces of flooring by the miter saw, and the saw was still plugged in, to boot. There were nails strewn about, and the air compressor cycled on as I started to straighten up. I had flooring stacked against the wall, and my miscellaneous hand tools were where I last used them.
Two things to note before I go on any further:
Some clients demand a higher level of basic service than others.

Some contractors likewise demand a higher level of basic service from their subs.
The missing ingredient both times were common courtesy, and a heightened sense of awareness, safety, and consideration of other people. Looking back, my perception of a "higher level" is really just basic, foundational concepts for all clients—simple stuff to learn as we grow.
I was a real rough piece of work, but I never forgot the lady in Brentwood or the contractor named Ted. They both were instrumental in raising my professionalism to a level I simply did not have the consciousness to perceive when I was new. I had to go through what I went through to internalize the lesson—I could not have been taught this lesson by mere words.
Fast forward again to an installation I was performing directly for a local college professor. Another company was replacing the tile in her kitchen with a newer, more stylish look, and after the first day of tile demolition, they went home. I was still working and noticed the kitchen looked like someone threw a hand grenade inside the kitchen door and let it shut before it went off. The homeowner was distraught at the condition of her kitchen and asked me my opinion about this. I reflected to myself about the lady in Brentwood and the contractor named Ted, and I must've said something like, "Wow," and left it at that. She straight away called the tile contractor's office and, for her trouble, was mocked and rebuked by the owner. Slamming the phone down, she said the owner told her she "does not know how construction works," and she was not to bring this kind of complaint to him again!
Wow … just wow. There were chunks of ceramic flooring tile in the burners of her gas stove, sharp shards of tile strewn all over the floor, and abrasive soot on her countertops. I stepped up and cleaned her kitchen properly that day before I went home. I cleaned the stove, wiped the countertops and broomed off the broken tile into the corner of the dinette so she could still access the refrigerator, stove and sink after I left.
She was an elegant woman, of refined stature and a brilliant scholar. I did not get a tip or extra money for cleaning up, but that's not why I helped her. It was just the right thing to do—regardless of who did what.
And so it goes as we progress through our contracting careers, we all have similar things in common. For one, we work inside and not outside. For our trouble, we also do not have to work outside in the hot sun, or cold winter digging ditches, installing high tension electrical wires, or making concrete forms for sidewalks, etc. We got the better part of contracting, but we also work inside another person's home. Even us being there is a violation of the client's privacy and peace.
As time and years elapsed, I discovered more fundamental lessons to learn, some of which are not easy to chat about. For these tiny bits, I feel it's necessary to present the ideas to the editor first so that my story won't veer off into the weeds and get lost. Which means: Stay tuned for Part 2!
See all of Angelo DeSanto's popular blog posts and magazine articles here.