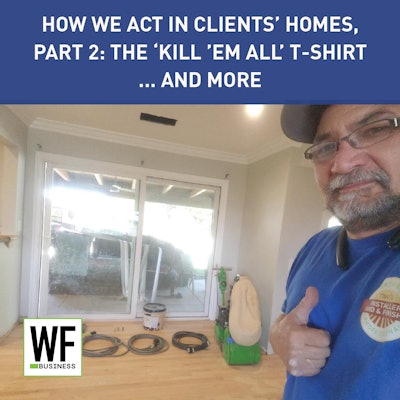 Wow, Part 1 of this post got noticed by other magazines, and I've been messaged by other contractors offering their own stories (you can leave yours in the comments on this post). This topic struck a chord, so let's keep it going.
Alright then, here we go. I've responded to estimate requests that seemed normal, but once on site, the underlying reasons for why I was called became glaringly apparent. These were "finish the ongoing project" requests—a big difference. I questioned one client about why they fired their contractor and found out the crew was the problem, not the client. The work was not suspect, but their overall conduct, presentation and demeanor were. One of the crew wore a T-shirt that said "Kill 'Em All, Let God Sort Them Out" and took frequent smoke breaks instead of actually working. The contractor also had promised a start time in the morning, but the crews never arrived on time. On other days, they only worked a portion of the day and then left. Also, their choice of music was overly loud and annoying.
In short, the contractor that was asked to leave and lost out merely because they treated the customer's home as their home instead of the customer's home. They fell short of respecting their fiduciary obligation to the contract and their customer.
That contractor lost out on making a profit and so much more—like integrity.
My last customer of 2022 was open to offering their experience about their large remodel, of which their flooring was the last part. I explained that I was gathering data for a future blog and asked how the remodeling experience affected them.

Here are the high points:
They liked contractors who answered the phone or returned messages promptly.

They disliked contractors leaving messes behind, and they mentioned I cleaned up in a satisfactory manner (if you read

Part 1

, you know this was owed to being yelled at early in my career, so I learned the hard way).

Loud music was not tolerable.

Even though their contractor had multiple jobs going at once, they explained this early in the contract, and "On" days and "Off" days did not develop into a huge issue. It was a minor aggravation they forgave because the quality of the work was satisfactory. The singular most important detail was their word. If the contractor's word was defective, their whole character came into question. Apparently our word matters—a lot. If we make even a subtle promise, we have to make sure won't break it. If we aren't sure, don't utter it to begin with.
One side note: I've been using the term "client," "homeowner," and "customer" interchangeably so far, but I have decided to use the term "client" from now on. It seems to denote a respect from the very beginning—it reminds me of the action of smiling when you answer the phone (try it, it works). Somehow that small, tiny gesture changes your tone to the caller when you say "Hello." Being that the "client" is going to give me money so I can pay bills and live another day, it seems a small burden to bear and a fantastic tool to add to my skill set.
Constantly re-evaluating my own performance led me to ask other contractors about this topic, and my efforts was rewarded with some wisdom from longtime pro James Toal. At Surfaces this year, I asked his opinion on this topic and cited a few things that are tiny but possibly huge to a client. For example: using the restroom in the client's home. I mentioned the habit of wiping the rim of the toilet and cleaning the sink after each use. James agreed how important that was with his own example: He said he even went further by offering his own signature "technique." Armed with rubber gloves and cleaning supplies, James would clean the inside and outside of the toilet used by his crew. He did this on every job. My reaction was that the clients just had to think to themselves: If something like that was performed with such attention, then the flooring work must also be performed with the same attention and perfection.
---
RELATED: How I Protect the Customer's Home on Every Job
---
James encouraged me to write about how our ability to perform our trade is linked to our ability to be professional—not only in our trade but as people of integrity. The way we drive our work trucks around town, the way we handle ourselves when we pick up material at the distributors, the way we answer the phone, the way we conduct ourselves in the client's home—all of it matters. If we receive a 5-star review or we get called to do additional work, we need to look back on that job and learn from it. Something was done properly, and we need to perfect our trade from the good lessons as well as the bad ones.
Here are a few crazy ways I've seen other contractors behave on a job site:
Jumped in a client's pool on a hot day: Funny but not funny.

Not ask permission to use the restroom: This is important.

Use a tree in the backyard for a restroom: Ugh!

Sneak snacks from their pantry without asking, or use their pots, pans and utensils to warm your lunch: Wow, never do this.

Steal from a client: Yep, I've got stories.

Smoke in a client's home: Remember

my post about Willard

, who let himself into the customers' home before dawn and kicked them out before smoking cigars in their house?!

Bait and switch product ordered with a cheaper knock-off: I've seen carpet stores do this.

Overtalk a client: Sadly, happens all the time.

Yell at a client: Yep, it's hard to believe.

Belittle a client: Manipulation is ugly.

Show too much interest in the material possessions of the client (e.g. gun collections, etc.): Don't do this.
Everything mentioned so far is basic. Success is not an accident, it is a hard-won set of ups and downs, of glowing reviews and agonizing defeats. But one thing is clear: It is a wonderful path to stay on IF we make it a personal issue to learn and stay in the career, always devoted to being better with each job completed.