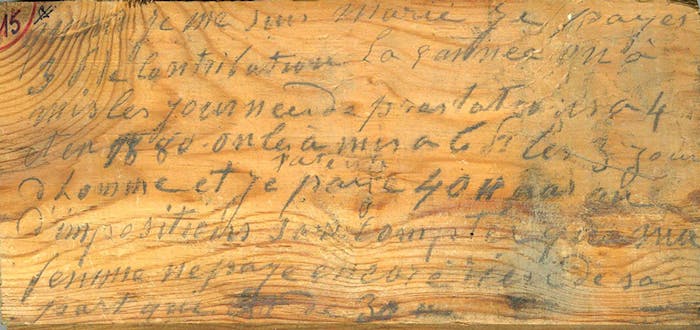 Joachim Martin left 72 diary entries under the floors he installed between 1880-1881.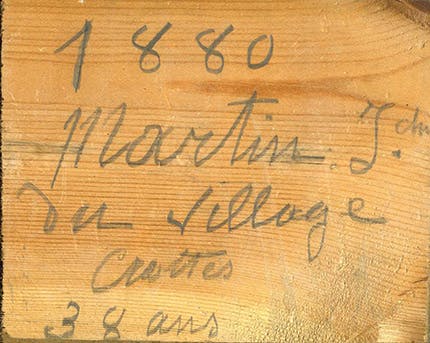 A photo of his signature.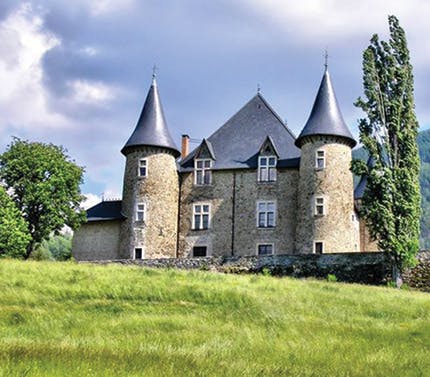 Castle photo courtesy of tripSuggest
It's often said that old wood floors have a story to tell, but in Picomtal Castle in Southeast France, the floors do tell a story—literally. It was on the bottom of the Medieval castle's larch wood floorboards that Joachim Martin, the village wood floor pro, scrawled 72 revealing diary entries as he installed the floors between 1880–1881. Using his carpenter's pencil, Martin details no less than sex, politics, religion and murder in his small community of Crots, France. The writings, discovered in 2000 during a renovation, have become the subject of a book by French historian Jacques-Olivier Boudon, who notes that Martin's diary was likely intended for the next wood floor installer. While some of it is shocking (Martin reveals that his friend's illegitimate children are being murdered by their father), a good deal of Martin's writing focuses on the daily life of a 19th century wood floor pro. For instance, Martin, 38, complains about not being paid enough for the castle job, bemoaning the fact that he settled for just 0.60 francs per square meter. "I leave you this day, Sept. 3, 1881, and wish you to earn more than me at this castle," he says. "Twenty-two years of work and not a penny in the pocket." But it's not all kvetching; feeling reflective, Martin also gives advice to his future audience: "Be wiser than I was from the ages of 15 to 25, when I lived for nothing but love and liquor, doing little and spending much," he writes. And when he's not recounting murder or doling out advice, Martin's describing lunch. "5 o'clock," he writes. "I just ate a piece of pork … and a glass of sweet water. That's my existence, always alone in the castle. I'm bored." Another entry states: "Friend, I have just dined (God, what a dinner). 2 bowls of soup." In still another entry, after a night of drinking, Martin has an upset stomach and has to settle for sugar water. "I whistle and am gay and yet I made the floor without a drop of wine," he says. "Reduced to drinking sweet water and some chocolate stick by my unordered behavior." Boudon notes that Martin provides a unique, unfiltered insight into the life of ordinary working folks of the time. While drinking on the job is less kosher today, it seems some other things haven't entirely changed.