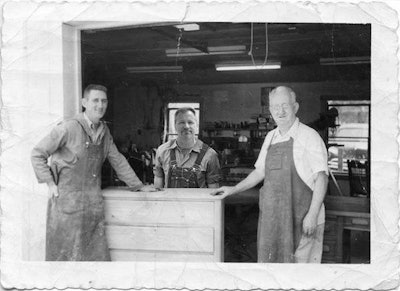 Throughout New England, in the 1930's and up until the late 50's there was a highly reputable wood craftsman out of Nashua, New Hampshire, named Joseph Alphonse Raymond. He not only crafted instruments as a luthier and created fine antique reproductions, he was a consultant to many of the prominent luxury furniture suppliers from southern New Hampshire to Boston. Joe Raymond was my grandfather.
My mother once told me that limousines would pull up to their simple city home on Crown Hill, in the French-Canadian side of town, and the furniture buyers would take my grandfather "shopping" for inventory. With nine children peering out the windows at 6 Copp Street, which had only eight or nine houses, you would think my grandfather was a Hollywood star. To my family, he was. If a wealthy buyer couldn't find just the right piece, Alphonse, as my grandmother called him, would reproduce one. He once crafted a Queen Anne's sofa out of cherry, took the frame out behind his production shop, loaded a shotgun with birdshot and peppered the thing. Then he carefully sanded and finished the piece. They said it looked like 100-year-old worm holes. He was just that good.
In an odd and super roundabout way, my grandfather's passion for all things wood shot once again through my veins recently when I exchanged phone pleasantries with Tim Bird of Wood Floors by Tim Bird in Vermont. His wife had sent in an application to set up an account in New York, and it wound up in New Hampshire! Wood floor kismet, surprise, surprise, we started talking hardwood flooring when he returned my call.
We began to exchange floor stories, as I had taken the opportunity to check out his Facebook page and look over the projects he had posted. This is where it all comes together, for yet another little hardwood flooring mystery.
As we rapped flooring for a bit, Tim told me he had a photo of a floor he had refinished in an old general store in his home of Benson, Vermont. WFB posted the photos on Facebook, and people took a shot at guessing what was going on with the flooring in the photos. WFB Facebook post-er Sean Papierowicz of Millwood, NY pretty much nailed it, so check out his comment! There's your first clue to this introductory puzzle.
Time for our blog readers to get a shot at this:
To get warmed up … what are these photos of?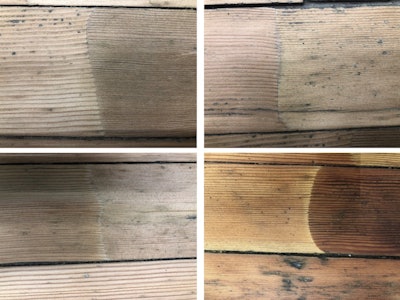 And I have a question as you look over the above woodworkers puzzle: What's a "Dutchman"? I spoke about it on my WFB All Things Wood Floor podcast with restoration expert Michael Purser. It's how I got involved with Part 2 of this lil' mystery when we had a huge mess with delamination of 5-inch white oak engineered plank just outside of Boston. The veneers were splitting, checking, lifting. I called my woodcrafter/floor pro buddy Chris Murphy and said, "I need a Dutchman. I'm guessing you know what I'm talking about and if I'm right, you're my guy," he said, "I'm in!" And what is a Dutchman? Hint: What's in those photos isn't one. What would a Dutchman have to do with our engineered "hardwood floor in distress?" (Typical of me, what the heck does any of this have to do with anything?! We're gonna find out.)
Get on the Google machine. Go back to my podcast with Michael Purser. Fire up the Batmobile and let's open some of these wood floor/woodworker puzzles and see where it takes us! Let's get to it, floor pros!
[See Part 2 with the answer to this post here.]