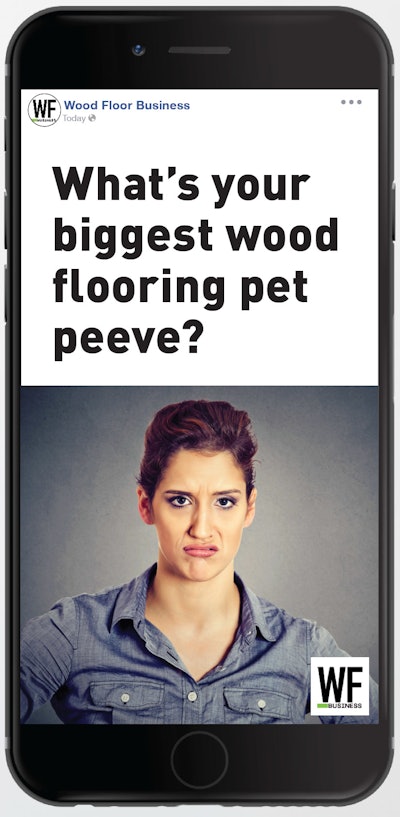 ---
Randy Allen
Seeing blue painter's tape taped to my finished floor after telling them, "Don't put tape on the floor."
---
paradigm_wood_floors
When people say, "It's like a big puzzle."
---
Nash Maxwell
When the homeowner is on hands and knees looking at floor.
---
Frank Barnes
Not moving the furniture.
---
Mikie White
Stairstep patterns from hack installers.
---
Jason Wirsing
Working for engineers.
---
Chris Lynch
When the owner wants to choose where each individual board goes. Lay it yourself then!
---
Emery Landry
Homeowners asking for quotes just so they can get insurance money.
---
RELATED: What's the Klutziest Thing You've Ever Done on a Job?
---
---
Tchardwood Floors
Placing joints in doorway planks.
---
Lou Buono Jr.
Being asked to pick up and deliver flooring they bought elsewhere.
---
Steven Triplett Jr.
Bundles full of shorts. It drives me crazy. They fall apart as you bring them in. Has me missing the days before nested bundles!
---
Michael Schuetz
People thinking it costs a fraction of what it really costs, especially when it comes to stairs.
---
Nicholas C Maxson
"You don't have to do the whole deal, it just needs a light sanding."
---
Tanner Mitchell
Hitting shake when buffing before final coat.
---
518floorcare
"I want the hardest finish possible, even if it is illegal."
---
Jeffrey Odachowski
Every other contractor.
---
tonydimiliaflooring
"Make sure there 3 thick coats."
---
valuefloors21
"I'm surprised you're still here."
---
Andy Anderson
Calling all finish "shellac." I have to bite my tongue every time. "When are you going to put the shellac on?"
---
Derek Swegle
When a homeowner controls the thermostat remotely.