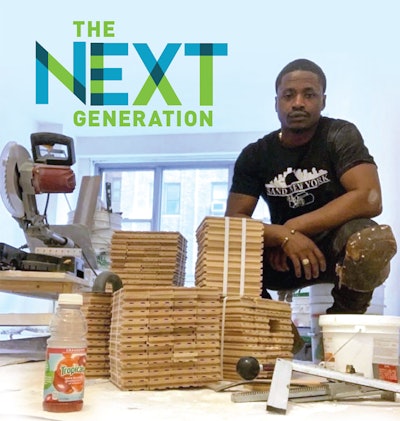 Izaiah Barrow remembers being a kid and in awe of his uncle and granduncle. He marveled that the two hardwood flooring craftsmen based in Westchester, N.Y., got to travel and meet interesting people every day for a living. When they took the 11-year-old Barrow under their wing, his first job was at 66 Leonard Street—a multi-million-dollar apartment building. From there, the young Barrow worked on flooring jobs around the city for high-profile clients such as Alicia Keys, Tommy Hilfiger and more. The trade was by no means easy, but working with his granduncle and uncle—Will Bradley of Bradley Flooring and Kyle Kirkland of Kirkland Flooring, respectively—it was always educational. "I started out with a silver spoon in wood flooring," Barrow says.
Barrow continued working with his uncles throughout high school, and in his senior year decided to pursue the trade as his career.
Now 30 and an experienced pro in his own right, Barrow owns and operates iSandNewYork. He's emulating the long, successful careers of his uncles, whom he continues to work with and learn from. He's putting his own personal touch on the craft, but some things are still the same.
"I do have my own business, but when it comes to my Uncle Kyle and my Granduncle Willy, I'm basically at the bottom of the totem pole," he laughs. "I still have to go get the sandpaper and load up the van."
A workforce that's aging
Barrow's experience is similar to other young hardwood flooring professionals who grew up knowing someone in the trade: He saw a path toward a stable, lucrative (if challenging) career —and he took it. For many young pros, seeing a future and a career in the trade has made all the difference.
But as the hardwood flooring industry continues to age, it seems fewer young people are viewing it as a viable career path. The 2020 WFB Wood Floor Contractor Survey found the average age of the hardwood floor professional was 53 (up from 52.5 in 2018), and a 2019 U.S. Bureau of Labor Statistics report found the median age for carpet, floor and tile installers and finishers was 40.3 (up from 37.0 in 2011).
It isn't just the flooring trade that is experiencing installer shortages and an aging workforce; the entire construction industry has a labor problem. In a survey conducted by the National Association of Home Builders in early 2020, three out of four—or 85%—of builders listed the cost and availability of labor as a top concern (in that same survey in 2011, a mere 13% of builders viewed labor as a concern). As the concern has escalated, so has the median age of construction laborers. In 2011, the median age of construction laborers was 36.9, according to the U.S. Bureau of Labor Statistics. In 2019, the median age was 39.5.
The population of flooring contractors has strengthened since cratering at 54,500 in October 2011, however. As of October 2020, the population was 81,800 (jumping back relatively quickly from a pandemic-induced plummet to 69,600 in April 2020), according to the U.S. Department of Labor. But the population still has not reached its May 2007 peak of 88,000. And as the median age ticks upward, concerns about replacing a retiring labor force continue to grow. A 2018 labor crisis study by the Chicago-based Blackstone Group was commissioned by the Floor Covering Leadership Council, which disbanded in 2020 and entrusted the research to the World Floor Covering Association. The study estimated that the flooring industry as a whole will need to recruit approximately 6,000 new installers every year for the next decade if it wants to replace those moving out of the workforce. To accomplish such a feat, many in the industry say a drastic overhaul of the perception of the flooring trade is needed.

An image in need of refinishing
"We as an industry have done a horrible job of telling the story of why this trade is a viable option," WFCA CEO Scott Humphrey said in a recent webinar about the labor shortage. "We push people toward a four-year degree, and oftentimes what they get from that is student debt."
Paul Pleshek, executive director of the recently formed National Association of Floor Covering Technicians (NAFCT), a non-profit trade organization, agrees.
"In order to draw people into the industry we have to improve the image of the industry," he says.
Young wood flooring contractors have seen the problem, as well. Ben Priggen of Windham, Vt.-based Powerglide Floor Sanding and Refinishing LLC says a societal change needs to take place when it comes to promoting the trade.
"I think there's a big preconceived notion that college is the only path," the 33-year-old pro says. "The guy who went to the trade school is still looked down upon."
Gunnar Wolfe, 24, of Wolfe's Hardwood Restoration in Otisco, Ind., says that even among the trades, flooring has a bad perception.
"You never hear about installers being considered a trade," Wolfe says. "Flooring installers, they're usually last in on a project, last out. It's not glorified. But it's not a forgotten talent and it's not a forgotten art."
A renewed push for training and certification
When it comes to other construction trades, some have an advantage over flooring, notes Pleshek: standardized certifications. "In some construction trades, especially plumbing and electrical, there is a minimum expectation of qualifications and training," Pleshek says. "And that's something we don't see in the flooring industry. If we want flooring to look like a skilled trade, then we have to make it so you have a certain level of skill required to go out and do it."
Although some other construction trades may require more certifications, the U.S. Bureau of Labor Statistics found it is not the norm for many. As of 2019, 82.1% of those employed in construction and extraction occupations, which includes wood flooring, do not have a license or a certification. That number has grown from 79.6% in 2015.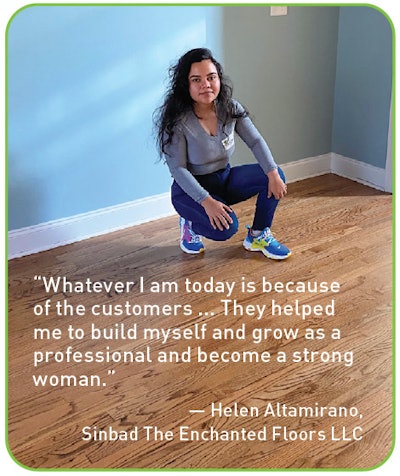 The declining number of certifications could be impacting installers financially, as well. In 2019, those working full-time with salary in construction and extraction occupations who had a certification but no license made a weekly median income of $1,138, according to the U.S. Bureau of Labor Statistics. Comparatively, those without a license or certification in the same occupation made a weekly median of $814—nearly 30% less.
It's not as though there isn't training and certification available within the flooring industry, of course—numerous manufacturers and industry groups offer classes and training. Many in the industry have also come together in recent years to bolster the availability and affordability of training. The WFCA made a splash at the end of 2019 with the formation of the Floor Covering Education Foundation and a pledge of $1 million toward scholarships for training opportunities across the industry, with a goal of raising $10 million and awarding 5,500 scholarships in the next three years.
In a recent webinar about the labor shortage, Robert Varden, vice president of WFCA's International Certified Flooring Installers division, noted a lack of certification and training can lead to unqualified installers and damage the image of the industry.
The NAFCT set out to work with manufacturers to standardize training, offer certifications and make both more easily accessible. The non-profit, co-founded with longtime wood floor pro Sonny Callaham, plans to host online courses held in tandem with in-person training that covers products across all manufacturers in a particular product category, such as subflooring. The organization set an ambitious goal for 2021: 10,000 certifications.
"That's a ridiculous number and we think it's attainable," Pleshek says. "And that's because these companies offering training are already churning through thousands of people per company."
More training and certification in the industry is something Helen Altamirano, the 32-year-old owner of Marietta, Ga.-based Sinbad The Enchanted Floors LLC, would quickly endorse.
"They should create a university for two years or something like that for flooring," she says. "It would be great, and we would feel more rewarded, and people would recognize us as another career like the other major trades in the country and other universities."
My wood flooring story
Jeremy Johnson
My grandfather on my mother's side owned a company that built bowling alleys, lanes and did refinishing. My dad worked for him, and I did, as well, in high school. The business was called Score King and listed in the yellow pages under refinishing. People would often call the office asking for floor work, and one day my uncle handed my dad the phone and said, "I don't want to fool with this give it a try." Five years later after the bowling business imploded, my dad had 12 employees. I wanted to be a teacher like my mom, but I needed to work, and 30 years later I'm still in it. Just like a lot of you, I wish I'd have done something else but can't picture myself doing anything else.
A challenge young pros face: recognition
Altamirano founded her company in 2017. She was born in Nicaragua, where she graduated with a degree in engineering before coming to the U.S. in 2010. She worked in customer service for a few years before joining a hardwood flooring company and, four years later, hiring a crew to go out on her own. It was her first experience as a business owner.
"One of the challenges was that people thought the owner would be a man, not a female," she says. "They were fine with me setting the appointments and everything as a secretary. Then when I showed up to their houses, they were surprised. "And I'm not tall," Altamirano adds. "The customers were just like, 'You look like a child. Are you the one doing this?'"
Being younger in the industry often poses challenges. Austin MacDonough, 22, who operates MacDonough Woodworks in Lapeer, Mich., has worked on custom projects across the country, but growing his own clientele was difficult at first. "There's a lot of people who look at me like I'm a young, dumb kid," he says.
Jake Schlichte, 29, of Auburn, N.H.-based North Country Hardwoods started his business when he was 23 and faced similar challenges.
"I am young, but I look younger than I am," he says. "So it was a hard sell for a while. But I got a sense of confidence after a couple years. I really believed in what I was selling, and it was conveyed through our meetings with clients. They had a sense of confidence in me and it just kind of went from there."
It was a battle Altamirano also had to overcome with persistence.
"In the beginning, I decided to pick one of my guys to take with me on the estimates so the customers accepted me," she says. "Right now, we've been running for over three years. We have a lot of pictures on social media and I've taken Bona training classes, so people can feel more confident with me. And I have referrals, so they are more friendly and accept me more."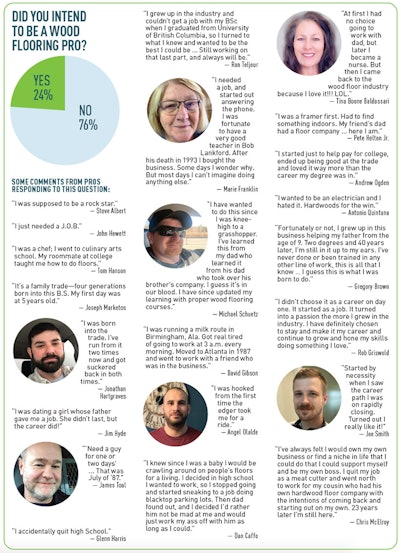 Wanted: less yelling, better management
Many pros note that better management could go a long way toward encouraging young people in the industry.
Schlichte is a second-generation pro, and while he's turned his experience into a successful hardwood flooring career, he says some of the older management could do better at adapting to the times.
"Growing up in this trade, back then it was a lot of yelling," he says. "You'd get screamed at. Older generation guys would say, 'That's the way you learn!' And it's not necessarily the same anymore. I think when I first started out, I was also like that because that's all I knew. But you kind of just have to step back and ask yourself, 'Is this the way I learn best? When I learned this trade, did I enjoy getting screamed at when I did something wrong?'
"I see a lot of guys talking about paying your dues, and I get that. But don't make it so difficult for an employee coming in that they don't want to pay those dues," Schlichte says.
Patrick Fern, 29, who went out on his own with East Hartford, Conn.-based Fern Wood Flooring last year, advocates showing appreciation to one's flooring crew, quoting his version of the Golden Rule: "If you take care of your guys, they're going to take care of you."
"I've seen it both ways," Fern says. "A guy who's not making enough or a guy that's not feeling appreciated, he's going to cut corners, sometimes literally. And he's just going to say, 'Screw that guy, I'm not making money, whatever.'"
Fern says honesty and patience play a key part in retaining talent.
"It goes a long way to have simple reminders to keep up the good work," he says. "Positive reinforcement is key. This is a generation where you need to be a little softer. You've still got to be tough with guys, but it goes a long way to show your appreciation as opposed to just yelling at them all the time."
My wood flooring story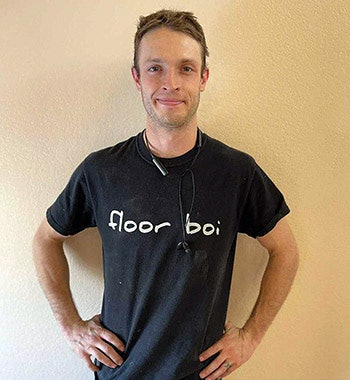 Luke Wolff
I'm 27. I started when I was 22. I had no trade experience, and had practically never run a power tool. But I started because my brother-in-law offered to train me. Day 1, he made a beautiful little floor right in front of me: He installed 100 feet of red oak in a kitchen, sanded it, and coated it, all in a day. We left at 4 p.m. I remember thinking, "He made that look so easy! And it is so shiny! I want to make money creating beautiful, functional, hardwood floors. (And get paid $$$ to do it.)"
A path to a stable career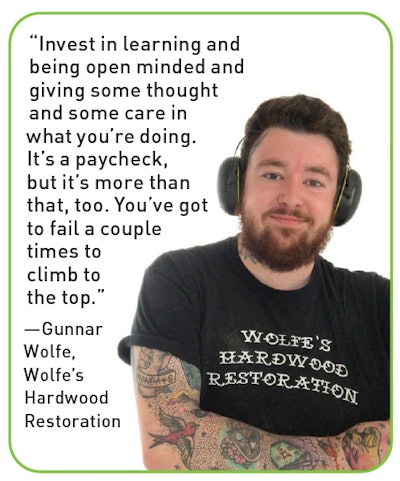 MacDonough started out with a front-seat view of the almost limitless potential of the wood flooring craft. When he was 19 he began working for wood flooring master John Yarema of Yarema Inc., known for his intricate and out-of-the-box hardwood flooring projects in high-end sites around the world.
"My first day working for John, I had to cut 5,000 pieces of 1-by-3-inch and 4-inch pieces of flooring for a job that looked like a basketweave in Detroit," recalls the young pro, who's also quick to note that he bombed his high school woodshop class. "It was a crazy first day."
The subsequent years of traveling across the country and working on high-end wood floors reinforced his goals for the side business he began in 2018: "I would like to keep getting bigger to do more cool and exotic floors," he says. "I want to be different … I want to do stuff that makes people amazed at what we do."
Seeing that path for career growth—as well as a sense of stability—is something the International Standards and Training Alliance (INSTALL) has been working to inspire in pros and students for decades.
"To have someone enter into the trade is one thing," says John McGrath, executive director of INSTALL, which is part of the United Brotherhood of Carpenters and Joiners of America union. "To keep them in the trade for a career is really the most important thing."
INSTALL has numerous programs designed to help recruit the next generation of installers, including Career Connections, which introduces the floor covering trade to thousands of high school students in some 700 high schools every year. INSTALL also works with the Job Corps, which reaches out to at-risk youth. Its work with Helmets to Hardhats helps place military veterans with jobs in the construction industry, and its Sisters in the Brotherhood program recruits and mentors women in the carpentry trade.
And while the organization has cast a large recruiting net over the years, it aims to retain installers with its training and membership benefits.
"With us, between the good pay, the medical benefits, and the retirement benefits, we have the mentor programs and we have the graduated training programs that help a person into a career and help them to stay in a career," McGrath says.
During the recession from 2009 to 2011, many workers were forced out of the construction trade, McGrath notes. But when the recession lifted, many INSTALL members returned.
"Our people came back because they resumed their career and they had a pension to build," he says. "Whereas if someone was a floor coverer but they didn't have anything that tied them to the trade, they moved to another job and they stayed with that job as long as it lasted, so they might not have come back in the floor covering trade."
Nick Bankowski joined INSTALL's four-year apprenticeship program right out of high school in 2000. There, he learned everything from carpet tile to hardwood flooring. INSTALL connected him with Lindenhurst, Ill.-based Kiefer USA, where he's since become a lead sports flooring installer. Now 38, he's an advocate for the benefits of the trade program.
"You make a decent amount of money for not going to college," he says. "And not only that, you're learning a trade that can help you the rest of your life. That is a huge benefit, in my opinion."
A trade with plenty of avenues
Schlichte notes that finding a niche in the industry can go a long way for young contractors.
"There's so much in this trade now," Schlichte says. "Find the thing that you want to do, and focus your advertisements and your portfolio around it. For us, it's wide plank flooring. I really just enjoy wide plank flooring, and we've developed a niche here with some European finishes."
Showing the next generation the different paths in a hardwood flooring career is another goal of NAFCT's; Pleshek says multiple-career path training for wood flooring pros will be hardwired into its curriculum.
"It's going to really start at the basics and work up into in-depth knowledge for people at different points of their career," Pleshek says. "It could be for a flooring inspector, sales rep, a manufacturer's rep, a technical rep; those are areas we're looking at to provide an education so people can get into those educational and technical areas of the industry."
My wood flooring story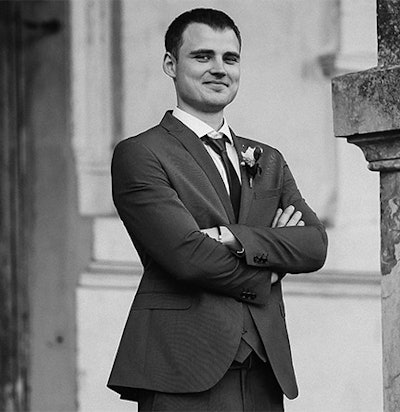 Šarūnas Gintvainis
I started working with wood floors when I was 19, fresh out of school. I'm 28 now. I hated the job. I hated it for quite a few years, actually. It's tough on your body—it's demanding both with physical and mental concentration. You always have to think five steps ahead and usually five days ahead to plan your work. But out of all the negatives that the flooring industry has, seeing what you have done with your own two hands in front of you—all finished, all beautiful like a piece of art—and seeing the smiles of the customers makes it something special. This industry not only produces good floors but it also produces good people because it hones the best out of us and it never lets you sleep. One needs to keep learning to keep getting better because this industry requires it if you want to stay good. Plus it pays well and like all of us here do, you get to share your masterpieces with the world.
Benefits beyond the paycheck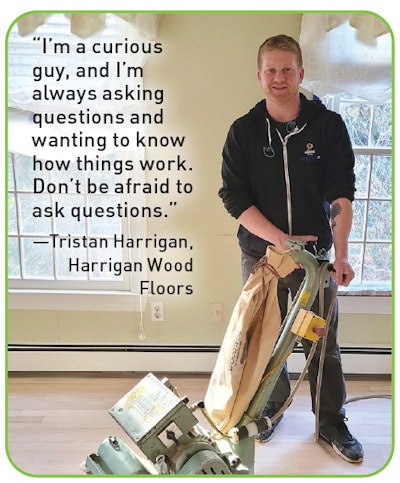 For Gunnar Wolfe, seeing the estimate from the company he was working for was a big motivation to go out on his own at the age of 20.
"I tallied up the amount of money I was making and saw what I should have been making," he says. He launched Wolfe's Hardwood Restoration and never looked back. But a pivotal moment in his career came in 2018 when he was chosen to attend the Lägler Fly and Sand, in which he got to tour and train at the company's German manufacturing facility with other pros.
"After going out there, I met a couple dudes, and that's when I learned that I was kind of a hack," he laughs. "I realized I didn't know as much as I thought I did. It was a pretty awesome experience."
Now 24, he's also developed relationships with several mentors in the industry who have challenged him and helped him grow in his artistry.
"I was super lost and didn't really know what path to take," he says of starting out. "Trade schools are hard, college is hard … I always beat myself up about what I was supposed to do and what I should be doing. There was a moment I decided to focus on what I was doing right now. That moment was me refinishing floors … I'm really big on not wasting talent. If you're good at something and you enjoy it, keep at it."
For Ben Priggen, who grew up in the trade, the ability to be his own boss has been a huge benefit. He worked several construction jobs before rejoining his father Rusty's hardwood flooring business in 2013 when he was 25. He owns 50% of the business today and manages its operations. "Being my own boss, I would never go back to anything else," he says. "If I need to take my kids to a doctor appointment, I'm not having to sacrifice PTO or get permission from the boss."
But it's not just the flexibility that motivates him.
"It's also just having a passion for what I do," he says. "Early on I remember my father telling me, 'If you love what you do, you're never going to work a day in your life.' … If I could do this and not charge anybody, I'd still do it," he laughs.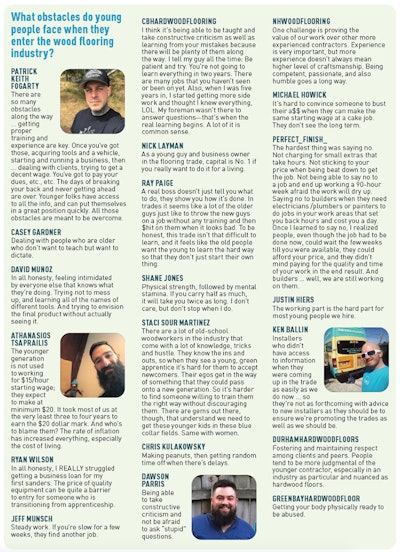 Tips for finding new talent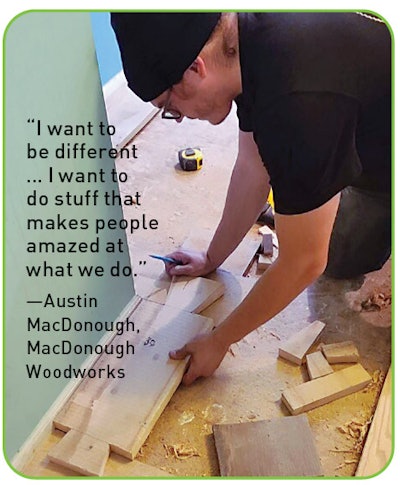 In the big picture, Paul Pleshek notes that companies engaged in recruiting efforts need to focus on the positives of the industry.
"They have to show the prospective installers some installers that are successful, and how they're running a business and maybe some of the ones that have gotten into the high-end work," Pleshek says. "I think that's the biggest part of it; they have to focus on the fact that yes, there's a career path, yes you can make a darn good living doing this, and yes, you can still have the flexibility to enjoy your life."
In INSTALL's case, John McGrath says there's benefits to letting students and new recruits know they're starting a journey toward their own career, but also joining something communal that they can fall back on.
"By joining INSTALL, you are joining an alliance of manufacturers, employers, trainers and installers in the floor covering industry," says McGrath. "You become part of an alliance that has all the resources and capabilities that you would need to support you through a career and to help you to be a professional floor covering installer."
Younger pros had more specific advice for recruiting the next generation, as well. Barrow tells companies they should look to the inner city.
"There's a lot of talent in the inner city," he says. "I would tell any company that. Whether it's a flooring company, whether it's Nike. Look into the inner city, because there's a lot of talent there. We're people, too. We deserve the silver spoon, too. And if you put us in the right position in the right place at the right time, we'll fly for the stars and more."
For his part, Austin MacDonough advises companies to also not be afraid to meet the next generation where it's at: social media. "That's a way to reach out to people, find work and show people your work," he says.
My wood flooring story
T.J. Nee, TJ's Hardwood Floors
Entering the hardwood floor trade as a young professional came with limitless challenges. The ability to apply your previous training/work experience(s) as replaceable stepping stones rather than immovable pillars is toward the top of the list. Staying informed, willing and aware of present and future innovations with machines, methods, and products to prevent complacency and callbacks was a hard lesson learned. Doing the required steps correctly the first time, even if it appears to take longer, takes less time than having to redo a job. Providing realistic, honest and fully transparent communication to homeowners or contractors is one of the most difficult challenges. Being where you say you're going to be, when you said you would be there without overcommitting. My biggest challenge was undervaluing my own time, allowing people to take advantage of my time.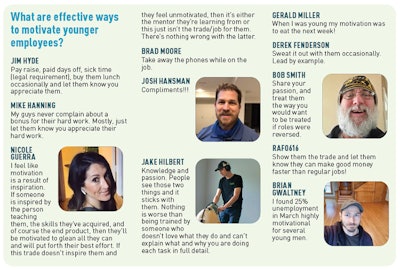 Asking questions and taking the leap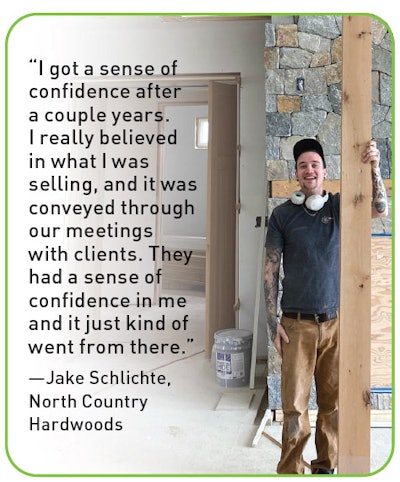 Tristan Harrigan of Waltham, Mass.-based Harrigan Wood Floors started out in the trade when he was 19. He's 38 now and says asking questions, whether in person or through social media, has been key to his success in hardwood flooring.
"I'm a curious guy, and I'm always asking questions and wanting to know how things work," he says. "Don't be afraid to ask questions and take advice from everyone you can. There are a lot of good social media groups that we have for contractors in the field where people can ask for advice. You might get made fun of a little bit, but there's a lot of people willing to help."
For Izaiah Barrow, learning new tricks from his uncles remains a favorite part of his days, and it happens even when he doesn't expect it.
"I took my uncle to a job site the other day to help me move machines … and as soon as we stepped in the door, he starts asking questions and teaching me something," Barrow laughs. "Every day you learn something new. It may be about the politics when it comes to the client; it may be about something as simple as keeping the van clean; it may be as simple as watching what you eat in the morning so it doesn't slow down your work. You constantly learn something, and it's not just about wood flooring, it's about growing in life."
Maintaining an open mind and growing in the craft is another big piece of advice from Patrick Fern for those considering the trade—along with being patient.
"Some of these people, they're worried and they're scared," he says. "I could have made the jump to having my own business a couple years ago, but I was scared at first. It's a big step. You think about it all the time: 'When's my next job coming in? Why isn't the phone ringing?' Be patient and don't be scared, because if you're good at what you do and you love it, you will find the jobs one way or another."
Gunnar Wolfe notes it also helps to have a little skin in the game.
"You really have to invest in yourself," Wolfe says. "Invest in learning and being open-minded and giving some thought and some care in what you're doing. It's a paycheck, but it's more than that, too. You've got to fail a couple times to climb to the top."
Schlichte says he can relate to having to start at the bottom and work his way up, and laughs when asked about his first job after founding his business at 23.
"I remember having the wrong connections for my big machine cord, so I spent half the day trying to get that situated," he says. "It was a small job, but I remember thinking of how massive an undertaking it was. It really wasn't that big of a job, but at the time it seemed so overwhelming."
Even when the path to long-term success is visible, young flooring contractors all have to take a leap of faith in themselves, too. That leap is perhaps more uncertain due to the shortage of other young people taking the same jump. But the next generation of pros who've succeeded have found not only a career, but also pride in their craft.
"I didn't have something to fall back on anymore, I didn't have anybody to edge and hand-scrape. It was all on me," Schlichte says of that first project. "It was just kind of, 'Wow, alright. This is me now.'"
What young pros learned from the pandemic
There have been a number of lessons that younger contractors took away from 2020 and plan to continue to apply to their businesses.
For his part, Izaiah Barrow of the Bronx, N.Y.-based iSandNewYork pledged to start appreciating time.
"One thing I told myself: I'm going to slow down a little bit," he says. "And instead of doing 50 jobs a year, maybe I'll cut it back to 25 jobs a year for the simple fact that I have a wife and kid, and the pandemic has taught me to appreciate time a lot more. Getting up at 6 a.m. and coming in at 11 p.m. seven days a week, two-three months at a time, it's not only unfair to my body, it's unfair to the family."
Marietta, Ga.-based Sinbad The Enchanted Floors LLC owner Helen Altamirano suffered a deluge of job cancellations between March and June of 2020, but things began to pick back up in July. "From the pandemic, I saw how important it was to have a presence on social media," she says. "It was the only way I was able to communicate with the customers. So after this I'm planning to get some videos done more professionally next year."
The pandemic has caused lead installer Nick Bankowski and his crew at Lindenhurst, Ill.-based Kiefer USA to become grillmasters of sorts. Being on the road to work on big gym flooring projects at rec centers and universities, the restaurants they'd normally attend have been shut down—so it's been up to them to cook.
"It's actually probably better than what we'd normally be eating," he laughs. But another side effect for the jobs have been cleaner work spaces—a practice Bankowski hopes to continue in the future.
"Working with other trades, I've noticed jobs have been a lot cleaner since the pandemic," he says. "It makes everything run better. Now every job has a handwashing station and hand sanitizer around—which you didn't see very often before this."
A surprisingly good time to launch
The COVID-19 pandemic spurred no shortage of uncertainty in the industry when the outbreak occurred in March, and some wondered what its impact might be on future installers. But far from being a deterrent, the months following the outbreak were a boon for many young hardwood flooring contractors, and the ensuing rush of work even inspired Patrick Fern to launch his business in October after years of working for another company.
"For me and other trades around here, business is booming," says Fern, who runs East Hartford, Conn.-based Fern Wood Flooring. "So it was kind of a no-brainer to go off on my own when I did."
Starting out on his own was inevitable for a pro like Fern, who has dreamed of owning his own business since he was 16 (although he didn't know what type of business it would be until he was in his 20s). Everything fell into place when he connected with a retiring pro on Facebook who was selling all his equipment.
"I got a killer deal on basically everything I needed to get started," Fern says. And the demand hasn't slowed down since getting his business up and running.
Gunnar Wolfe of Wolfe's Hardwood Restoration in Otisco, Ind. has likewise been swamped with projects.
"This has been one of our busiest years, and we've been super thankful that people have been able to continue to supply us with work," he says. "It's helped with people being at home and realizing the things that they liked and didn't like about their floors."
Advice For Younger Pros
David Diaz of Williamstown, N.J.-based Dave's Hardwood Floors is 47, but he started in the business at the age of 16 working for his uncle and went out on his own at 22. He offers this advice for younger pros:
1. Being young and starting out in this business, it's a bit expensive. You'll need at least $20,000 in equipment and a vehicle. The sander is probably the most important and most expensive. Buying used equipment will save you money, but probably 50% of the time you're buying someone else's headache. If you're going to buy a used sander, I would suggest having it serviced by a professional.
2. A lot of potential clients will judge you for your age. What kind of vehicle do they drive, do they have business T-shirts and logos? Was this your daddy's business? Do they have any piercings or tattoos? I don't think it's right, but unfortunately we live in a world where people do judge a book by its cover.
3. When you are starting young, you must have amazing confidence and attention to detail during your estimating process. Get on your hands and knees and rub the floor for flatness. Step back and catch the sunlight and pick up on those traffic areas that are worn. Constantly ask potential clients if they have any questions about the process. Be very thorough in explaining the process from beginning to end. When you give your proposal, understand that if you renegotiate to a lower price, that would be considered a red flag job. Too many red flags at the gate is probably not a job you want to take on. When you're young and starting out, it's not easy to find the type of clients that you would like to do business with. Remember it works both ways. There will be jobs that you will decline, and jobs where the customer will decline you. It's a part of the business, and don't take it personally! Certain types of personalities just don't mix, and that's OK.
---
RELATED: The Next Generation: The Labor Shortage and How Companies Flourish
---
---
RELATED: The Next Generation: How I Got Here
---
---
RELATED: Next Generation: How Family-Run Wood Flooring Companies Succeed Across Generations
---
---
RELATED: The Next Generation: Women Become a Force in the Wood Flooring Industry
---