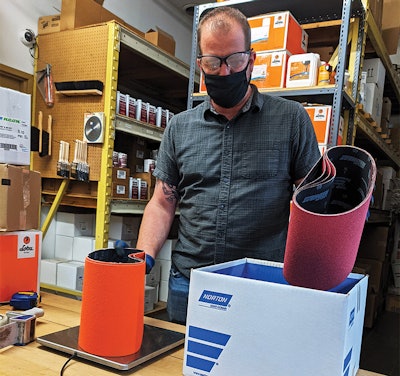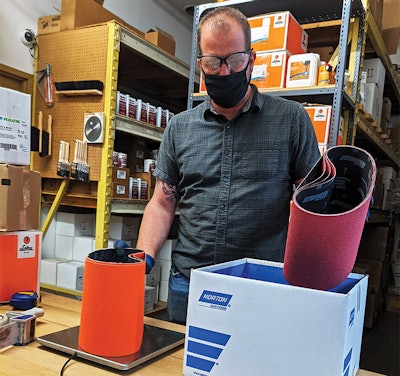 The COVID-19 pandemic left many businesses struggling to figure out how to adapt. Especially in the beginning, there was a lot of uncertainty. Here in Toronto, all non-essential services were ordered to close March 23, 2020. Our city, like many all over the world, became a ghost town overnight. But as government officials started talking about a full lockdown, I knew our business was ahead of the curve. Something I'd begun to consider a possible mistake weeks earlier suddenly turned out to be a critical advantage: our online contractor store. Here's how having an e-commerce site helped—and forever changed—our business during these unprecedented times.
Launching e-commerce
We started our e-commerce site in May 2018. It seemed like the logical thing to do. The Amazon.coms of the world are here to stay—although online sales in our industry have been relatively slow to catch on. The way online sales work for us is simple. Flooring contractors find products on our website that they would normally buy from the local contractor supply store. Then they add it to their cart and pay via credit card. In most cases, the order arrives via courier two to three days later. We ship anywhere in Canada or the U.S., which is surprisingly seamless. Provided each order to the same address is under USD $800 per day, it qualifies for the U.S. de minimis threshold and enters the U.S. from Canada precleared without taxes or duties. But getting our site to catch on was slow going at first. It took us almost 18 months to get our first 100 online orders. I was beginning to wonder if we had made a mistake.
---
RELATED: How We Grew Our Store But Kept Its 'Family' Culture
---
Then the pandemic hit
Then, just like that, everything changed. While it took 18 months to accumulate our first 100 orders, our site generated 100 orders in just the three months after the start of the pandemic. During lockdown, we were the only local source that actually had a fully functional web store where flooring contractors could place their order, pay online and set it up for delivery or contactless curbside pick up. Now we average as many as 15–20 online orders per week. With such an influx, there's definitely been a learning curve. Managing expectations is always one of the biggest challenges of any customer-focused business. Currently, couriers are not guaranteeing delivery times, and in some cases there have been delays or lost packages, which can be tough to manage while building trust.
How we run the site
All orders are shipped from our Toronto warehouse and billed in Canadian dollars. The online store basically runs itself with the exception of filling orders. We add new products each week and work on improving the site every day, so this takes some extra time away from our regular work. But overall everything is going well. We've continued marketing ourselves and this service. I learned many years ago that the worst time to stop spending on marketing is when the economy is down. Obviously this isn't easy from a financial point of view, but it will pay off in the long term. Right now, we're focused on improving our U.S.-based market share with the online store. From our research, nobody has truly captured more than just a regional share of the market. We want to prove that the future is here and be dominant across North America.
---
RELATED: Managing Your Flooring Retail Store in the Time of COVID
---
Learning from the last year
This past year has been a huge learning experience for everybody. One of the biggest things we have learned is to be flexible and adaptable. If you are rigid in your policies and business model, you will break. Rapidly adapting to change is vital to a business's success, even if it might not seem like it at the time you're starting out—as I said, our site took well over a year to catch on, and now the response is growing every day. My advice to other wood flooring retailers interested in starting an online sales segment of their business is to be patient. There is a lot more to it than just building a website; it is about learning a different way of doing business.