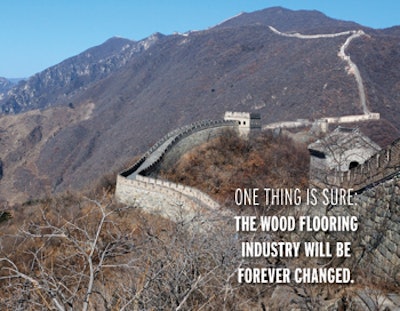 These have been dark times in the wood flooring industry. When the economy tanked at the end of 2007, it took the housing industry and the wood flooring industry right along with it. It has been a long, hard slog for survival, and plenty of companies at all levels found they didn't have what it took to withstand the biggest recession since the Great Depression.
It took many by surprise when economists announced last fall that the recession had officially ended in June 2009, but, on the other hand, there have been glimmers of hope. The gradual recovery of the stock market buoyed everyone's spirits, consumer spending has increased, and the housing news has not been relentlessly bad. At the Surfaces trade show in Las Vegas in January, there was a marked sense of cautious optimism.
As this issue went to press, however, there was a new barrage of bad housing news:
In February, new-home sales fell to a record low of 250,000 units (the seasonally adjusted annual rate), according to the U.S. Department of Commerce.
New-home prices sank 13.9 percent in February to $202,100, the sharpest monthly decline on record and the lowest median price since December 2003, according to the U.S. Department of Commerce.
Existing-home sales fell 9.6 percent in February to an annual rate of 4.88 million, according to the National Association of Realtors.
Existing-home median prices fell 5.2 percent in February to a nine-year low of $156,100, according to the National Association of Realtors.
The median price of a new home in the United States is now 48 percent higher than that of a home being resold, more than three times the gap in a healthy housing market, according to the Associated Press.
So while the consensus is that there is a light at the end of the tunnel, it may be awhile before the industry steps into broad daylight. The survey results this year bear that out: The numbers of respondents reporting that business increased in 2010 are up significantly over 2009, but they anticipate slight improvement this year. To see all the results from our exclusive survey of wood flooring manufacturers, distributors and contractors, keep reading.
All this is going on amid the biggest controversy to ever divide the wood flooring industry: the battle over whether Chinese engineered flooring should be subject to U.S. import duties. For more on that divisive issue, scroll down to "The Great Trade Wall." -K.M.W.
MANUFACTURERS
In January an online survey was sent to all NWFA-member wood flooring manufacturers. Here are the results.
Looking Back
Manufacturers said their business in 2010 was...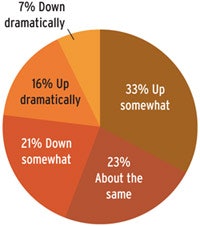 In 2009:
8% up dramatically
12% up somewhat
15% about the same
27% down somewhat
39% down dramatically
Certifiable
Manufacturers rank the importance of FSC certification to their success as...
In 2009:
15% extremely important
54% somewhat important
31% unimportant
Looking to 2011
Manufacturers think business in 2011 will be...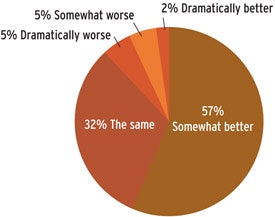 In 2009:
0% dramatically better
77% somewhat better
19% stay the same
1% somewhat worse
0% dramatically worse
Pricing
Manufacturers expect prices in 2011 to...*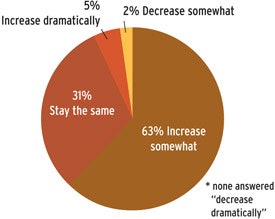 In 2009:
12% increase dramatically
62% increase somewhat
23% stay the same
4% decrease somewhat
0% decrease dramatically
* Numbers may not add up to 100 percent due to rounding.
Lumber/Flooring Prices
Appalachian Green 4/4 No. 2A Red Oak Lumber Price (per MBF)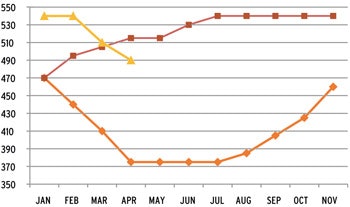 Appalachian 34 x 214-inch No. 1 Common Red Oak Price/Ft.2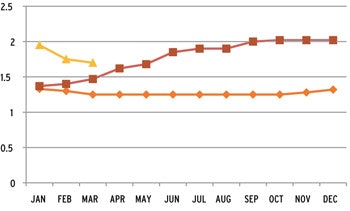 Appalachian 34 x 214-inch Select Red Oak Price/Ft.2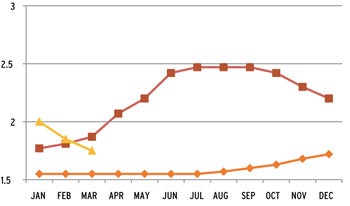 Source: Hardwood Market Report
Prices in 2010
Manufacturers say wood flooring prices in 2010...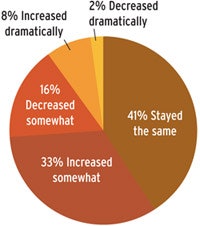 Here are some thoughts manufacturers added on pricing:
"Product from China is pressuring prices down."
"One thing we did was move our manufacturing out of the country. I hated to have to do that, but we can't compete with China if we don't."
"It ramped up and fell like a rock in the fourth quarter for both unfinished and prefinished."
"Pricing in 2010 was very value-driven, but there were also a lot of high-end products sold at good margins."
"There was no opportunity to raise prices, as competition was ferocious."
What They Paid
Manufacturers say the prices they paid for raw materials in 2010...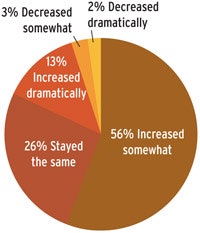 Charging in 2011
Manufacturers were asked what they expect to happen to wood flooring prices in 2011 compared with 2010: *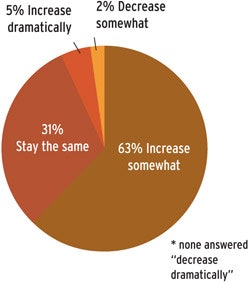 ON TREND
Most manufacturers expect demand for exotic species and bamboo flooring to either stay the same or decrease somewhat; while most expect demand for dark colors, wide planks and FSC certification to stay the same or increase somewhat.
How They Coped
In 2010, of wood flooring manufacturers surveyed...
45% reduced staff
42% reduced marketing/advertising
40% reduced production
23% reduced their # of SKUs
32% took none of the above measures
Here are some thoughts manufacturers added on how they coped:
"We put off new purchases regarding equipment and upgrades."
"We shut down a plant, laid off employees and cut down on production."
"We had more aggressive marketing and advertising campaigns."
"We've expanded our customer base by increasing the number of channels we're active in."
"We cut back on trade shows and advertising, and we took a voluntary pay cut, etc."
What Hurts Them
Wood flooring manufacturers revealed what they feel is the biggest threat to their success: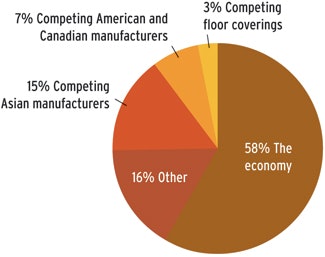 * Numbers may not add up to 100 percent due to rounding.
In January, distributors filled out surveys about their business in 2010. Approximately 82% of wood flooring distributors who responded said they specialize in wood flooring; 18% were general floor covering distributors.
Battling Big Boxes
53% said their business had been affected by big box stores such as Home Depot and Lowe's | 47% said it had not(Last year 61% of distributors said big boxes had affected their businesses)
On the Right Track
Distributors said their business in 2010 ...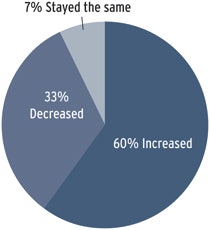 In 2009:
14% increased
3% stayed the same
83% decreased
What They Sold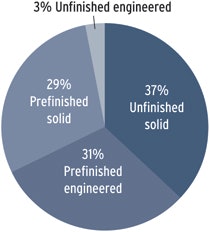 In 2009:
51% unfinished solid
21% prefinished engineered
25% prefinished solid
3% unfinished engineered
Looking at Laminate
69% of distributors also offer a laminate line | 31% do not44% expect laminate sales to increase in their region | 56% do not
Online Offerings
20% of distributors said they had sold some products online in 2010. The average online percentage of sales was about 5%.
What Worries Them
Distributors overwhelmingly view the economy as the biggest threat to their business, followed by manufacturers selling direct.
We asked them: What are the most important issues affecting your business?
Some typical responses were:
"Chinese imports not playing by the same rules."
"Everybody bringing in the cheap products and not educating their retailers on the advantages of proven products that are a little more expensive."
"Getting what's owed. Accounts receivable has been a real nightmare, even with accounts that have had a good history."
"The increased competition and rising costs in a softened market."
"Lack of confidence regarding when business will get better; there is a reluctance to spend from consumers up to contractors up to distribution."
Species Sold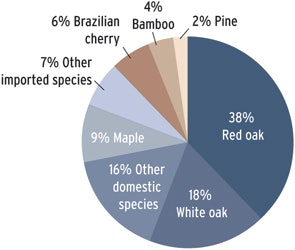 In 2009:
38% red oak
15% white oak
14% other domestics
7% Brazilian cherry
13% maple
12% other imported species (including bamboo)
3% heart pine
Finish Sold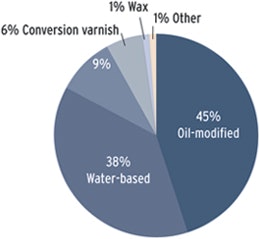 In 2009:
49% water-based
42% oil-modified
5% conversion varnish
2% moisture cure
2% wax
Looking Ahead
What is the outlook for 2011? Distributors answered: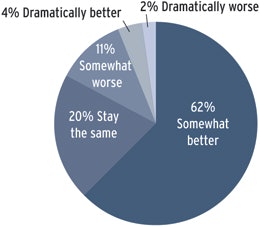 * Numbers may not add up to 100 percent due to rounding.
In January, contractors filled out surveys about their business in 2010. Approximately 72% of them said they specialize in wood flooring; 28% deal with general floor coverings. The average amount of wood flooring sold among the respondents was 81,688 square feet.
What's on Their Minds
We asked contractors: What are the most important issues affecting your business? Some typical responses were:"Consumers being focused more on their budgets than their wants.""The banks being very tight with their money and not being willing to loan to almost anyone.""Low prices from Lumber Liquidators and the big boxes.""The cost of doing business vs. what we can charge for our services.""Competition from untrained and unqualified contractors who will do the job for less.""Collecting after a job is completed.""People using a cheap do-it-yourself floating floor."
Where They Buy
(more than one answer possible)
89% of contractors said they buy wood flooring and related products from a specialty wood flooring distributor.
38% buy direct from a manufacturer
15% buy from a big-box retailer
4% buy online
Finish Used*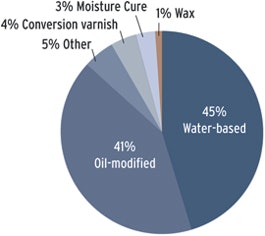 * Numbers may not add up to 100 percent due to rounding.
In 2009:
45% oil-modified
44% water-based
4% conversion varnish
1% wax
3% moisture cure
2% other
Slight Improvement
Contractors said their business in 2010 ...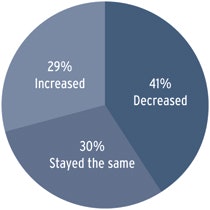 In 2009:
14% increased
28% stayed the same
58% decreased
Species Installed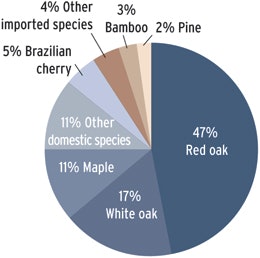 In 2009:
45% red oak
18% white oak
11% maple
10% other domestics
7% Brazilian cherry
8% other imported species (including bamboo)
2% heart pine
They're Installing ...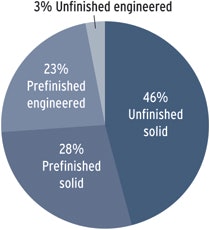 In 2009:
54% unfinished solid
23% prefinished solid
21% prefinished engineered
2% unfinished engineered
New vs. Old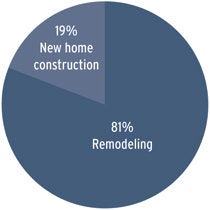 In 2009:
74% remodeling
26% new home construction
Install vs. Sand/Finish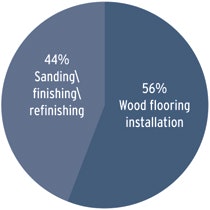 The 2009 numbers were identical.
They Install Over...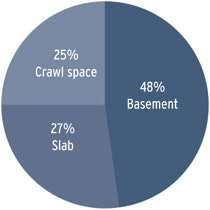 In 2009:
44% basement
31% crawl space
25% slab
Housing Data
Total U.S. Housing Starts
(in thousands)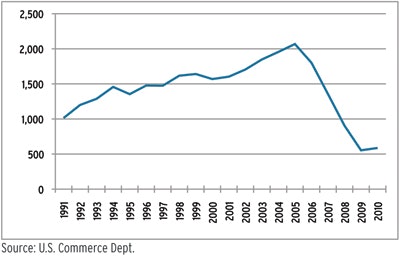 Remodeling Market Index
(Current Market Conditions)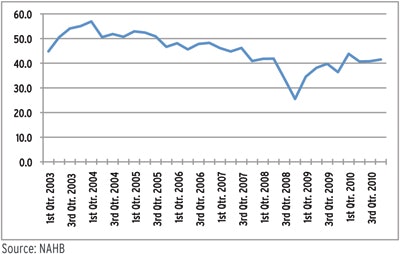 Housing Market Index
(overall)
The Great Trade Wall?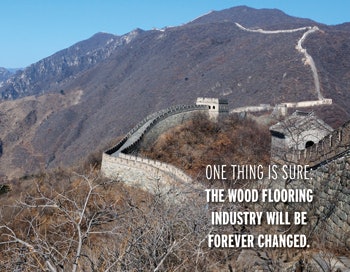 The industry is divided on import duties for Chinese engineered wood flooring | By Doug Dalsing
The battle over antidumping and countervailing duties on engineered wood flooring from China will ultimately be decided by bureaucrats, but the fight is being waged by business executives from some of the wood flooring industry's biggest names. On one side: eight U.S. engineered flooring manufacturers, including Shaw and Mannington. On the other: a mixture of companies that import, distribute and sell engineered wood flooring, including Swiff-Train Co., Galleher Corporation, Lumber Liquidators, US Floors and Home Legend. The U.S. manufacturers believe their share of the domestic engineered wood flooring market is being eroded by the unfair pricing of comparable products from China; certain U.S. importers believe they're the true targets of the investigation since they would be the ones to pay import duties. No matter how this investigation turns out, one thing is sure: The wood flooring industry will be forever changed.
In October, the Coalition for American Hardwood Parity (CAHP) simultaneously filed 1,200-page petitions with the U.S. Department of Commerce (DOC) and International Trade Commission (ITC). The group is seeking import duties on engineered wood flooring from China, which it feels is being unfairly sold in the U.S. market. CAHP believes engineered wood flooring is being dumped in the U.S., or being sold for less than market value, and that the government of China is unfairly subsidizing its own domestic manufacturers. For these reasons, the U.S. manufacturers say their bottom line is suffering: They're having to reduce production, close factories and surrender market share.
Supporting that claim, the ITC confirmed during its preliminary investigation that the 20.2-percent decline in the domestic industry's shipments from 2007 to 2009 was actually more than double the 8.2-percent decline in U.S. consumption; meanwhile, consumption of engineered wood flooring from China-or "subject imports"-increased from 30.5 percent in 2007 to 42.6 percent in 2009. This growth in subject imports isn't due to regular demand of engineered wood flooring from China, say Jeff Levin, counsel for the CAHP. "Competition in the marketplace is competition," he says. "If one company loses market share because another company can make the product better, all is fair in love and war. But here we believe that the impetus, the engine that is driving the ability of Chinese producers to take market share, is unfair trade practices."
While protecting U.S. manufacturing is a noble cause, many American jobs are downstream from wood flooring importers, as well, including thousands of people distributing and selling wood flooring from China. This is why the Alliance for Free Choice and Jobs in Flooring (AFCJF) was formed: to directly oppose the mission of the CAHP. Jonathan Train is vice president of Swiff-Train Co. and president of the AFCJF board of directors. Train and his colleagues believe they are the true targets of this investigation-that U.S. manufacturers are trying to stomp out competition from overseas by making it impractical to import engineered wood flooring from China. "Since I do the importing of that product from that factory in China, I'm responsible for that duty," Train says.
The AFCJF is trying to convince federal investigators that imposing duties on subject imports wouldn't do anything to help the U.S. manufacturers, since the importers could just source engineered wood flooring from a number of countries in Southeast Asia, including Indonesia and Vietnam. "At the end of the day there are half a dozen to a dozen capable countries that can produce similar stuff," Train says, "and basically take over the business that China is providing. It might help the U.S. industry for maybe six to 18 months but, eventually, all these other countries will be up and running."
Importing a product that is subject to antidumping and countervailing duties involves a fair amount of risk. Import duties in the U.S. are primarily retroactive, meaning that if DOC does end up imposing duties, an importer could face a sudden jump in the amount owed a year or two after making a shipment of engineered wood flooring from China. As evidence of this uncertainty, William Perry, counsel for the AFCJF, points to a trade case involving wooden bedroom furniture imported from China. Since 2005, when import duties were established for that product, importers have racked up retroactive liabilities of more than $500 million. "That is exactly why the importers are so worried in this case," Perry says. "The target of these dumping cases, everyone assumes, is the Chinese-it's not the Chinese. The big target is the U.S. importers and distributors."
The CAHP, however, refutes that claim. "There is the notion that we're trying to block Chinese imports," Levin says. "That's not the case; we're not looking to establish an embargo. What we're looking to do is eliminate the unfair trading." Train says that if the duties reach 30 percent, his company would have to cease doing business in China; in fact, the CAHP is petitioning for an import duty rate of 237 percent.
Regardless of the true aim of the requested import duties, it appears they're more than likely to be implemented. In two-thirds of similar trade cases, U.S. manufacturers have been successful at having tariffs implemented, says Tom Trendl, an international trade expert also involved in the case. Even Perry, counsel for the AFCJF, alludes to the likelihood of tariffs being implemented: "We're hopeful the duties are going to be low, but we just don't know yet," he says.
The DOC made a preliminary determination in the countervailing duty investigation on March 22 and implemented duties on products from certain Chinese manufacturers between zero and 27.01 percent. In mid-May the DOC expects to hand down a preliminary antidumping duty determination. For a few months following that, importers will have the opportunity to test the waters and buy flooring at a capped tariff rate; at this point the duties are not yet retroactive. In late summer another round of industry questionnaires-a stage of the investigation in which flooring dealers may participate-should occur, and then DOC should deliver its final order for import duties in November. Any engineered wood flooring imported into the U.S. after the DOC issues this final order could be subject to retroactive duties down the road. From this point onward, importers would pay the established import rate when the product arrives in the U.S; however, that rate paid could be subject to DOC review at the request of U.S. manufacturers, and this is when retroactive liabilities could be assessed.
Ultimately, there will be winners and losers. On one side there are the people working to manufacture U.S. engineered wood flooring; on the other, people working to import a product from another country. Both sides employ thousands of Americans. "It's important to keep in mind that at the end of the day we are talking about real, live people," Levin says.
Antidumping & Countervailing Duties
The DOC and ITC are conducting two trade investigations involving engineered wood flooring from China:An antidumping duty investigation occurs when an exporting country is suspected of exporting a product for less than fair market value.A countervailing duty investigation occurs when an exporting country is suspected of unfairly subsidizing an industry.
Who is the CAHP?
The Coalition for American Hardwood Parity (CAHP) (www.usfloorparity.org) is an ad hoc group of U.S. wood flooring manufacturers. The group's sole mission is to pursue antidumping and countervailing duties on engineered wood flooring from China. Members include:
Anderson Hardwood Floors (Clinton, S.C) | www.andersonfloors.com Award Hardwood Floors LLP (Wausau, Wis.) | Baker's Creek (Jackson, Miss.) | http://www.bakerscreekfloors.com From the Forest LLC (Weston, Wis.) | www.fromtheforest.com Howell Hardwood Flooring (Dothan, Ala.) | www.howellflooring.com Mannington Wood Floors (Salem, N.J.) | www.mannington.com" target="_blank">www.mannington.com Nydree Flooring (Forest, Va.) | www.nydreeflooring.com Shaw Industries Inc. (Dalton, Ga.) | www.shawfloors.com
Who is the AFCJF?
The Alliance for Free Choice and Jobs in Flooring (AFCJF) (www.afcjf.com) was formed to directly oppose the mission of the CAHP. (However, not every company that opposes the CAHP's mission-like Gallaher Corporation, Lumber Liquidators and Home Legend-is part of the AFCJF.)
AFCJF members include:
Real Wood Floors (West Plains, Mo.) | www.realwoodfloors.com Swiff-Train Co. (Houston) | www.swiff-train.comCustom Wholesale Floors (Jacksonville, Fla.) | www.cwfinc.net BR Custom Surface (Baton Rouge, La.) | Metropolitan Hardwood Floors (Kent, Wash.) | www.metrofloors.com CFS Corporation (Suwanee, Ga.) | www.cfscorporate.com Midwest Hardwood Corporation (Maple Grove, Minn.) | www.midwesthardwood.com The Master's Craft (West Plains, Mo.) | www.themasterscraft.com GTP International (Hong Kong)Alston Inc. (Chino, Calif.) | www.alstonflooring.com
AFCJF ASSOCIATE members include:
Arimar International (Miami) | www.arimarwood.com The Wood Cellar (Melbourne, Fla.) | Verona Hardwood (San Diego, Calif.) | www.veronahardwood.com Global Product Sourcing LLC (Los Angeles) | www.globalproductsourcing.us Suncrest Supply Inc. (Riviera Beach, Fla.)
Additional input from the survey respondents:
We asked wood flooring manufacturers: How is the role of the wood flooring distributor changing? Here are some responses:
Most distributors are little more than order-takers.
The role of the distributor will be the way of the buffalo soon. There is really no need for them.
They are not stocking inventory-they have become hand to mouth orders and are expecting manufacturers to house inventory and provide quick ship/short shipment dates with limited lumber availability.
The distributor will continue to provide a service for the wood floor contractor, but their days as a prefinished supplier are numbered. Box stores, buying groups, and vertically integrated retailers are going to eventually push distribution out of that segment of the market.
Due to the multiple lines of wood they carry, they have reduced inventory and relied on manufacturer supply, reducing their key purpose: local inventory. This is dangerous for their survival, as some manufacturers will see this loss of value and sell direct.
Distributor is not tied to a producer any longer. They just buy the cheapest flooring they can find each time they purchase.
They will still have some validity in some markets, but most will not exist within five years.
The role for distributors has become more of a role of offering the sales force to cover dealers rather than as much of the product stocking that was once more dominant.
Many distributors I talk to are selling to anyone-not just dealers, but to contractors, individuals, and end users.
The distributor is now the new dealer. Customers used to go to distributors for everything. Now they stock very little, and refuse to change with the times. If they do not change, distributors will be a thing of the past faster than anyone thinks.
We asked wood flooring manufacturers: How has the Lacey Act affected the wood flooring industry? Here are some responses:
I believe it's had a significant impact on the availability of imported wood flooring. In addition, it's made FSC certification a moot point, unless LEED credits are required. Most consumers just want to know the product was responsibly/legally harvested; they don't necessarily need it certified.
The Lacey Act is very positive, but I have felt nothing different myself.
It does not affect it at all except for an extra layer of red tape.
It has increased our investment in the certification and CoC process but it has done very little to reduce illegal competition.
In some ways, it appears this has made a greater awareness in regards to imported items. Some of us believe that this has had some impact on the popularity of exotic species and the reason we have seen a little less demand than in the past.
We have not seen much impact other than having to take the time to file the forms.
We asked wood flooring manufacturers: How important do you think FSC certification is to a wood flooring manufacturer's success? Here are some responses:
It helps to get green or LEED projects, but it is lost when a consumer hits price point. They are all green… for a price.
Everyone thinks they want it, but few are willing to pay the cost associated with it.
In our industry you absolutely have to be concerned and committed to sustainability and responsible forestry, even if it's only a fraction of your total business.
Eventually every wood floor product will be certified in some form, so you might as well jump on board now.
Much like the Internet, the green movement isn't going away, it's only going to get stronger.
In principle, we need to keep our mind on environmental issues, and promote FSC more rigorously. However, in reality, the price dictates the decision.
It is a good differentiation tool.
Right now: lots of talk, not many projects.
It'll become extremely important as the economy improves and purchasers demand "green" products.
It seems the main purpose behind it is to merely keep the little guy at a disadvantage. The cost and trouble to be able to offer FSC is unattainable for the smaller businesses.
Overall, FSC probably does as much harm as good because it tells the consumer that bamboo or exotic woods are essentially equal to domestic U.S. hardwoods in terms of sustainability.
We asked distributors: What adjustments have you made to your business to handle the current economy? Some typical responses:
Reduced our profitability in order to compete and cut overhead expenses to the bare minimum.
Lowered wages/hours, negotiated more with vendors, talked to customers more and worked out better credit agreements with the bank.
Reduced slow-moving inventory and increased our product offering.
Decreased our work force.
Doing more just-in-time orders.
Refocused our product mix and customer base.
We asked distributors: What is the outlook for the wood flooring industry in 2011? Here are some responses:
Any improvement will be gained from remodel and replacement. There will be little improvement from new home.
The outlook is mainly more positive for 2011. The challenge will be to balance the SKUs necessary to meet the needs and have the best fill rate possible.
Finishing working through the foreclosure and short-sale market will bring gains in remodel and new construction. I expect slow and steady for 2011.
Growth far surpassed expectations in 2010 over 2009; we are looking for some of the same in 2011.
Not good..... there are too many Imports from China being sold from the back of a truck
We asked contractors: What are the most important issues affecting the wood flooring industry as a whole? Of course, most immediately answered, "the economy." Some other responses:
The economy is horrible! What work there is out there we have to fight for. It seems we are working twice as hard for less money.
The understanding that solid wood flooring is a "green" product and does not destroy the environment like other flooring does.
Banks not working with anybody.
Keeping products made in the U.S.A. competitive with the world market.
Customers misled by the variety of people selling flooring.
Poor products that sour people's taste for real wood flooring. People think laminate is wood flooring.
Lowering the V.O.C. in our finishes and not getting good results.
Everyone is waiting on checks that don't come in.
The government and EPA sticking their nose in our business, making it difficult for a single-man company to do the work, possibly preventing him from doing it.
Guys doing work just to go to work and getting paid enough to cover overhead.
The flooding of the U.S market with cheap, inferior products has caused some builders/homeowners to shy away from wood flooring due to the horror stories they have heard from flooring failures.
Illegal aliens are taking over jobs and lowballing prices. The contractor that uses them is the one at fault.
Read the 2010 State of the Industry report.