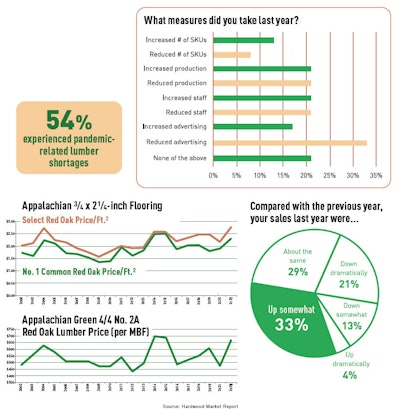 When WFB was preparing this section last year, the world had just come to a standstill as the COVID-19 pandemic ramped up around the globe. In the following pages, you will find the results from our survey of wood flooring manufacturers, distributors, retailers and contractors, as they shared with us how this history-making year impacted their businesses. (Results were compiled in February.)
Manufacturers
Here are the results from the wood flooring manufacturers who participated in our online survey.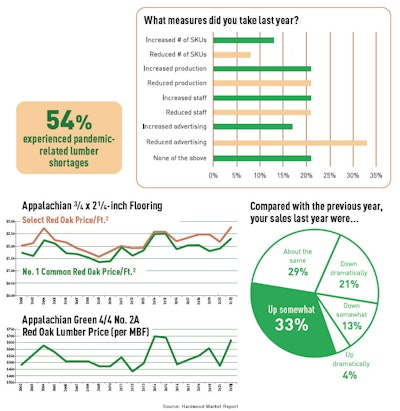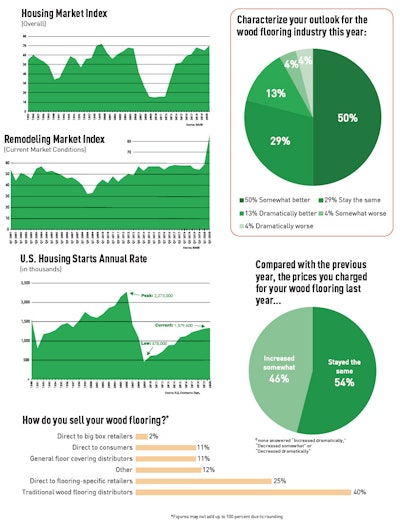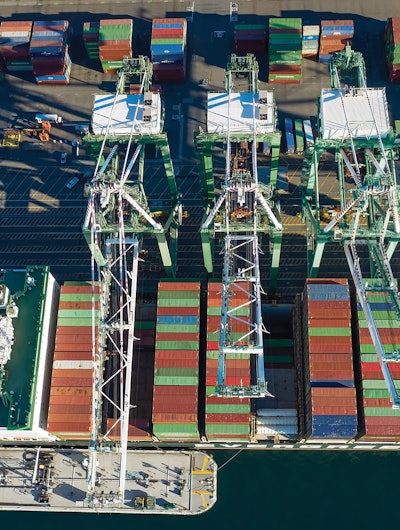 Demand spurred by pandemic leads to shortages, delays
More than a year after the coronavirus oubreak in the U.S., the hardwood flooring industry is continuing to face supply shortages—and experts say the delays many wood floor pros are experiencing could continue through at least the rest of the year.
The supply challenges are largely a result of an unprecedented surge in the housing market and home remodeling activity during the pandemic, which has left many wood floor pros swamped with work.
"It's no secret that the renovation/building industry has seen an increase during the pandemic," says Phil Nicolette, director of logistics, Bona. "Many homeowners were spending vacation funds on home renovation, which meant a significant increase in demand for floor finishing."
The price of lumber has also skyrocketed as a result, reaching record heights this year at $1,000 per thousand board feet, according to the National Association of Home Builders.
"Lumber has gone up probably 15–20% in pricing over the last few months," says Tommy Maxwell, chairman and CEO of Monticello, Ark.-based Maxwell Hardwood Flooring. "There's not as much out there ... You've just got to get out there and fight for your lumber."
The surge in demand came on the heels of a period of time when many sawmills were forced into shutdowns due to the pandemic, which decreased the supply of kiln dried lumber dramatically, says Jeff Saroyan of Huntington Park, Calif.-based Saroyan Hardwoods.
A number of companies announced April price increases on wood products ranging from 3–8%.
"Whether it's the hardwood lumber or substrate for engineered products, supply is low and demand is high," Saroyan says. "If anything is sold for normal prices, that's simply old stock that is being sold for below replacement cost."
Maxwell says white oak and red oak have been the most impacted by shortages. His company has increased production roughly 8–10% this past year. His son, Wil, president of Maxwell Hardwood Flooring, had the foresight to stock up on lumber back when the market was slower. "We went into the winter with the largest inventory we've ever had in raw material," says Tommy Maxwell, who founded the company in 1992.
AHF Products, based in Mountville, Pa., likewise has a backlog of material that has been drying out and is now ready for the kiln. "We are confident in the majority of our products, but some lead times may be extended in the near future," says Wendy Booker, VP-marketing and product development at AHF Products.
A shortage of port workers to unload goods has left the Port of Long Beach and Los Angeles with cargo ships anchoring offshore "as far as the eye can see," Saroyan says. He's seen shipping delays of up to a month or more.
"The new norm for the coming months are shortages and delays," he adds. "Whether it be cargo ships not able to unload in port or a lack of truckers on the road during the pandemic, the movement of material is heavily delayed."
Bona, headquartered in Malmö, Sweden, began experiencing some delays, typically less than two weeks, early on in the pandemic due to staffing shortages and temporary closures of vendor facilities.
"Our adhesive pail manufacturer was forced to close for a period of time due to the pandemic," says Nicolette. "As a result, we had to source our pails from another vendor which meant changes to our labeling and, to some extent, distribution."
As demand for finishing products ramped up significantly in the summer and fall of 2020, Bona was able to increase its in-house production at its Swedish facilities, Nicolette says. But the surge led to delay challenges of its own.
"The largest issue we are still seeing because of the pandemic is ocean container delays," Nicolette says. "As demand has started to increase, it is becoming more challenging to book available containers for international shipping."
Most companies expect the shortages to continue in the industry for at least the rest of 2021, although longer term impacts to the industry are harder to predict.
Maxwell's company isn't seeing "huge delays" at the moment, but, as with other manufacturers, things could get a little more challenging in April as the winter stock slims.
"It's a supply and demand product, lumber and flooring both," he says. "It'll all work itself out; it's just a matter of time."—R.K.
Distributors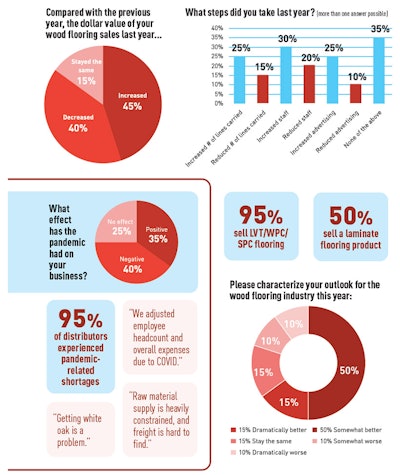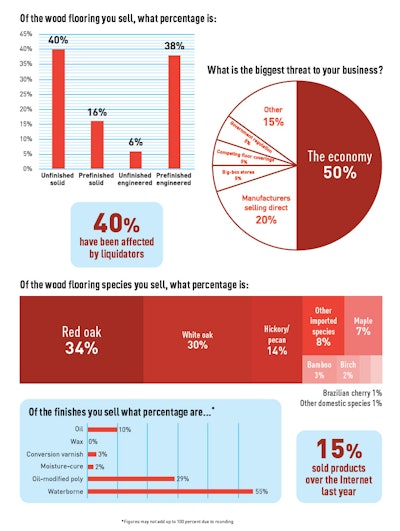 Retailers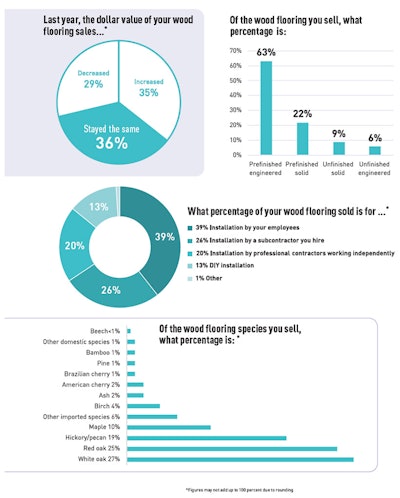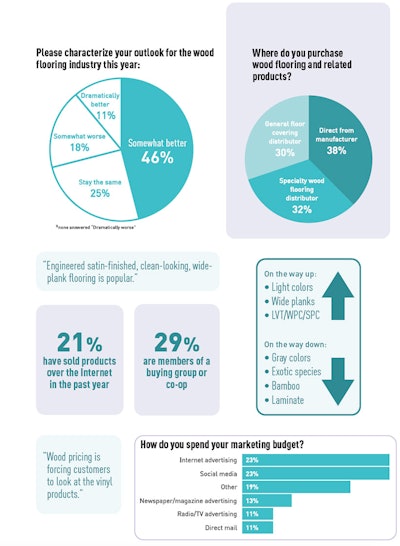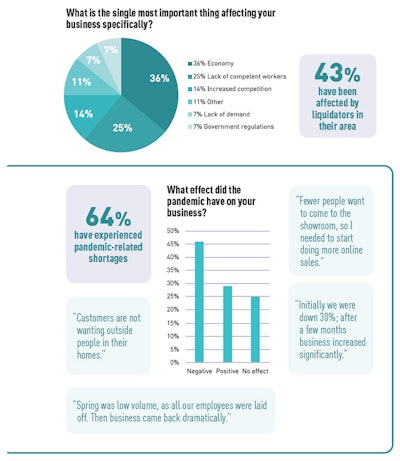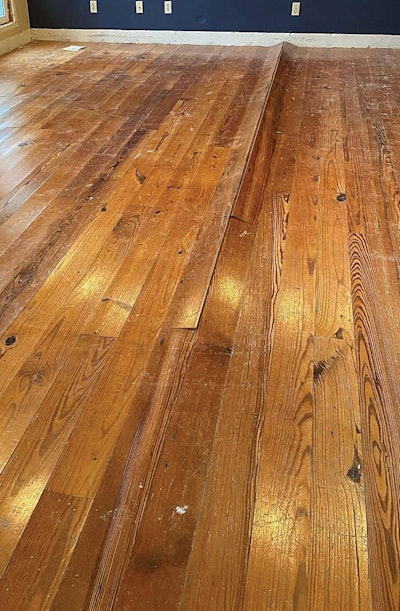 Closures, delays and damaged floors: Texan wood floor pros discuss fallout of deep freeze
Houston-based Schenck and Company has weathered natural disasters like hurricanes and floods over the years, and the company is well-versed in handling both. But no one could have predicted the mid-February snow storms that led to power outages, closures and ice-covered roads throughout the Lone Star State.
"It's not usually a freeze," Owner Greg Schenck says of local natural disasters. "It seems like Mother Nature is kind of angry right now, and we're bearing the brunt of it."
The weather flipped back to normal 80-degree Texas temperatures after a couple weeks, but not before bringing much of the hardwood flooring industry to a standstill during the snowstorms.
During the freeze: power outages and treacherous roads
"The entire town of Dallas was in lockdown starting Feb. 14th and did not hardly move until Friday the 19th," says Rick Farrell, architect and design consultant at Dallas-based Woodwright Hardwood Floor Company. "Any employees who could work from home did so, but the field guys and our production shop were out of commission all week."
Faifer and Company Inc., a mesquite flooring manufacturer based in Floresville, Texas, had to close down for two days due to road conditions, extreme cold and loss of water, according to Co-Owner and Office Manager Dee McIntyre.
Matthew Garcia of San Angelo, Texas-based Craftsman Hardwood Flooring was in the midst of a job when the freeze hit his area Thursday, Feb. 11.
"We couldn't wrap up our project and we had an occupied home torn apart," he says. "We had a limited crew because of the road conditions, but we were luckily able to put our clients' home back together on Friday before it got really bad."
Garcia lost power at his own rural home that Saturday and was without heat or running water for nearly a week. Temperatures were as low as 5 degrees, with wind chills around minus 10 degrees. Multiple employees and friends swung by Garcia's property for firewood to heat their homes.
"It was difficult, because if you were lucky enough to have running water, there was a boil notice because of water main breaks," Garcia adds. "The grocery stores had major shortages, especially for bottled water."
The aftermath: shipping delays and water-logged floors The state simply didn't have enough snow plows for the ice and snow accumulation, which set shipments back a week, Garcia says. As of March, freight companies were still trying to catch up.
"Some of our orders are not moving as they should, and things that should take one-day transit are taking three to five days," McIntyre says.
Schenck, who was able to use a diesel generator at his Houston office during the widespread power outages, has also seen delays for orders of custom mill products, receiving estimates for eight to 10 weeks out.
"COVID actually started it, and the freeze didn't help," Schenck says. "So many people are going to rural communities and wanting the wood floors in, so these mills are just overwhelmed."
Schenck suspects flooring contractors may be the most impacted segment in the wood flooring industry with an abundance of work after frozen and burst pipes damaged wood floors.
"For the wood flooring contractors, it's a boon, but at the expense and inconvenience of many, many homeowners," Schenck says. "Wood floor guys here, they're going to be busy for a while."
Tim McCool, a Fate, Texas-based sales representative with MAPEI Corporation, also notes that flooring contractors in the area are slammed—some having done 30 to 50 bids since the freeze (one reported 12 bids in a single day).
When the weather finally began to return to normal, McCool, a NWFA-certified inspector, also began fielding numerous calls about a new phenomenon in the area: seasonal gapping.
"People had never experienced gaps in their floors," McCool says. "Wood floors have dried out significantly."
Garcia, whose diesel work truck's fuel lines were frozen for seven days, had to reacclimate flooring in several projects that lost power. The disaster set the stage for an incredibly busy 2021 for wood flooring businesses, even with some unexpected delays, he says. "We actually have a new build project that is delayed because they have to rewire their electrical lines," says Garcia. "The owners decided to have an emergency generator installed if something like this ever happens again!" —R.K.
Contractors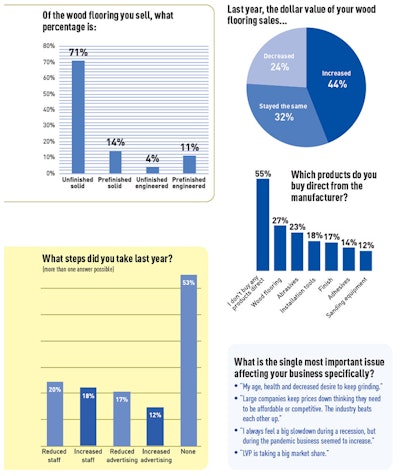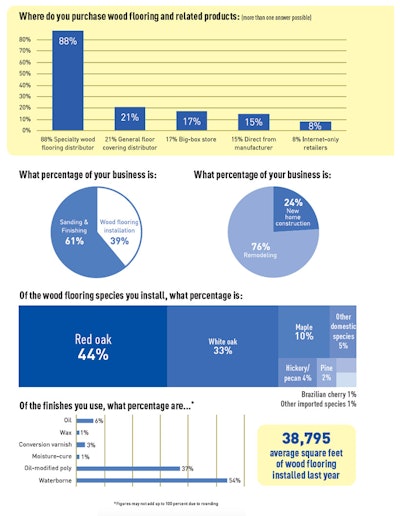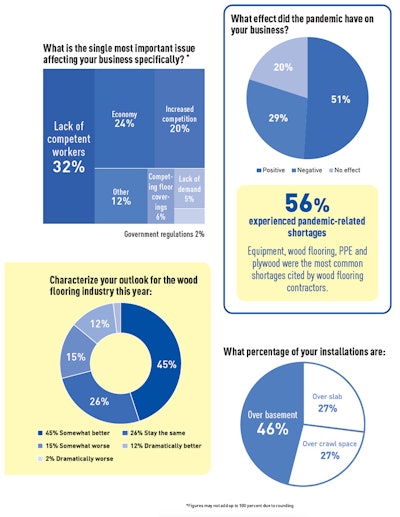 See the following previous State of the Industry reports:
State of the Wood Flooring Industry 2020
State of the Wood Flooring Industry 2019
State of the Wood Flooring Industry 2018: On Solid Footing
State of the Wood Flooring Industry 2017: Steady Growth
State of the Wood Flooring Industry 2016: A Steady Climb
State of the Wood Flooring Industry 2015: Building Momentum
Solid Ground: State of the Wood Flooring Industry 2014
Improving Outlook: State of the Industry 2013
State of the Wood Flooring Industry 2012: Rocky Ground
Signs of Life: State of the Wood Flooring Industry 2011
State of the Wood Flooring Industry 2010: Test of Endurance
State of the Wood Flooring Industry 2009: Tightening Their Belts
State of the Wood Flooring Industry 2008: Riding Out the Storm
State of the Wood Flooring Industry 2007: Global Vision