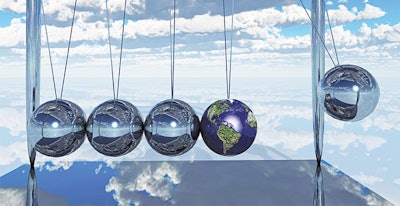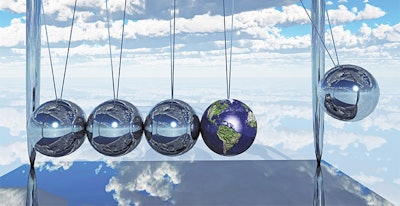 Building Momentum
As this issue went to press, the biggest buzz in the wood flooring industry wasn't about wood flooring at all. The "60 Minutes" report alleging that Lumber Liquidators' Chinese-made laminate flooring was knowingly mislabeled as CARB-compliant and contained dangerous levels of formaldehyde sent Lumber Liquidators' stock tumbling and shock waves of confusion throughout the industry. For more on that, turn to page 62.
The negative publicity focused on Lumber Liquidators' laminate has left some industry observers speculating whether wood flooring can capitalize on the bad press and take market share from the wood flooring lookalike product, increasing the industry's positive momentum of recent years. Although housing starts remain at about half of their peak in 2006, this year's survey of wood flooring manufacturers, distributors and contractors revealed another solid year for the industry, with at least half of the respondents in each segment reporting that their business had increased in 2014.
The results also show that wood flooring professionals expect current trends to continue. Across all segments, they reported that they expect consumers' preference for distressed flooring, dark colors, gray colors, wide planks and reclaimed flooring to increase. All segments expect a decrease in interest in bamboo flooring, and manufacturers and distributors clearly expect demand for exotic species to either remain the same or decrease in the coming year. To find out what else the survey revealed from each level of the industry, keep reading.—K.M.W.
State of the Industry 2015 Manufacturers
In January, an online survey was sent to all NWFA-member wood flooring manufacturers. Here are the results.

The median increase in sales for wood flooring manufacturers in 2014 was 18%.


"There are significant downward price pressures on both raw materials and manufactured goods (oak strip flooring). Business conditions could level out this summer, especially with help from increased new and remodeling residential construction. But between now and then, there is a lot of inventory correction that must take place."

—Judd Johnson, Editor, Hardwood Market Report
| | |
| --- | --- |
| | "The final half of 2014 saw incredible demand on white oak, walnut, hickory and Q/R white oak. This demand drove prices considerably higher for raw materials and availability became an issue, too." |
| | |
| --- | --- |
| "In general I feel a bigger demand from architects and designers for natural materials. This should help the whole industry." | |

"FSC requests have become less and less frequent in our area, with more emphasis on purchasing domestic species over exotics."


State of the Industry 2015 Distributors
In January, distributors filled out surveys about their business in 2014. Approximately 91% of wood flooring distributors who responded said they specialize in wood flooring; 9% were general floor covering distributors.


"I am concerned about cheap imports giving the industry a bad reputation and distributor salespeople not educating dealers, who in turn mislead consumers on price versus quality."


"We are struggling to find highly talented people to join the company."


| | |
| --- | --- |
| "We continue to be very aggressive in adding new products that can help us grow our business. Our marketing budget has increased tremendously over the past 3 years." | |
| | |
| --- | --- |
| | |
Shock Waves
The industry looks on as its biggest retailer twists in the wind
The "60 Minutes" report that aired March 1 alleging dangerous levels of formaldehyde in Lumber Liquidators' Chinese-made laminate sent the company's stock into freefall, despite the company's vehement rebuttal of all accusations, and sent shock waves of confusion throughout the industry. Contractors who installed the products are left wondering about their own health and liability, and consumers are alarmed and perplexed, with many not understanding the difference between laminate and engineered wood flooring, thus putting all similar flooring under suspicion. In response, some wood flooring manufacturers felt the need to issue statements reiterating their compliance with CARB Phase 2 requirements.
"This has caused a serious panic; it has absolutely exploded," said Travis Snapp, managing director at Benchmark International, one of the companies that performed testing for the "60 Minutes" report. "People watched it and they are afraid based on what was presented," he says, adding that since the report his lab has received everything from rocking chairs to kitchen counters to test for formaldehyde emissions.
Snapp feels the panic is unfounded and says he feels unconcerned about having laminate flooring in his home. "Babies' breath contains more formaldehyde than some of these CARB levels for panels allow," he explains.
Whether the concerns are valid or not, the effects are powerful. Although the company has survived and even thrived after bad press before, the magnitude of this is different. As of press time, Lumber Liquidators' stock had lost more than a billion dollars in value—yes, billion—since the company first announced it would be the subject of a negative report on "60 Minutes." Its stock, trading at $68.78 before the company announced it would be the subject of a negative report on "60 Minutes," was at $29.20 as of press time in mid-March. A U.S. senator has asked three federal agencies to investigate the company. Multiple class action lawsuits have been filed against the company, and a long-term investor filed a lawsuit against founder Tom Sullivan and CEO Robert M. Lynch alleging $19 million of insider trading. In addition, Lumber Liquidators announced it is expecting charges related to a potential Lacey Act violation after a federal raid in September 2013. Speculation about the charges and the company's viability going forward runs rampant, but the long-term impacts on the wood flooring industry's biggest retailer—and the wood flooring industry at large—remain to be seen.—K.M.W.
Threatened by Liquidators?
We asked distributors if their business had been affected by liquidators (such as Lumber Liquidators). (Note that the survey responses were before the "60 Minutes" report focused on Lumber Liquidators.)


"Their prices have killed our new install sales over the past few years. We've redirected our focus into high-end restoration and specialty installations to compensate."

—Wood flooring contractor
State of the Industry 2015 Contractors
In January, contractors filled out surveys about their business in 2014. Approximately 89% of them said they specializein wood flooring; 11% deal with general floor coverings.


| | |
| --- | --- |
| | "Our distributor covers 90% of our needs and always has the information we need to keep up in the local industry." |
"We have a tendency to go through different distributors. Some of it is product-related, but most is service-related. They don't deliver on time or do what they say they are going to do."