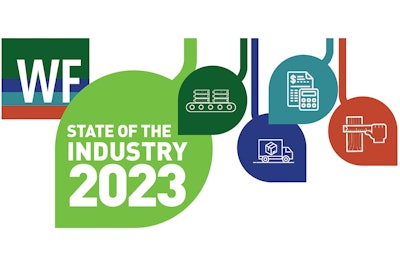 As we have done every year now since 1992, earlier this year WFB asked wood flooring pros to fill out a survey taking the collective temperature of the wood flooring industry. This year WFB again collected responses from wood flooring manufacturers, distributors, retailers and contractors to find out how business went during a volatile 2022, challenges in the industry, design trends and more. Below, we present a snapshot of the overall housing market and lumber/wood flooring prices. Also below, industry leaders fill us in on how the war in Ukraine has affected our industry.—K.M.W.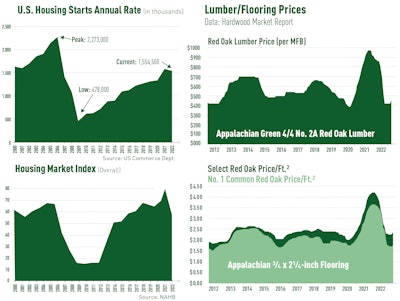 ---
'Prices are high and it's hard to get': A year of uncertainties with Baltic birch plywood
---
For years, Baltic birch plywood has been a key material for engineered wood flooring manufacturers in the U.S., used as a core and valued for its thin plies and stability. When President Biden removed Russia from "most favored nation" trade status due to its invasion of Ukraine in February 2022 and imposed 50% tariffs on Russian goods, the wood flooring industry had to quickly figure out how to adapt. WFB spoke with industry leaders about the impacts of Baltic birch plywood supply disruption, where the supply is at today and what the future of engineered wood flooring might look like.
Bolstering stockpiles
After it was clear the war in Ukraine wouldn't end quickly, many companies stockpiled plywood in order to have a buffer to the uncertainties ahead. A challenge was the dearth of domestic manufacturers of plywood, many of whom were wiped out by imports from China over the years, according to Keith Christman of the Decorative Hardwoods Association. "The industry was nearly wiped out by imports from China in previous years with dumping, so they were reluctant to invest in increased production through automation, etc., when they don't know what will happen longer term," Christman says.
Huntington Park, Calif.-based Saroyan Hardwoods spent large sums to stock up on Baltic birch plywood that was already in the U.S. prior to the war. "We had a huge supply of it, so we could go ahead and do our research for a possible replacement in a timely manner," says Jeff Saroyan, sales manager at Saroyan Hardwoods. "We gave ourselves a long runway."
Maxwell Hardwood Flooring in Monticello, Ark., also stockpiled its plywood supply early and from multiple sources, according to owner Tommy Maxwell. "Ultimately we ended up getting a lot more product, but it was at a lot higher price," Maxwell says. "We just had to watch our other production costs and watch our inventories. It negatively affected production a little bit in some cases, because we cut back hours some so we wouldn't run out later."
Exploring alternative sources, material
When it came to plywood supply, Mountville, Pa.-based AHF Products was only marginally impacted by the Russian tariffs. "Only a small portion of our plywood came from that region," says Brian Parker, VP-product management. "We simply secured that small additional portion from our existing domestic manufacturing partner."
AHF Products also has the capability to manufacture its own plywood, a process other manufacturers looked to bring in-house following the upheaval, as well. Johnson City, Tenn.-based Mullican Flooring had been producing its own five-ply rotary engineered product with a top and bottom layer for its cores prior to the war, says Pat Oakley, VP of sales and marketing. After the tariffs, Mullican began producing a sawn engineered substrate to replace Baltic birch. Mullican is also continuing to explore alternative materials.
Los Angeles-based Galleher began utilizing eucalyptus cores years prior to the war and is converting to it as its primary alternative to Baltic birch plywood, says Danny Harrington, VP of product strategy at Galleher.
Eucalyptus occasionally gets a bad rap largely due to how it looks after milling, Harrington notes. "I think it has a less high-end reputation because when you mill it it doesn't look quite as clean and pristine and white," he says. "It's a little more fluffy when it's milled. But actually we've had great success with it … Over the years, I've actually had more delamination problems with Russian plywood than with eucalyptus plywood, even though we've sold more volume of eucalyptus."
What the next year looks like
"It really hasn't improved a lot," Maxwell says of the industry's plywood situation a year after the tariffs were imposed. "Cost has come down some, but availability is not that good … The prices are high and it's hard to get."
The domestic industry has been increasing employment and producing as much plywood as possible in the short-term, says Christman. There are also major U.S. trade decisions coming up this year, including reviews of plywood tariffs for China and Vietnam.
For now, Harrington notes that stockpiles of Baltic birch are beginning to thin for many manufacturers. "I think we're just getting to the point where we're starting to see some of these other substrates being tried out or starting to make it out into the market," he says.
Saroyan sees the overall market as starting to find its footing. "There's still questions," Saroyan says. "But the mad panic that a lot of people faced … I think that's tailed off." Saroyan also warns flooring installers to be wary of manufacturers attempting to sell "nominal" wear layers and thicknesses and lengths in the industry amid the shifting market.
It is unclear the future Baltic birch holds in the industry, but many believe it will continue to have a place in the manufacturing of wood floors down the road.
"I think Baltic birch will still be around at some point, and the price will come back down and maybe somebody will make something similar," Maxwell says. "It's just like a lot of other things in this industry: There's always challenges, but we get through it."
---
Manufacturers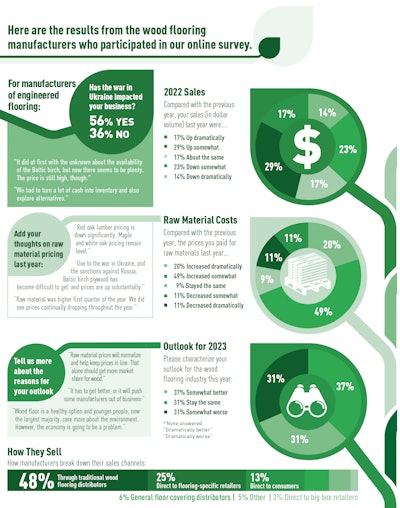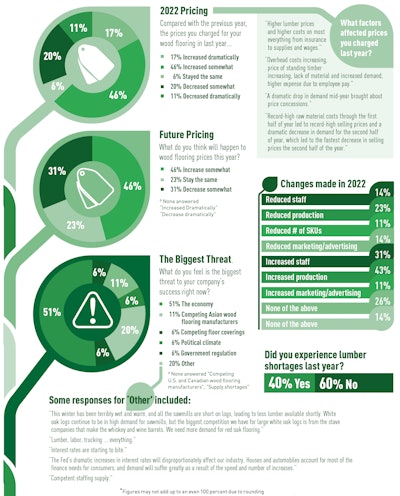 Distributors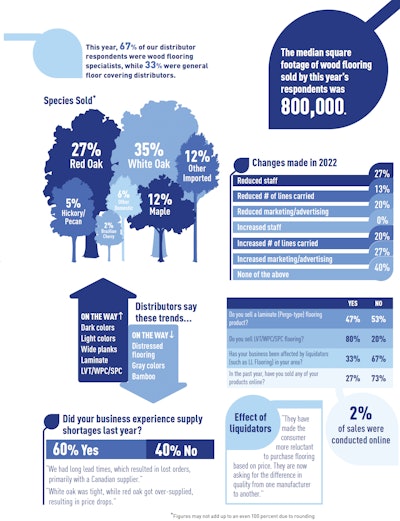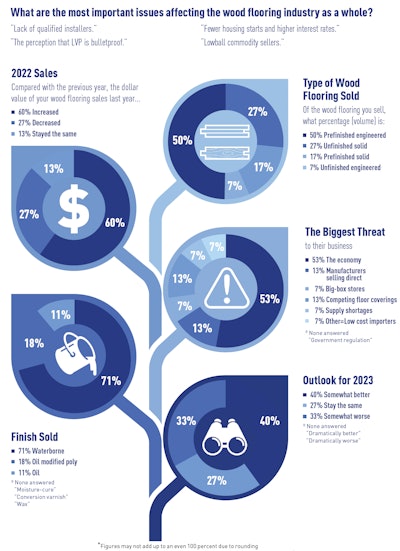 Retailers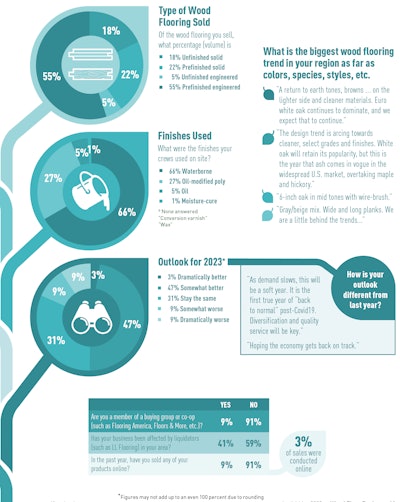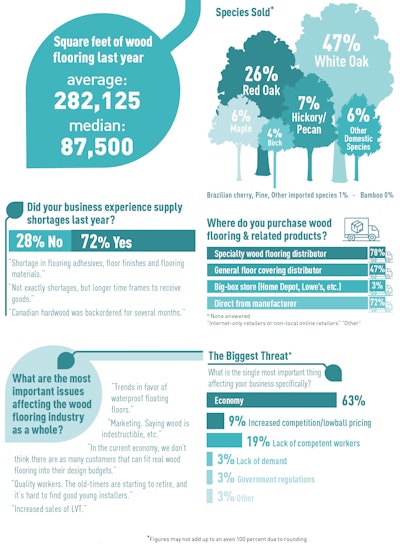 Contractors