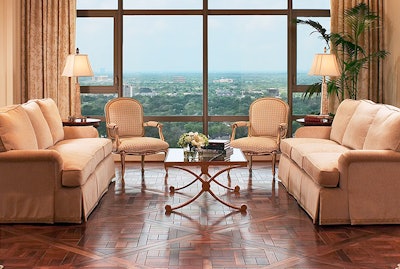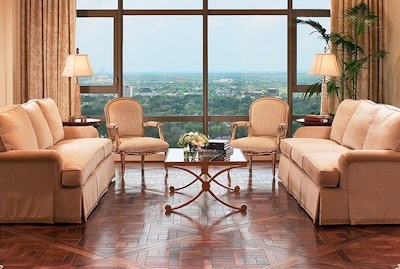 As this issue went to press, the increasingly positive news about the economy was tempered by the implementation of the government's sequestration measures. The good news for the wood flooring industry, though, was that the housing market updates had been relentlessly positive: January home sales posted their biggest monthly gain since 1993, builder confidence was near its highest level since 2006 and housing starts in December were at their highest rate since June 2008. It seemed as though, at long last, the industry had finally turned the corner. To find out what the wood flooring manufacturers, distributors and contractors had to say about this in HF's exclusive State of the Industry survey, keep reading below.
State of the Industry Manufacturers
In January an online survey was sent to all NWFA-member wood flooring manufacturers. Here are the results.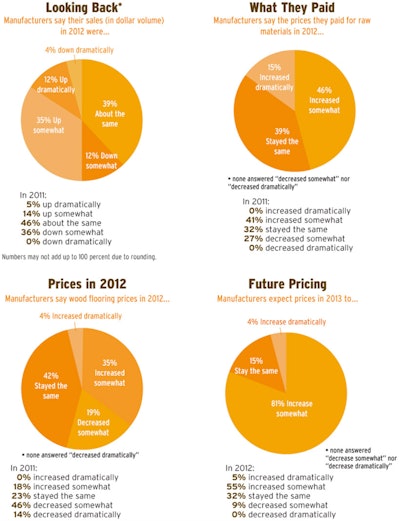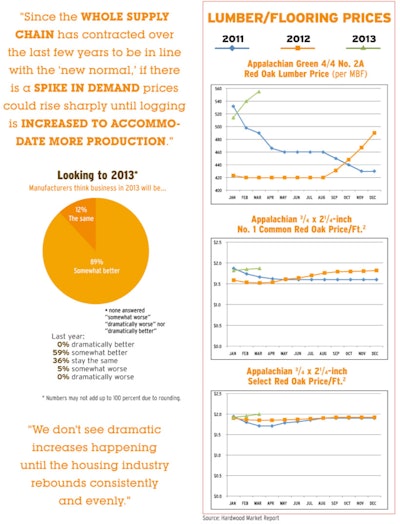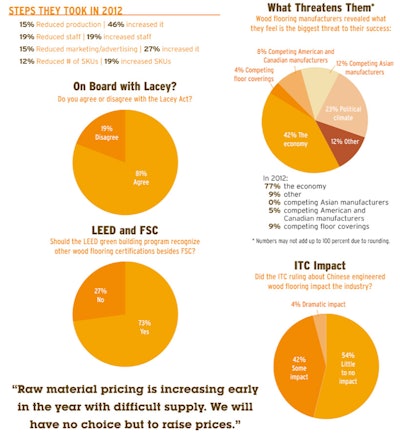 HF asked wood flooring manufacturers: What advice would you give wood flooring distributors in order to be relevant in today's wood flooring industry?
Gain a thorough understanding of your manufacturer partner. Support your customers, but also understand the needs of your manufacturer. You might be surprised how you might benefit both.
Stock the products your clients need so they can have it now.
Add value to your offering and focus on fewer lines. Turn and earn.
Work closely with your suppliers to inform them of trends-likes and dislikes. Be faithful to your suppliers and don't treat them like its an auction type of environment. And don't play one supplier against another! Where did the brand loyalty go? Where has the supplier loyalty gone?
State of the Industry Distributors
In January, distributors filled out surveys about their business in 2012. Approximately 84% of wood flooring distributors who responded said they specialize in wood flooring; 16% were general floor covering distributors.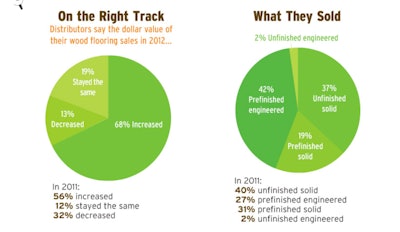 Do you think the economy is on firm footing for 2013? Some responses:
Yes, the bottom is history.
No. We feel there is enough uncertainty of the future that consumers are staying guarded and conservative with their finances.
Not at all. The recovery is very sketchy. Disposable income is falling in many cases, and the fiscal issues lead to uncertainty. Chinese products have knocked the bottom out of pricing so you need to sell so much more to make the same or less in this economy. U.S.-made products are pushed to the brink, especially in the big markets where China is everywhere. I don't like all the direct access that is rampant.
Not really. Our current tax-and-spend administration is determined to prevent small businesses from being more profitable. Small business is the footing our economy stands on!
Laminate Stats
55% of distributors also offer a laminate line | 45% do not
29% expect laminate sales to increase in their region | 71% do not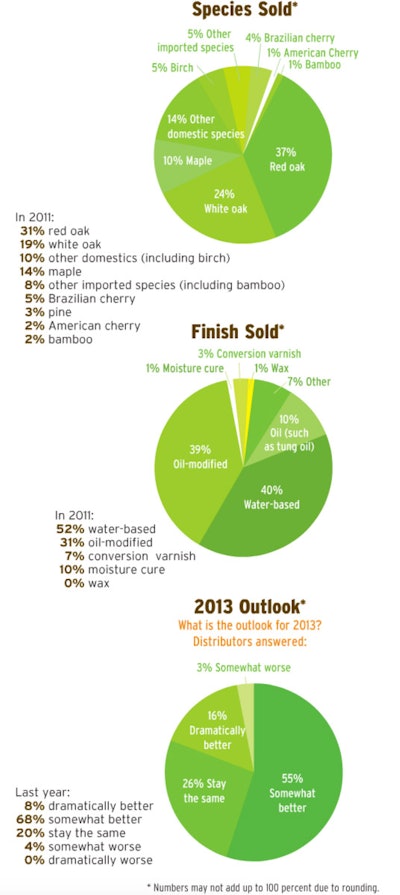 Steps They Took in 2012
13% Reduced staff | 26% Increased staff
23% Reduced the # of lines carried | 32% Increased the #
19% Reduced marketing/advertising | 35% Increased it
Top Concerns
Yet again, distributors overwhelmingly view the economy as the biggest threat to their business, followed by manufacturers selling direct.
How have your relationships with your suppliers changed since the recession?
I have less faith in our relationship. When the going gets tough, open up everyone to fix the problem.
We have fewer suppliers, but we try to partner with each of them.
They haven't; we are still partners and work together to help sell and promote our flooring.
Honestly, suppliers have become less loyal the past two years as we have had to look for increasingly more lines. We have had to go more and more to manufacturing our own products.
They are more flexible when it comes to order sizes and prepaid shipping arrangements.
We have gotten closer and are working together more to achieve the same goals.
Battling Big Boxes
61% said their business had been affected by big box stores such as Home Depot and Lowe's | 39% said it had not
(Last year 53% of distributors said big boxes had affected their businesses.)
Online Offerings
23% of distributors said they had sold some products online in 2012.
State of the Industry Contractors
In January, contractors filled out surveys about their business in 2012. Approximately 86% of them said they specialize in wood flooring; 14% deal with general floor coverings. The average amount of wood flooring sold among the respondents was 75,636 square feet.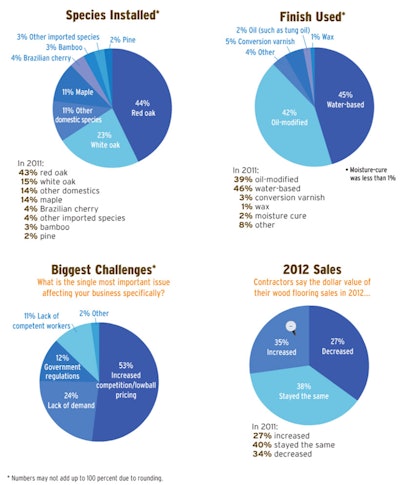 How have your relationships with wood flooring distributors changed since the recession?
I am using three different distributors now because pricing on certain things are better with others.
It has changed for the negative-as the market has decreased, distributors here have become more active selling retail direct.
I've had to cultivate new relationships with new salespeople; two of our big distributors shut their doors.
Many have closed in our area, leaving only one that has bad customer service. I order as much as possible online.
They have not changed much other than that I will shop distributors for best pricing.
The only change I have seen is less inventory at the distributors.
Do you think the economy is on firm footing for 2013?
I am not optimistic at all. This is been going on for five years-I don't see anything changing anytime soon.
I don't know as I'd say "firm footing;" I do feel like I have all 10 fingers holding on to the edge of the cliff and finally I don't think I'm at risk of falling. I do not feel I have swung my leg up over to get onto firm ground again. That's what I hope 2013 brings.
No. The financial cliff created by Washington is not allowing anyone to feel comfortable. Additionally, the new mortgage qualifications are going to hurt new home building!
What is the single most important issue affecting your business specifically?
Mass marketing of cheaper products by the large retailers drives all flooring prices for down. Builders are still expecting labor charges to remain steady even as the economy starts the recovery.
Sleazy competitors with no general liability or workmans comp, just operating out their vehicles hiring illegal workers for peanuts and underbidding my jobs because they can.
My biggest challenge is finding young workers who want to learn the trade. The surge in cheap prefinished product supplied by stores rather than true distributors is slowly killing the trade.
Collections have gotten tougher. People seem to be more demanding of quality for less money!
Builders are putting pressure to reduce costs while materials are on their way up. Meanwhile, less experienced contractors without insurance/bond are picking up work using poor practices at lower prices. I am hopeful the builders will eventually realize the quality is more important.