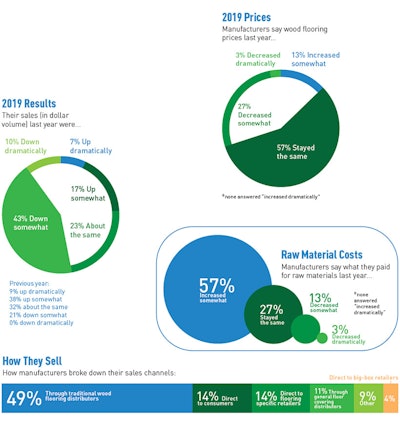 Following are the results from WFB's exclusive State of the Industry Survey, which the magazine has been doing since 1992. Please note that responses to this survey were collected in late January and early February, when the novel coronavirus was just beginning to be detected in countries outside China. As this issue went to press in mid-March, the coronavirus had been declared a pandemic and was escalating daily.
Manufacturers
Here are the results from the wood flooring manufacturers who participated in our online survey.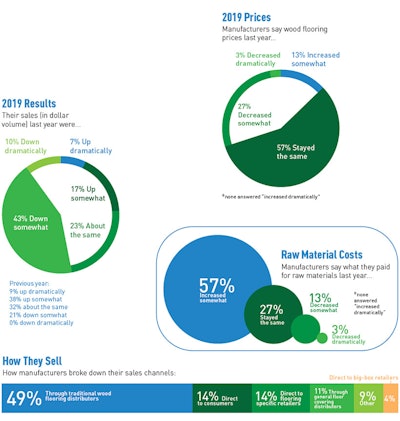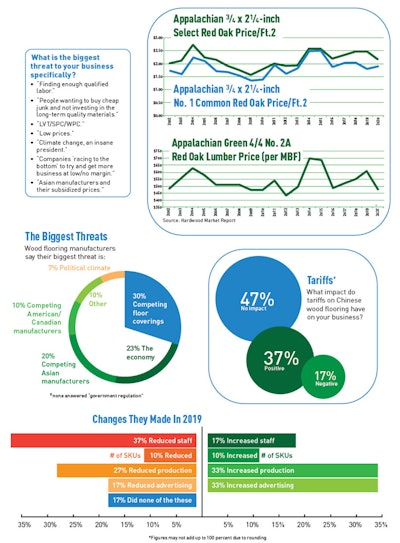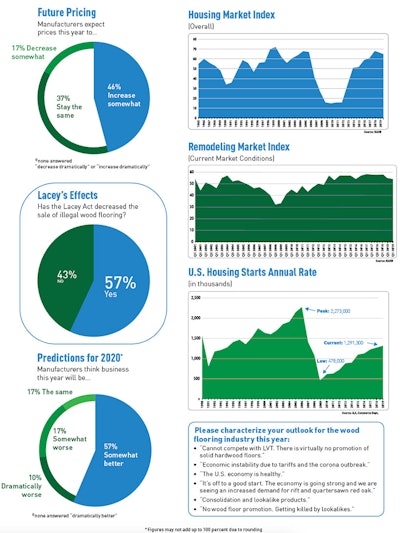 'A tough battle to beat'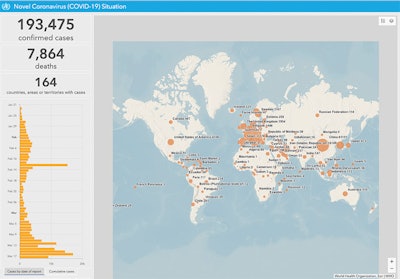 Coronavirus affects wood flooring industry, economy
As of press time in mid-March, the coronavirus (Covid-19) pandemic was disrupting the daily lives of people all over the globe. More than 7,800 had died and entire countries were on lockdown. In the U.S., schools and universities had closed or were operating remotely, restaurants and bars were ordered to be open only for takeout, sports and social activities had abruptly stopped, and "social distancing" had been mandated. The pandemic was wreaking havoc on the stock market, with the Dow Jones and S&P 500 suffering the worst daily losses since 1987.
The wood wood flooring industry was beginning to feel its impact—and industry experts predicted it could last for some time. The effects were being felt at all level of industry, from contractors with customers suddenly nervous about the economy to manufacturers, importers and distributors concerned about the shutdown of manufacturing in China. Wood flooring distributors that depend on imports from China, which had seen the most cases of the virus, were left with uncertainty as production slowed and borders tightened.
Van Nuys, Calif.-based National Hardwood Flooring and Moulding, which imports engineered wood flooring from China, hadn't been able to receive a product shipment since January, according to its founder and president, Omer Katzir. That's when the company's Dalian, China-based manufacturer ceased production and went into a mandatory quarantine.
"The minute they announced the virus was starting to spread really quickly, they stopped themselves," Katzir told WFB. "The whole economy, shipping, freight, nobody could do anything. There were no people in the workforce in any direction, in any level, in any department, anything."
Dalian's quarantine was lifted in early March, at which point the engineered hardwood flooring manufacturer began production again, Katzir said. However, the U.S. halted shipments from China in mid-February in an effort to curb the virus's spread, again preventing the material from reaching National Hardwood. Katzir estimated he was behind by eight or nine shipments.
"Right now, I'm almost out of material," he said. To keep up with demand, the company was buying from competitors, but that inventory was dwindling. He believed it would be a while before shipments begin flowing smoothly again, leaving supply chains vulnerable.
"I give two months maximum estimate for this economy to sustain itself as-is," Katzir said. "And after that, it will start to affect us."
Lumber Liquidators, which sources nearly half its products from Asia, also warned that the coronavirus could disrupt its supply chain, predicting a material impact beginning in the second quarter of 2020 should the virus continue causing shutdowns of factories and borders.
Ua Floors CEO Andy Su told WFB he predicted long-term impacts down the road for the hardwood flooring industry in terms of demand. "Fewer buyers will be viewing houses; therefore fewer houses will be sold. This will reduce the demand for hardwood flooring. It is a tough battle to beat," Su told WFB via email.
Ua Floors, based in Douliu City, Taiwan, had been able to remain in operation but had enacted measures to protect employees, including monitoring body temperatures before people entered the company's facilities and providing medical masks for daily use at work.
"Many product meetings scheduled in North America were cancelled," Su says. "We are offering one-to-one visits and video conferences with our clients instead."
The impact was also being felt in the contractor sector. In a WFB poll, 45% of pros said clients had postponed projects due to the coronavirus pandemic. Some pros reported silent phones since the outbreak, whether because customers were working from home or had children home from school, or simply due to anxiety about a potential economic downturn. Several pros said they'd picked up wood flooring work at restaurants due to closures.
"On Friday I had three customers say they are ready to move forward but want to wait until the coronavirus stuff passes," pro David Habib wrote in response to the WFB poll. "Ironically, on the following Monday I had three people I did proposals for four years ago call to schedule, stating they finally had the chance to get it done."
At press time, the mayor of Boston froze all construction work in the city for two weeks in an effort to curb the spread of the virus, which left others wondering if other areas would follow suit.
The rapidly spreading virus also caused the cancellation of numerous industry events, from the National Wood Flooring Association's April convention in Milwaukee to the International Wood Products Association's World of Wood Conference in Savannah, Ga., which was altered to be held virtually. Domotex Asia/ChinaFloor was one of the first major flooring events to be postponed due to the outbreak, moving its Shanghai event from March to late August.—R.K.
Distributors
The distributors responding to our survey were 75 percent wood flooring specialists and 25 percent general floor covering distributors.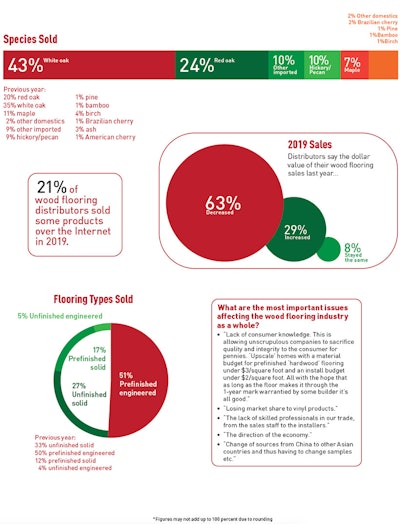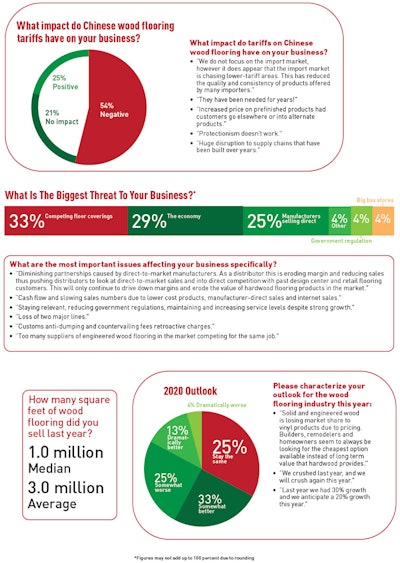 Retailers
Of the retailers responding to our survey, 20 percent specialized in wood flooring and 80 percent were general floor covering retailers.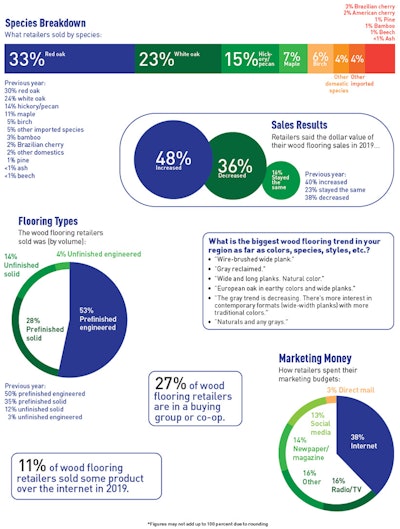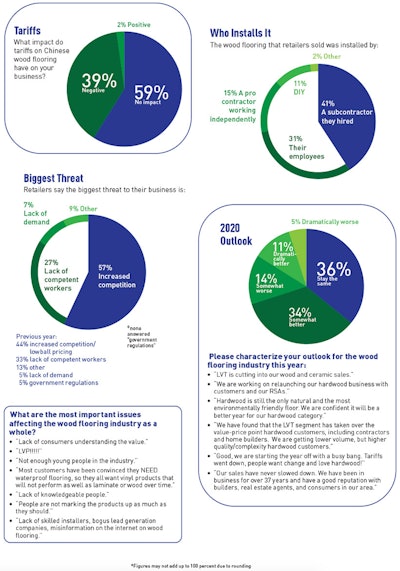 Contractors
Hundreds of contractors responded for our survey. 91 percent specialized in wood flooring, while 9 percent work with all floor coverings.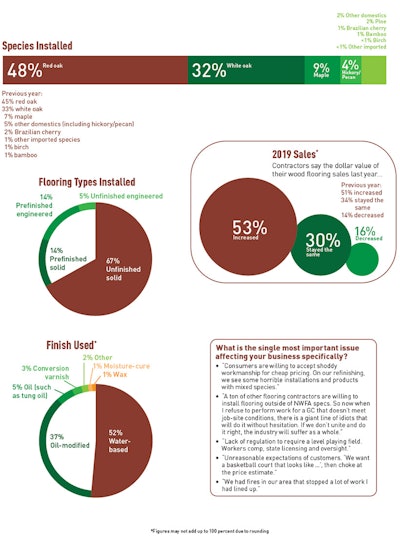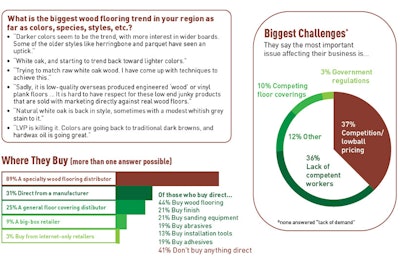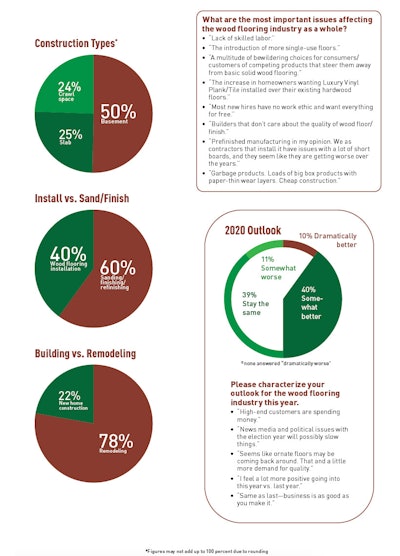 See the following previous State of the Industry reports:
State of the Wood Flooring Industry 2019
State of the Wood Flooring Industry 2018: On Solid Footing
State of the Wood Flooring Industry 2017: Steady Growth
State of the Wood Flooring Industry 2016: A Steady Climb
State of the Wood Flooring Industry 2015: Building Momentum
Solid Ground: State of the Wood Flooring Industry 2014
Improving Outlook: State of the Industry 2013
State of the Wood Flooring Industry 2012: Rocky Ground
Signs of Life: State of the Wood Flooring Industry 2011
State of the Wood Flooring Industry 2010: Test of Endurance
State of the Wood Flooring Industry 2009: Tightening Their Belts
State of the Wood Flooring Industry 2008: Riding Out the Storm
State of the Wood Flooring Industry 2007: Global Vision