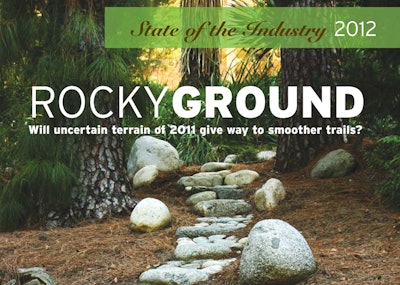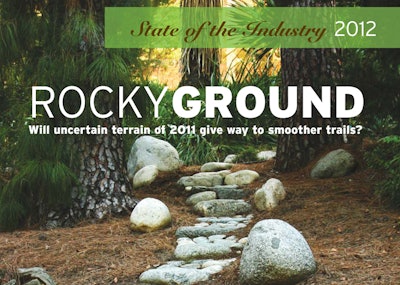 For the past few years, the wood flooring industry has been traveling over shaky economic terrain, but, entering the spring and summer selling seasons of 2012, it appears the course of the U.S. economy is improving. The latest report from the Labor Department indicated payrolls increased by 227,000 jobs in February, and reports from December and January were upwardly revised. Meanwhile, household confidence improved to a four-year high in early March as more Americans said the economy was improving and that it was a good time to go shopping. Last, sales of existing homes rose in January to the highest rate in nearly two years, continuing an upward trend going back six months.
But let's check our footing again: There is plenty of evidence showing that a return to the good old days is a ways off. While the uptick in existing-home sales was good, January's annual rate of 4.57 million is still well below the rate of 6 million that economists equate with a healthy economy. And while homebuilders started 606,900 units in 2011, that amount was only slightly better than the previous two years. What's more, single-family home building in 2011 hit 428,600 units-the fewest ever on record and about half the number of starts in a healthy economy. As a result, there is a consensus that the housing sector is bedeviling a robust economic turnaround from the United States' worst recession since The Great Depression.
So how did the wood flooring industry fare in 2011 with home building still in a slump? The survey data that follow, including results from Hardwood Floors' State of the Industry survey, as well as highlights from the NWFA's January 2012 wood flooring report conducted by Catalina Research Inc., show that even with a number of forces still muddying the path forward, the trail is smoothing out. It appears that the wood flooring industry, benefiting from increased sales in the remodeling market, is on the mend.-D.D.
Road to Recovery in Sales
U.S. wood flooring manufacturer sales-i.e., shipments minus exports plus imports-have been recovering since 2010, benefiting from growing demand in residential and commercial replacement markets. Overall, the rate of new home starts, sapped by tight credit and competition from declining existing-home prices, has kept the industry's recovery at relatively sluggish levels-but things are improving. Estimates show:
• The value of wood flooring sales is estimated to have increased by 4.4% in 2011, coming on the heels of a 15.8% gain in 2010.
• Manufacturer sales reached about $1.8 billion in 2011-still far off from an industry sales peak in 2005 of about $2.7 billion.
• Square-foot sales in 2011 are estimated at 922 million square feet, also a 4.4% increase over 2010.
• Most of the increase in sales is estimated to have happened in the second half of the year due to stronger employment gains and an increase in existing-home sales.
Ahead of the Floor Covering Pack
The wood flooring industry's recovery has outpaced the overall floor coverings market since 2009, according to Catalina's data. How did that happen?
• All hard surface flooring materials took market share from wall-to-wall carpet on the back of consumer preference alone.
• Wood flooring was able to take even more market share due to increased cost competitiveness as a result of declining lumber prices and the growing penetration of lower-cost foreign-sourced products.
• The housing slump put pressure on manufacturers to lower prices, which hurt profits but helped wood flooring's price competitiveness. In 2007 the average price for wood flooring was 125% above the average price for all floor coverings, and that gap was cut to 96% in 2011.
• In 2011 wood flooring is estimated to have represented 10.2% of the total dollar floor covering sales and 5.2% of the square footage of floor coverings sold, up from 9.0% and 4.6%, respectively, in 2009.
Not-as-Smooth Sailing for Imports
Foreign-sourced wood flooring significantly increased its share of U.S. sales over the past decade as recession-weary consumers turned to lower-priced goods, particularly in the engineered wood flooring market. However, the ITC ruling in favor of U.S. wood flooring manufacturers is expected to increase prices, while a shift to domestically sourced woods due to environmental legislation and regulations, including the Lacey Act, has made it more costly to import wood flooring. Catalina reports:
• Engineered flooring now accounts for 50.4% of total wood flooring manufacturer sales in dollars and 48.1% of total sales on a square-foot basis.
• Exotic species lost ground as the Lacey Act made it more burdensome and costly to import them. Bamboo also seems to have lost ground.
• Oak is still the most important species, but U.S. manufacturers have increased their reliance on domestic maple, hickory and birch.
Where the Products Go
The mix of where products end up has shifted, with an increased focus on the remodeling market.
• Manufacturer sales to the residential replacement market were estimated at more than $1 billion in 2011, or 57% of total dollar sales. This is up from 45.8% in 2007 and only 38.6% in 1997.
• The builder market is estimated at only 17.1% of total U.S. wood flooring dollar sales, down from 33.4% in 2007. These statistics reflect the 61.0% drop in U.S. new housing unit completions during that same period.
• Sales to nonresidential markets have made up some of the decline in the builder market, rising to 21.6% of total industry sales (an increase over 16.5% in 2007 and 12.3% in 2002).
• In 2011, it is estimated that home centers accounted for 31.2% of total U.S. wood flooring retail sales and hard surface flooring stores 20.6%-up from 20.1% and 8.6%, respectively, in 2002.
• Lumber Liquidators is estimated to account for 14.2% of total U.S. wood flooring retail sales, Home Depot 13.1% and Lowe's 10.1%.
The executive summary of the January 2012 wood flooring report by Catalina Research Inc. is available for free to NWFA members at www.nwfa.org. The full report is available for purchase for NWFA members at a discounted rate of $3,095 ($3,495 for non-members).
In January an online survey was sent to all NWFA-member wood flooring manufacturers. Here are the results.
Looking Back*

Manufacturers say their sales (in dollar volume) in 2011 were…

In 2010:

16% up dramatically
33% up somewhat
23% about the same
21% down somewhat
7% down dramatically

What They Paid

Manufacturers say the prices they paid for raw materials in 2011…

In 2010:

13% increased dramatically
56% increased somewhat
26% stayed the same
3% decreased somewhat
2% decreased dramatically
Prices in 2011*

Manufacturers say wood flooring prices in 2011…

In 2010:

8% increased dramatically
33% increased somewhat
41% stayed the same
16% decreased somewhat
2% decreased dramatically

Future Pricing

Manufacturers expect prices in 2012 to…
Where FSC Ranks

Manufacturers rank the importance of FSC certification to their success as…

In 2010:

10% extremely important
48% somewhat important
42% unimportant

Looking to 2012

Manufacturers think business in 2012 will be…

In 2010:

2% dramatically better
57% somewhat better
32% stay the same
5% somewhat worse
5% dramatically worse

* Numbers may not add up to 100 percent due to rounding.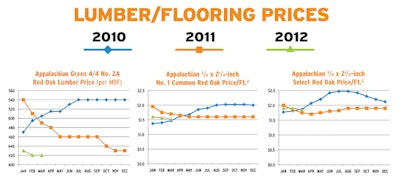 Source: Hardwood Market Report
Steps They Took In 2011
41% Reduced Production | 9% Increased it
32% Reduced Staff | 9% Increased staff
27% Reduced marketing/advertising | 23% Increased it
14% Reduced # of SKUs | 23% Increased SKUs
Predictions
Most wood flooring manufacturers surveyed expect the popularity of exotic species and bamboo to decrease in 2012.
FSC's Influence
Wood flooring manufacturers were asked, "How important do you think FSC certification is to a wood flooring manufacturer's success?" Responses included:
It all sounds good, but I have rarely found someone who is willing to pay for it unless they have more money than sense.
It seems to be most important to the larger manufacturers and not so much the small business.
FSC is a gimmick to add cost that provides no value in return.
Domestic hardwoods come from sustainable-yield forests whether they are FSC or not. So I don't believe that owners will be willing to pay 10% to 20% more for a product that has no additional value.
What Hurts Them

Wood flooring manufacturers revealed what they feel is the biggest threat to their success:

In 2010:

58% the economy
16% other
15% competing Asian manufacturers
7% competing American and Canadian manufacturers
3% competing floor coverings

ITC Impact

What impact will the ITC ruling on engineered Chinese imports have on the industry?
---
In January, distributors filled out surveys about their business in 2011. Approximately 84% of wood flooring distributors who responded said they specialize in wood flooring; 16% were general floor covering distributors.
On the Right Track

Distributors say the dollar value of their wood flooring sales in 2011...

In 2010:

60% increased
7% stayed the same
33% decreased

What They Sold

In 2010:

37% unfinished solid
31% prefinished engineered
29% prefinished solid
3% unfinished engineered
Looking at Laminate
56% of distributors also offer a laminate line | 44% do not
28% expect laminate sales to increase in their region | 72% do not
Steps They Took In 2011
40% Reduced staff | 28% Increased staff
24% Reduced the # of lines carried | 48% Increased the #
24% Reduced marketing/advertising | 28% Increased it
Top Concerns
Once again, distributors overwhelmingly view the economy as the biggest threat to their business, followed by manufacturers selling direct.
Battling Big Boxes
64% said their business had been affected by big box stores such as Home Depot and Lowe's | 36% said it had not
(Last year 53% of distributors said big boxes had affected their businesses.)
Online Offerings
24% of distributors said they had sold some products online in 2011. The average online percentage of sales was about 37%.
Species Sold*

In 2010:

38% Red Oak
18% White Oak
16% other domestics (including birch)
14% Maple
11% other imported species (including bamboo)
6% Brazilian cherry
3% pine

* Numbers may not add up to 100 percent due to rounding.

Finish Sold

In 2010:

38% water-based
45% oil-modified
6% conversion varnish
9% moisture cure
1% wax
Looking Ahead
What is the outlook for 2012? Distributors answered: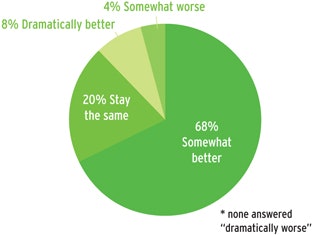 ---
In January, contractors filled out surveys about their business in 2011. Approximately 69% of them said they specialize in wood flooring; 37% deal with general floor coverings. The average amount of wood flooring sold among the respondents was 54,425 square feet.
Species Installed*

In 2010:

47% red oak
17% white oak
13% other domestics
11% maple
5% Brazilian cherry
7% other imported species (including bamboo)

Finish Used

In 2010:

41% oil-modified
45% water-based
4% conversion varnish
1% wax
3% moisture cure
8% other
Slight Improvement*

Contractors say the dollar value of their wood flooring sales in 2011...

In 2010:

29% increased
30% stayed the same
41% decreased

They're Installing*...

In 2010:

46% unfinished solid
28% prefinished solid
23% prefinished engineered
3% unfinished engineered
* Numbers may not add up to 100 percent due to rounding.
Where They Buy
(more than one answer possible)
80% of contractors said they buy wood flooring and related products from a specialty wood flooring distributor.
42% buy from a general floor covering distibutor
40% buy direct from a manufacturer
13% buy from a big-box retailer
5% buy online
New vs. Old

In 2010:

81% remodeling
19% new home construction

Install vs. Sand/Finish

In 2010:

56% wood flooring installation
44% sanding/finishing/refinishing
They Install Over...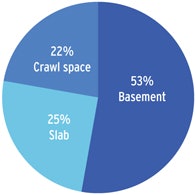 In 2010:
48% basement
27% slab
25% crawl space