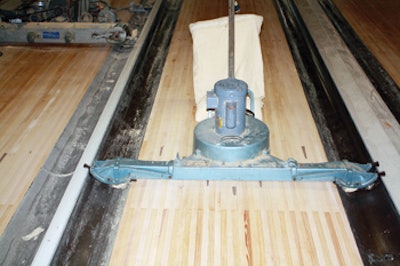 Growing up in the bowling alley business as a young boy was an experience I still cherish to this day. My grandfather owned a bowling establishment, and my father worked for Brunswick Corporation early in his career, sanding and finishing the alleys in the 1950s. My father advanced and became a service representative; later in the early 1960s, Brunswick stopped contracting the sanding and finishing of existing lanes and only did sanding and finishing of new lanes when installing. In the summer at the age of 15, my father would send me out to work in the bowling alleys. When working with the older mechanics, I learned no matter how young you are, you had to work hard, or you would be sent home.
There are two phases to construct a bowling alley. The first phase is the construction of the lanes, and the second phase is to install the machinery (pinsetter) that set the pins. The part I enjoyed the most was the construction of the wood lanes and sanding and finishing them. The wood used for the lanes consisted of Northern hard rock maple and Southern yellow pine. Most of the maple for the Brunswick lanes came from Canada, and the pine would come from Mississippi. The lanes were 42 boards wide, and were nailed up on a crib foundation. The lanes were then screwed down and leveled to this foundation. The reason for this type of foundation was so the ball could come back under the lanes, which was called the subway system (before the 1950s, the balls would come back on top between the lanes).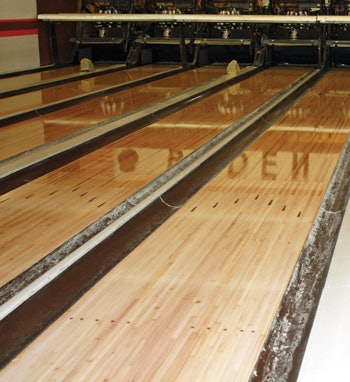 For a wooden alley the first 32 feet of the lane is a maple section; the first 16 feet is the approach and the second 16 feet is from the foul line to what is called the "splice." From the splice to the head pin is pine, and the last section, called the pin deck, is maple. The total length is 78-79 feet. The maple and pine stock is a board 3¾ inch thick by ¾ inch wide. The part you bowl on is the ¾-inch-actually the edges of the boards-thus making it possible to sand and finish the lanes for many years. The maple was hand-nailed together with hardened screw nails and the pine with coated box nails. Once the lanes were nailed, they had to be 41 to 42 inches wide. The section from the foul line to the pin deck has to be level (not just flat) from side to side within 40 thousandths of an inch, which is less than a dime. Also, it has to be level from side to side within 40 thousandths of an inch.
Log in to view the full article