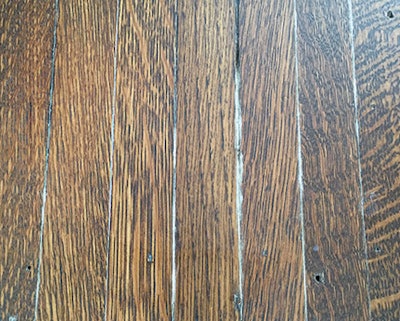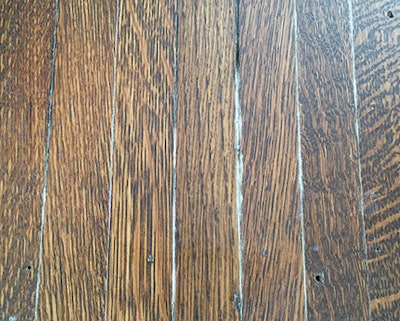 Someone told me that a great trick is to use paint stripper when we are trying to remove old finish off of hard-to-reach areas for site-finished or prefinished flooring. Could paint stripper cause problems when we are refinishing that floor?
Todd Schutte, director of eLearning at Aurora, Colo.-based Bona US, answers:
Even when you are refinishing a floor and taking it down to raw wood by whatever manner, you should be aware of past maintenance products used and potential issues from waxes, acrylic polishes, above-floor cleaner residues, etc., built up on the floor, down in the grain and between the seams. Any time you add strong solvents and/or reactive agents, such as a paint stripper, to your wood floor, you create the possibility of issues with the film formation, dry time, cure time, durability, etc., of your new finish coats—either based on the chemical contents of the stripper and/or their reaction to residues and reactives in the flooring. Sometimes we fix one problem and create more in the process!
A potential concern is that harsh stripping chemicals are likely to soak in and affect not just the contaminants or old finish on top but also penetrate into the wood grain and between the boards. This can leave a residue and may also reactivate contaminants that were encapsulated, freeing them up to wreak havoc and react with different species in unwanted or unexpected ways. Also, paint strippers are a blend of solvents, which can differ from brand to brand. So, what worked on the one-room white oak schoolhouse restoration may not work on the Australian cypress museum job. The answer? Test, test, test, and have a thorough conversation about expectations with the floor owner or project manager.
Either way, complete a thorough test all the way through your chosen system, including the stain (if any), sealer and topcoats (including the full cure of topcoats), to see if using the stripper has caused any other issues. Use the exact same time frames, environmental conditions and finishing products as will be used on the actual job site to try to best determine the potential for success or failure. And, as always, when you're using products that aren't recommended or approved by your finish manufacturer, it's still probably a roll of the dice. That's business.