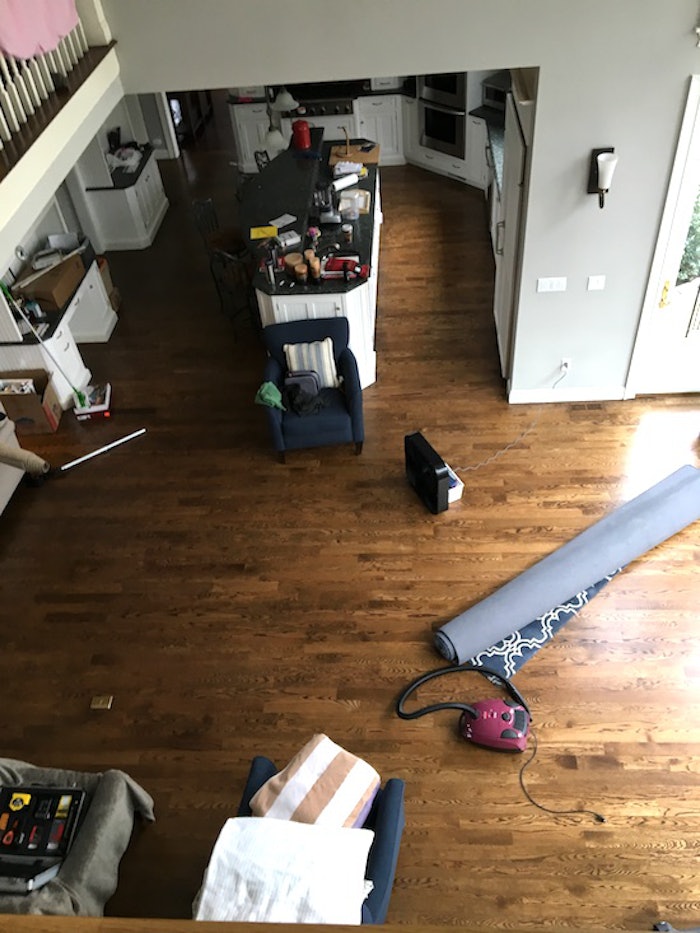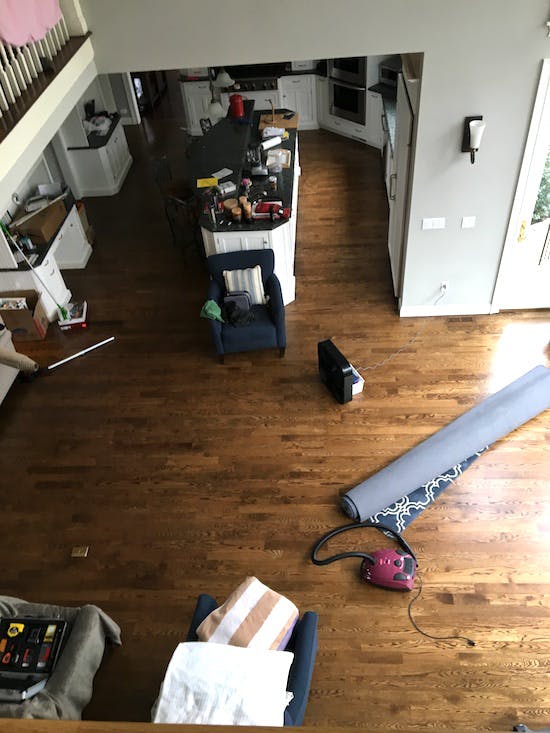 I was contacted by a local homeowner who had been reading articles and blogs on the WFB website. This man had the floors in his new home refinished, and after more than four weeks, the finish was still off-gassing. The floor would not cure. By chance my office was only minutes away from this plush, large New England home and I was curious, so I ducked in on my lunch break.
As I was greeted at the front door, I removed my shoes to be polite and noticed there was not only a stained red oak floor but a massive Brazilian Cherry living room as well. The owner told me his family has been living in a hotel and the kids were going to school from the hotel because they can't live in the home. I asked him to let me look around and test something but not to tell me the exact issues … I wanted the floor to tell me the story.
Both floors looked beautiful: No extreme big machine marks, almost zero edger marks, excellent scraping of the stairs and corners. The stain work was even and looked professionally done. However, as I tested temperature, humidity, floor temp, moisture content (all of which were perfect), I noticed my eyes started to burn. I could smell the finish like it was a few days old. By the time I left I had a bad taste in my mouth and my eyes burned. And, this was with the doors and windows open. He told me that he was going there every day to open everything up because the finish guys said it would eventually cure. I asked him what the coating process was, and I think this is where things went wrong.
The original red oak floor (over 3,000 square feet plus four staircases) had been bleached and then whitened or "pickled." The new owners had the floors totally sanded and then stained with quarts of a 550-VOC "brownish-walnut" stain. The next day the finishers decided they did not want to work out of quarts and bought 5-gallon 350-VOC oil poly to speed things up. (You see where this is going).
The next day the floor guys were not pleased with the finish and decided to jump up to quarts of a premium 550-VOC finish. The floor dried well and looked totally acceptable. However, this is when the weeks began to pass with the floor continuing to off-gas.
I sent in an experienced sand/finish guy from Madison Flooring and recommended he abrade the surface as much as he could without cutting into the stain. I also recommended an Organic Vapor Traceair #521 air quality test be done for 24 hours as soon as the finish was removed. This way we would know if what they were breathing was harmful. The kit goes overnight to Assay Technologies, where they usually have results within three to six days. Meanwhile, the smell had became noticeably worse.
This luxury home with a fully finished basement had an immaculate HVAC system with an in-line Aprilaire humidification system, so we set the home at 35% RH at 70 degrees F and used pedestal fans for air movement. We also inspected the air filtration system and slightly cracked the windows on the second floor. The floor had been screened with 180 and then with a Yellow Norton Sand Dollar in hopes they would be able to use a quality two-part water-based finish and get these people back in their home by Christmas. This gave them one week.
The next day and many thereafter the floor was tacky and smelled just as bad as ever. After $12,000 and another round of testing, inspection and abrading, the client gave up and had the entire floor resanded, stained and coated with all high-end materials and a new contractor. Another several thousand dollars later, the floor was fine the next day, and they waited three days to move in.
Like any situation involving varied chemicals, you just can't play Mad Scientist! The test results came back that of the 25 chemicals tested most were, in fact, present. They did not exceed certain safety levels, but were enough to annoy anyone with allergies or sensitivity to such chemicals. There was no need to do a final testing. Read those labels and follow all manufacturers' instructions. If anyone has been down this road, please jump on here and tell us about it. Best to you all Floor Guys (and Gals!)!