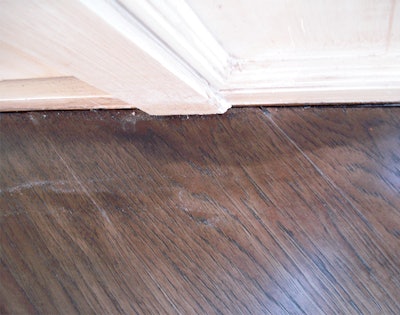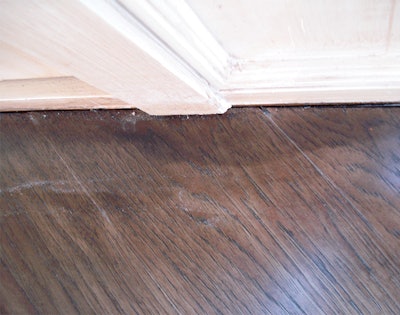 The Homeowners' Issue
Soon after purchasing their home, the homeowners wanted the hickory floor's color changed to match their furniture. They asked the flooring contractor if the grain could be made less grainy. The flooring contractor said, "No problem." After the sanding and staining, the flooring contractor had the homeowner approve the color before the first coat of finish. After the first coat of finish, the homeowner reported the floor color actually looked lighter and appeared "blotchy." The flooring contractor reminded the homeowner she approved the floor color. The homeowner was unhappy with the color and blotchiness and called a wood floor inspector.
Roy: The Inspector's Observations
I asked the flooring contractor how he final-prepped the floor prior to staining. He stated the floor was final-sanded with 100-grit and screened with a 120-grit and was not water-popped before staining. I inspected the floor and it appeared to be inconsistent in color, especially around the edges, not from sanding (there were no edger marks) but rather darker stain color. I asked about the staining process and he reported the stain didn't turn as dark as he'd hoped, so before the customer approved the color, they applied a second coat of stain. The stain manufacturer recommends only one application of stain. If the color needed to be deepened after the first stain coat wasn't dark enough, the floor should have been resanded and then either water-popped before staining or a darker stain should have been used. Much of the color variance appeared to be due to the second application of stain lifting off during finish application. This inconsistent floor color is the responsibility of the floor contractor.
Blake: The Attorney's Analysis
The flooring contractor's main mistake was going against the manufacturer's recommendations and applying a second coat of stain. Even if the flooring contractor has a solid written agreement disclaiming liability and limiting claims by its customer, based on the contractor's negligence, the customer can legally require the contractor to sand and refinish the floor properly. After the floor is resanded, the contractor would be wise to water-pop and stain a small portion of the floor or use a darker stain to start with and have the customer approve it and sign a release before proceeding with the entire floor.
---
RELATED: Get a Handle on Wood Floor Staining Strategies
---