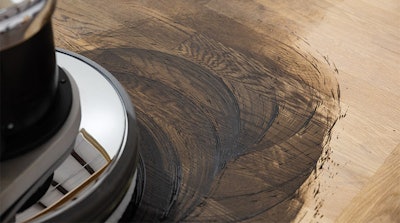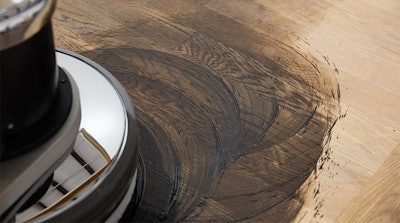 I have a hardwax oil job where customers are complaining that the floor is lighter than the sample. I used the same color for both—why doesn't it match?
Johannes Boonstra, territory manager at Austin, Texas-based Rubio Monocoat, answers:
This is an issue I hear once in a while, and it may happen with hardwax oil or with any floor that has stain or other color applied to it. I also hear about it happening when contractors are trying to match stair treads to the floor.
When doing samples, many contractors will grab a piece of the wood flooring they are going to use, run over it quickly with 120-180 grit sandpaper with a random orbital sander and then apply the finish/color. Instead, they need to use the exact same sanding process on the sample that will be used on the floor. If you are going to sand the floor with 60, 80 and 100 on the big machine, you should do the same thing on the sample. Of course, you aren't going to run a big machine on a smaller sample. Instead, when I do samples, I'll use a hand-held belt sander so I am matching the same abrasive action on the wood. If you will be using a multi-disc sander on the floor after your big machine, you can mimic that scratch pattern and speed by running that similar abrasive on a random orbital sander at low speed.
---
RELATED: Don't Go Astray With Custom Stain Colors on Wood Floors
---
The same idea also goes for how you apply color. With colored hardwax oil, you are applying the finish with a buffer, and the weight and pressure of the buffer knocks down the grain to some degree, making the color lighter than if it were applied by hand. When I do color samples with hardwax oil, I use a red/white pad followed by a rag (like you will be using on the real floor) on an automotive polisher or right angle sander outfitted with red/white pads. The low speed and high torque mimics the effect of the buffer on the floor, helping make the color appear as close as possible on samples/steps as it will on the entire floor.