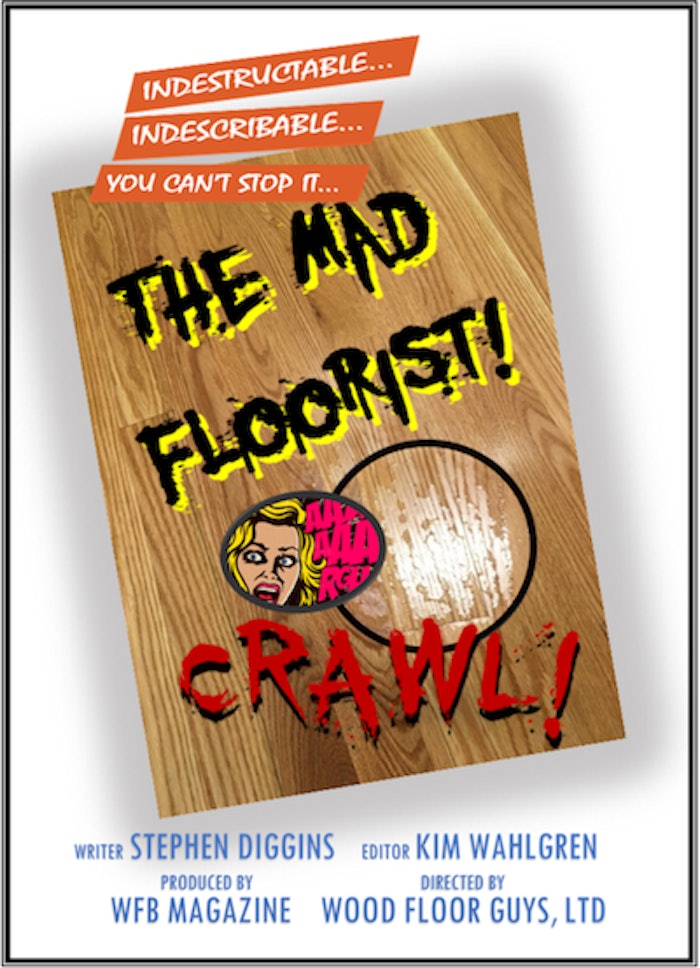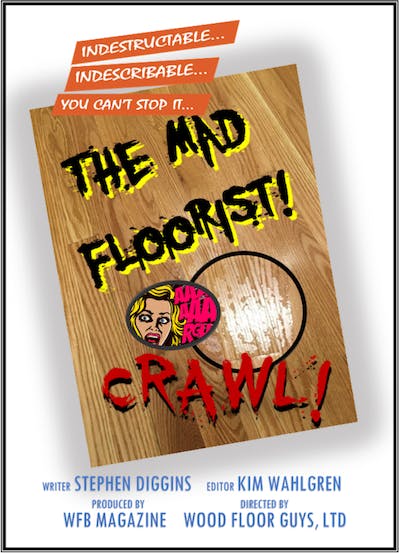 Earlier this year I got involved in another wood flooring mystery; this time the new red oak strip flooring looked beautiful … until the final coat of oil-modified poly was applied. The flooring contractor found his final coat ended up being very thin. Some areas looked porous and thirsty while others appeared to build properly, but the finish spread apart. This crawling seemed to be more prevalent on end-joints and seams. The contractor decided to abrade the floor with screens, vacuum, tack, and apply another coat of fresh, new product. Unfortunately, the results were identical.
Frustrated with the situation, in an online search the homeowner found one of my WFB articles that referenced a floor with similar issues. In that case, various cleaning products facilitated finish failure. She then contacted me requesting help with her flooring dilemma.
The interesting thing about this project was that the sand/finish was recorded via multiple security cameras. With COVID-19 running rampant, a physical inspection was out of the question, and the security footage proved invaluable.
I spoke with the flooring contractor and told him I felt a contaminant had been introduced to the finish process. I had my usual suspects: automatic air freshener sprayers (isoparaffins), mineral spirits (naptha, paraffin, rubber solvent), and floor and furniture care products (silicone, paraffin, oils). Unsuspectingly, these culprits can leave a residue on flooring surfaces that can cause finishes to separate, aka "crawl," as you can see was happening on this job:

Reviewing video clips, photos, and audio, the homeowner, the contractor and I discussed possible causes and solutions and I posed dozens of technical questions: Was the finish thinned? Did anyone access the area between coats and use chemicals? Were the coating materials fresh and contaminant-free including all abrasives, pads, brushes and applicators? We were looking for answers and solutions, not to assign blame or point fingers. With the contractor's input and the security recordings, we would be able to formulate a workable solution.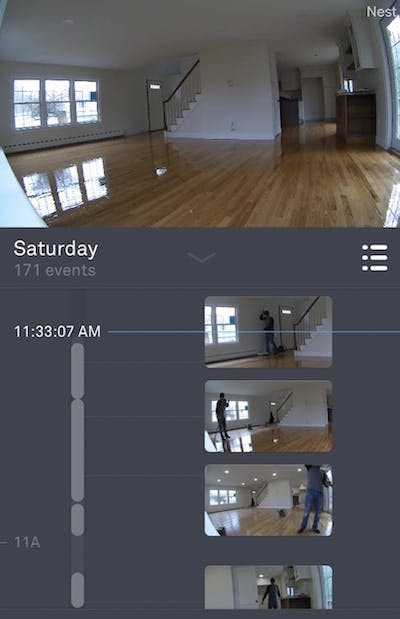 Audio/video showed the floors were installed and sanded decently. Yet it appeared to me that the approach to the entire process was more representative of a novice than a veteran flooring contractor. Those little things you notice: End-joints a bit close. Some unsightly buffer and edger marks left behind. Unfilled chips and nail holes. And lastly, the crawling finish that could not be rectified? A pro is unlikely to repeat an application that failed in hopes there would be better results. Also, why upon final coatings was the floor still "thirsty"? There was very little build for such a viscous floor finish.
It looked like the tools and supplies of a veteran, yet, there were remarkably pedestrian results. Seeing the entire project on video, coated by hand with 4-inch brushes, with a helper cutting-in the entire room drastically ahead of the field-coater, seemed very old-school. These guys had big machines, backpack vacs, planetary sanders, and dust containment. Something did not add up.
The homeowner found an audio recording and related the conversation to me as she understood it. The lead finish man's helper reported to him the finish was very thick and cold. He stated it had been in the garage overnight. February nights in New England are always cold. The helper mentioned he thinned out the finish and that it was still thick and cold.
This was not a good idea. Today's VOC-compliant mineral spirits are nothing like the chemicals we used years ago like pure mineral spirits, xylene and pure gum turpentine. Most thinning agents today contain too many additives like oil, wax, silicone, and solvents that do not mix well with precisely formulated professional flooring finishes. In fact, they can become contaminants and can cause streaks and separations. The thinning would explain not only the crawling, but why the coatings had not produced a proper surface film.
Frustrated with the project and failed attempts to produce a decent final coat, the contractor had no solution, and the homeowner was not comfortable allowing him to experiment any further with her new floors. Another local flooring contractor was recommended, and he could start right away. I informed him that I was sure there was contamination involved, it was likely paint thinner, and I offered a recipe I believed would prove successful. I felt the existing coatings would suffice as long as new product and materials were used, but the contractor requested sanding the floor to bare wood again. Who knew exactly what complications he may be inheriting? I thought his request was fair and reasonable.
It doesn't take two pros long to exchange resumes, break through the awkwardness and get on the same page. The idea was to work together, not against each other, and get the job done right. Peter and I were speaking the same language almost immediately and I told him what I felt needed to be done. We agreed whatever the contamination, we had time to identify it, eliminate it, and move forward without such a hindrance. We formulated a great plan, or so we thought. You know what they say about the best-laid plans … More on that in Part 2 of this blog!
See more wood floor mysteries from Stephen Diggins:
Wood Floor Mystery #1: The Spreading Black Spots
Wood Floor Mystery #2: The Poly That Wouldn't Stick
Wood Floor Mystery #3: The Tale of the Half-Cupped Floors, Part 1
Wood Floor Mystery #4: How Did This Floor Get Like This?
Wood Floor Mystery #5: The Uniform Gaps
Wood Floor Mystery #7: The Case of the 'Burned' Floor
Wood Floor Mystery #8: Is This Floor Fungus Among Us?
Wood Floor Mystery #9: A 'Sight' Inspection of a 'Disappearing' Gunstock Wood Floor, Part 1