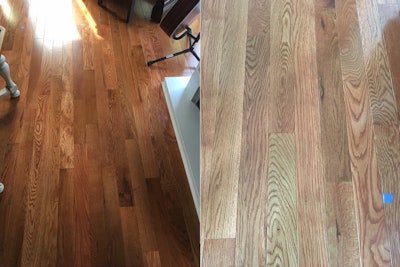 A man is lying dead with a backpack on, face down in the desert. What happened?
This type of riddle is often given to groups to enlighten, entertain, and exercise deductive reasoning. The riddles are offered with minimal assistance other than the opportunity to ask as many questions you like, but you will only be answered with a simple yes or no until the riddle is solved. One final caveat is offered: "Things are not always as they seem."
I'll save you the trouble on that particular riddle and leave the answer at the bottom of this post, but I'll also give you a new wood flooring riddle.
On Oct. 23, 2020, I received photos of a wood floor the homeowner said had "disappeared." Hmm? Well, alrighty then … I spoke with the distributor's rep, and he told me what this consumer meant was that she bought a gunstock-stained floor, and after nearly three years, it was now a natural-tone floor. "Gonestock" was more like it!
Photos demonstrate that one room was clearly a dark-stained prefinished floor, and in other rooms that same stain seemed to have totally disappeared! One entry into a back hallway seemed to be divided in two!
I couldn't physically inspect this floor at that time because Massachusetts was advising COVID-lockdown, and I'm just across the border where the 'Shire and the Commonwealth were politely requesting a 12-day quarantine when crossing state lines. So, we had to draw our conclusions and solutions through the exchange of photos, text, calls, and emails.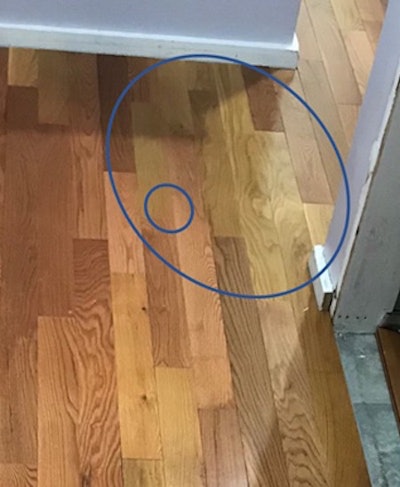 I rounded up the best and brightest from the manufacturer, the retailer who sold the flooring, their distributor sales rep, and … James Bernard, vice president of colorants at First Source Worldwide LLC. I found the starting point for my research after I read this article he wrote.
I leave you, our beloved readers, this starting point should you choose to break down this flooring mystery on your own. The link and article headline are your first clues as to where my initial thoughts were regarding this oddity. The photos should tell most of the story. Remember: "Things are not always as they seem" (as I would soon find out).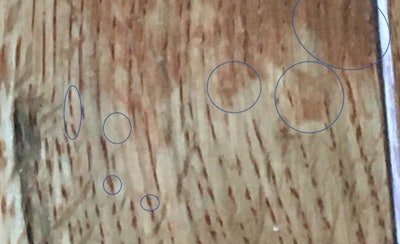 I offer for your consideration:
What is the wood species? (Hint … it's oak! LOL)
What is the grading?
What do the photos illustrate? Is anything missing? (I've circled some particularly interesting parts of the photos for you.)
Why did it take nearly three years for this claim be filed?
Did the gunstock stain disappear? If so, why not in every room? (FYI, the floor finish is in mint condition.)
One final clue: I found there was a second floor with the same material, manufacturer, color, and run number. A claim had been immediately filed, settled, and resolved fairly quickly. The magical disappearing floor was installed well before the second one. I'll ask again: Why did it take so long to file a claim?
You now have the same tools and information we had at the time … run with it and let us know your thoughts in the comments.
While you're waiting for the answer to this flooring dilemma in Part 2, don't forget to catch our new WFB podcast "All Things Wood Floor," where we get to hear from the industry's best and brightest.
Oh, and here's the answer to our riddle about the man in our first riddle:
The man was skydiving. His parachute pack never opened and he fell to his death. Not a hiking pack. Him being in a desert is insignificant. Simple, but deceptive lil' puzzle.