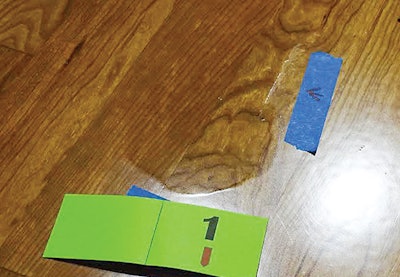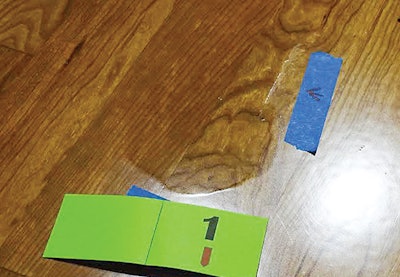 The Homeowners' Issue
New homeowners had their floors refinished with water-based finish before moving in. After they moved in, they noticed debris in the floor finish, along with a footprint and a couple drips. The flooring contractor recoated the floor at no cost, but the parties split the cost of moving the furniture. After the recoat, the homeowner said the floor now looked "bumpy" and "plastic" and there was a puddle in the middle of the floor.
Roy: The Inspector's Observations
From a standing position, you could see where the person recoating was aggressive with the buffer and the buffer marks were telegraphing through the new floor finish in multiple areas. The puddle was obvious, and the contractor said he could scrape and do a touchup on the wood floor in that area. I agreed with the homeowner about the "bumpy plastic" (what we would call "orange peel") appearance of the floor, and there was still some minor debris. In my report, the debris and one puddle are subjective to acceptance of the homeowner. However, the orange peel, buffer marks and thick "plastic" appearance was noticeable in several areas, and another coat would make the floor have even more of that "plastic" appearance due to the additional finish mil thickness. An additional coat may also exceed the finish manufacturer-recommended 5-mil thickness (and potentially increase the risk of white line syndrome in the future). I concluded the floor should be resanded to prevent cloudiness from the satin finish and potential white line syndrome.
Blake: The Attorney's Analysis
At first glance it would seem straightforward that the contractor should refinish the floor at his expense per the expert's findings. However, it might not be that simple if the owner also considers the impact of how resanding the floor potentially shortens its lifespan. Also, there could be other expenses such as moving or storing furniture or even lodging for the homeowners.
Whether the homeowner can make claims for additional damages or costs depends on the wording of any written agreement between the parties. Ideally for the flooring contractor there is a signed agreement limiting claims for "consequential damages" and stating that the contractor's maximum liability is to fix the floor. Absent any such disclaimer or waiver language, the homeowner could make claims for additional damages. In that case, the contractor would be wise to agree to do the work before the customer gets any ideas or, even worse, hires a lawyer.