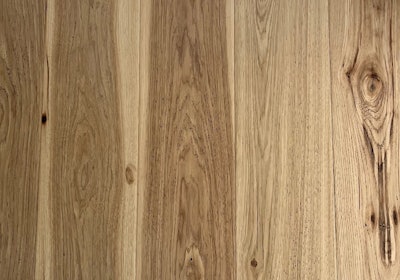 In Part 1 of "Mystery #11: What Do You Think Caused These Black Spots?" we encountered yet another case of black spots appearing, this time on the surface of a prefinished hickory wood floor (shown above).
Recall that Betsy in Canada reported that spots gradually began to appear after installation of a prefinished hickory floor. Betsy had found my WFB article "What Causes Mysterious Black Spots in Wood Floors?" and contacted me. Our conversation went like this:
Stevie D: Were the spots visible immediately after the flooring was installed?
Betsy: No, we thought it was mold, it started to show up after.
Stevie D: So, is it spreading?
Betsy: We thought so, it appears to have stopped.
Stevie D: Do you have any material still in the box or open on site?
Betsy: Yes. I will check it ...The flooring looks good; there are no spots.
Stevie D: Are there any other rooms in the home with this flooring that are OK?
Betsy: Yes, they look good, it seems to be just the one area from the pantry to the garage.
The go-to for most folks with this issue is to think it's mold. The Google machine tells us that "Mold is unable to digest inorganic materials (such as concrete, glass, and metal), but it can digest and grow on the dirt, dust, and organic residue that accumulates on them." I felt finished hardwood flooring was not a very efficient host for mold to survive. Since nothing was growing or spreading, I eliminated organics and thought, "Where's the metal?!"
The one seemingly innocuous photo of hickory flooring in the closet with the nice white wire racking and shoes caught my attention: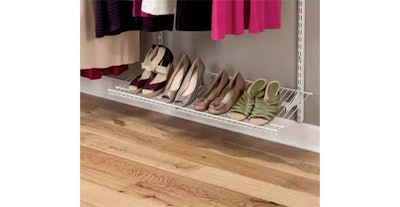 The trim and cabinet material looked fabricated, like something you build with a closet organizing kit. This involves metal, and black spots typically come from metal. I asked if there was any cutting or drilling of hinges or wire racking in the spotted area. Betsy confirmed metal shelves had been installed.
Rust from iron results in black rust. Black rust will permanently stain raw wood. However, it can be scraped or sanded out of floor finish and cleaned off a prefinished floor surface. In this case, the spots should be easy to clean and remove, right?!
This is how our conversation continued:
Stevie D: Betsy, could you glide your hand across an area of the floor where you see the spots and tell me if it feels gritty or dirty?
Betsy: Yes, it does. It doesn't feel clean. Like, sandy.
I asked Betsy to try cleaning the spot with a terrycloth towel or microfiber using white vinegar. Shortly thereafter she emailed me this photo: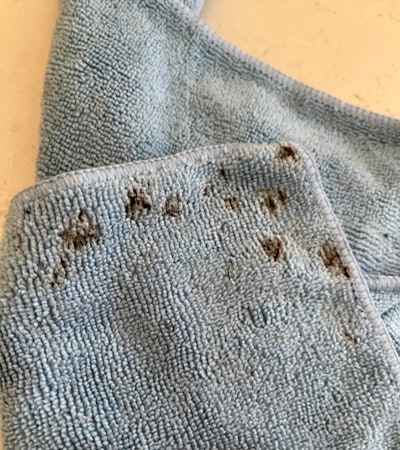 I asked Betsy if the floor still had stains or was it clean? She said the floor looked good and what was on the floor was now on the microfiber cloth. So, it's not mold, a flooring defect, installer error, it's just a floor full of messy metallic waste? What causes the spots, and how do we test that? Here is a collection of photos from Betsy: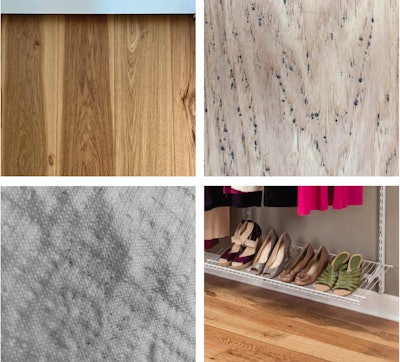 The first thing I noticed was the spots were almost exclusively in the springwood, or open grain, and not on the tight, flat, summerwood. These grooves and channels act as a nesting place for debris, in this case "swarf" or metal particles. We wood floor pros have dust … metal pros have swarf! Over time, the swarf turned into black rust. We found the metal shelving in the storage area had been cut in place using a reciprocating saw that threw metal chips in all directions.
I started my own testing: I had similar metal shelving in my office, so I filed some exposed edges and applied the swarf to a prefinished hickory floorboard in my warehouse that had a similar grain pattern to one of Betsy's. Upon applying the metal particles and various cleaners, the spots appeared overnight. They were also exclusively in the open grain. Here are my photos: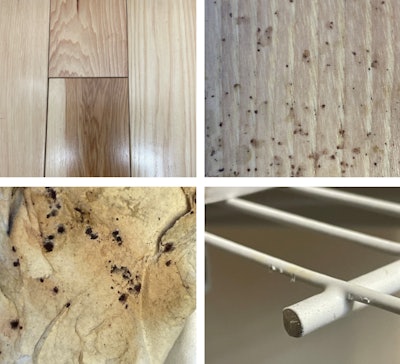 I wanted to make sure nothing further developed and that we had definitively solved Betsy's floor problem. Just before I hit "send" on this blog, Betsy's email popped up:
Hi Stephen,
I mailed the black spots I scraped off the floor with my fingernail and the paper towel tests on the old shelf remnant cut ends and the door hinges … the black spots are worse in traffic patterns. They would have cut the shelves either in the garage and tracked it in or near the closets. The closet was installed after they pulled up protective fabric covering on the traffic patterns. The worst spots are in front of the coat closet and near the house door to the garage. I think metal was tracked through the house as well as being cut near the closets. I did see spots in my bedroom and near the coat closet.
Cheers,
Betsy
The solution: A good vacuuming with a bristle brush, elbow grease, and common white cooking vinegar. Betsy is trying a few other options and will share her results soon. If there is residual metal and more vinegar, there will be more spots, exposing the swarf!
Another mysterious case of Black Spots cracked! If you see anything weird out there with your hardwood flooring and no one can explain it, please, oh please, please, please call me! Stay cool, Floor Pros!