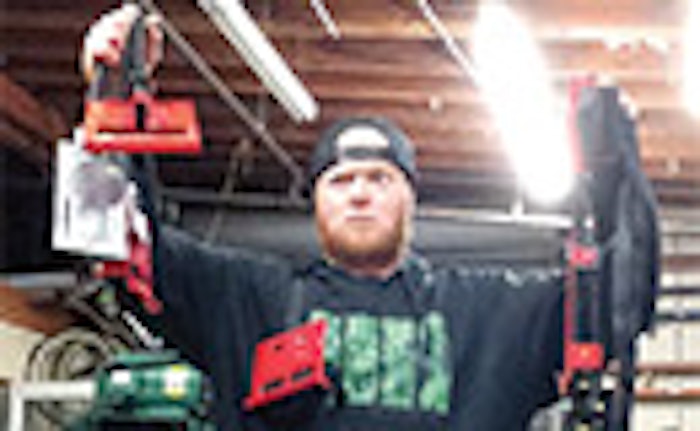 'What are those things?' 'What do you do with them?' I get a lot of questions about my flooring straps.
Flooring straps? I often get asked about flooring straps when posting progress pictures of floors that I'm working on: What are those? Who makes them? How well do they work? Where can I buy them? Why use flooring straps?
A lot of times flooring straps are called "laminate flooring straps," but I find they are extremely useful in my wood flooring installs. They are simple tools that pull the flooring together. There are only a few manufacturers that make them, and from my research, there are only two kinds: one with a ratcheting end that pulls the floor together with a great deal of force, and the other with a rubber cord that still applies tension but is designed for quicker work.
Both straps are extremely helpful! The fast-strap style is great for floating floor installs where you really want to keep those boards tight until the adhesive cures. They are especially nice to have with all these popular wide-plank installs, and they make quick work out of installing really long boards, as well.
Ratchet straps are amazing when it comes to glue-down installs. You can glue up one section, strap it up and weight it down (with buckets of adhesive or bundles of flooring). Then you can move on to the next section, strap it up and keep going. This method also saves time, since you don't have to beat the hell out of everything to get it in place. Instead, you can just work it in as best you can, strap it up and give it a couple taps, and it is sucked up tight.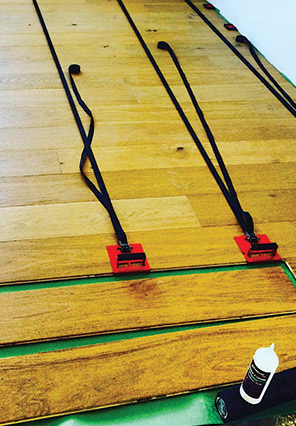 Fast straps: I find these cut installation time in half. They use a rubber cord to create instant, constant tension. There's no time-consuming ratcheting; you simply pull, place and release. These include a built-in tapping block and 25 feet of glue-resistant strap.
You end up spending less time and exerting way less energy with the help of these awesome tools. Aside from glue-down installs and floating floor installs, I find the straps are very helpful with nail-down installs, too. For instance, how many times do you have a bowed board giving you trouble—a really long board that's not going in so easy, and it's just you nailing it up? Or you are installing the last boards where you don't want to top-nail, and you need a little help until the adhesive sets.
Flooring straps vs. blue tape
That's not all. Have you actually read the manufacturer's specs on every one of your prefinished installs? If you have, then you'll notice that more and more flooring manufacturers will not guarantee the finish wear layer if you use any blue tape during the install. We all know blue tape is helpful, but if the manufacturer won't guarantee the floor with it, then it isn't an option. Also, when you've got a prefinished 1,000-square-foot install and you need to use blue tape every few rows, you're looking at lots and lots of money in rolls of tape, plus paying a guy to pull all that tape (and ending up with a big ball of trash).
Also, there are those times you get called off the job for a few days and you're not able to get there to pull the tape. You may run into problems like the tape drying out and leaving adhesive sticking to the floor. Now you have to spend time going back to wipe and scrub off the adhesive.
Then there's the issue of leaving the tape down for an extended period of time on a species that is very UV-sensitive. Sometimes you get one of those beach house jobs where they want a prefinished Brazilian cherry, and they've got nothing but giant windows. If you don't pull that tape in time, you're, to put it bluntly, screwed. With straps, a majority of the time you can strap as you go, and by the time you're ready to roll up for the end of the day, you can clean up the job, load your truck and then pull the straps and grab a beer. Depending on the adhesive manufacturer, most tongue-and-groove adhesives or full-trowel adhesives set up within 20 to 30 minutes. It all depends on the type of install and the recommended adhesive.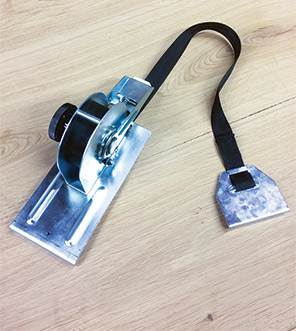 Ratchet straps: These have a clamp that pulls planks together across spans up to 18 feet. The nylon strap coils internally as the strap is retracted and stays out of the way. The long base hooks onto planks, even under toe spaces. They include a large knob for rapid retraction after clamping is complete. These are designed for wood installers and are a real time saver!
Things to avoid with straps
I do have some tips about things you definitely want to avoid or look out for when working with flooring straps:
• Flooring straps with small base plates tend to want to lift the flooring up, so a good thing to do is weigh down the flooring as you go with bundles of flooring or buckets of adhesive.
• If you're going to leave the straps on overnight, be sure they are on the floor straight. This is especially important with floating floor installs. If the straps are pulled and tightened at an angle, over the course of a few hours, the pressure will pull the floor in that direction and either bow the floor or pull the tight end joints apart. Then when you come back the next day to continue installing, you have a much harder time continuing.
• Some manufacturers skimp when it comes to attaching the strap to the hook. Sometimes it's held by only two staples, which, over time, give out and can really be a bummer (especially considering you spent $60-plus on one strap unit). So make sure you inspect your straps and take the necessary precautions. (If necessary, I recommend taking them to an alterations shop or someone who can sew the straps together in a pattern similar to backpack strap stitching.)
• Make sure when you're working with a lot of straps that you don't kick one out of place, or that one end doesn't pop out! This will really @*#% up your day—either by messing up the material or by coming at you (that's the worst-case scenario—it really sucks when the strap is extended out pretty far and the tension is strong).
As long as you take those precautions (stay safe!), as a wood flooring installer I find that flooring straps are extremely helpful and can really take a lot of stress and fatigue away from installing. They are clean and green to work with, and, for a relatively small investment, they will last a lifetime if they are taken care of.
---


See more on this topic: Basic Wood Floor Installation
---