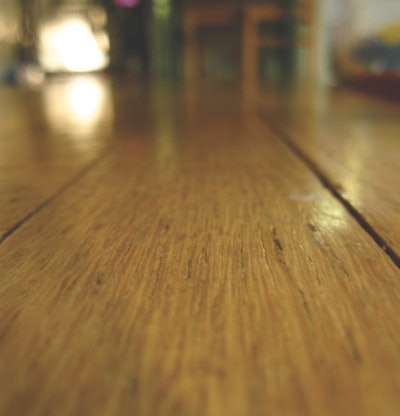 During the winter, even the most carefully installed wood floors tend to dry out and shrink. Customers begin to notice gaps between boards, and the phone calls begin. The floor behaves that way because of wood's relationship with moisture in the air (there's no accounting for how the customers behave, although educating them about gaps beforehand can help—more on that later). Air with a low moisture content, or low relative humidity (RH), causes wood to lose moisture. When wood loses moisture, it shrinks. What can we do about it?
To control winter-related shrinkage of flooring and the consequent gaps (what we used to call "cracks"), we have basically six options. Four deal with the wood itself, and two deal with moisture. Let's get the wood ones out of the way and then discuss moisture issues.
Engineered flooring is supposed to be more stable than solid wood. From a technical aspect, this should be true. But many engineered flooring manufacturers restrict the use of their products to a certain RH range. I've seen warranties that specify 35 to 55 percent RH or 40 to 60 percent RH as the acceptable range. If the flooring is exposed to conditions outside these ranges, the warranties are void. In my 30-plus years of experience dealing with indoor environments in the U.S., I don't know any location that will consistently maintain those RH ranges. So using engineered flooring may be an option for reducing winter-time floor issues, but check the manufacturer's recommendations and warranty.
Log in to view the full article