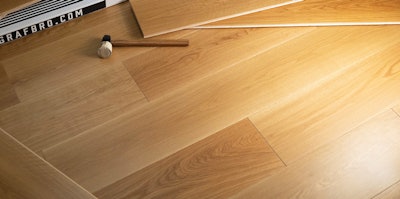 Photo courtesy of Graf Brothers
I ended up short of wood on my last plank job, even though I thought I ordered enough. How do I know the correct amount to order?
Dave Graf, president of South Shore, Ky.-based Graf Brothers, answers:
It is important to understand what a waste factor is, and how it will impact your budget for each job. A waste factor, sometimes called a "cutting allowance," is essentially the amount of waste wood that you will pay for but cannot, for one reason or another, actually install in your project. First and foremost, you should heed what the manufacturer suggests as a waste factor. The higher the recommended waste factor, the lower quality the product may be.
However, many other things can contribute to calculating this waste. These might include your client not liking a heavy-character wood, the natural defects in specific boards, measuring too tight, overlooking a small section, or diagonally laying hardwood versus straight installations. The list goes on.
One of the more common mistakes we hear about today has to do with wider widths and longer lengths being manufactured and not correctly allowing for them. In today's market, wood flooring is available in a variety of widths, ranging from the traditional 2 1/4 strip to 12 inches (and wider). You don't need as many wide planks to cover a room as you would with narrow planks, but it is common for the shape of the room to not be conducive to some of the extra-wide flooring being specified, leading to adjustments and more cuts. Longer length planks can also create a larger waste factor. If a customer specifies material that is longer than, for example, 3 feet, it is imperative to consider alcoves, closets, stairways, etc., to maintain the desired visual appearance and not have shorter lengths be seen.
Bottom line? Waste is necessary. As a true wood flooring professional, you need to know your products and how to plan for the right amount of flooring.
---
RELATED: Know These Facts When Ordering Chevron Flooring
---