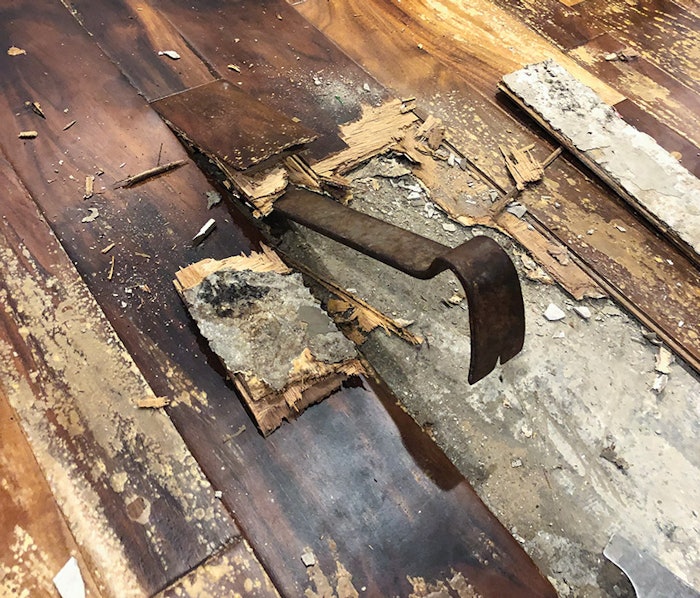 The Problem
A Houston-area home had prefinished acacia that was buckling and had mold/mildew.
What Happened
The homeowners had to have their wood flooring replaced after Hurricane Harvey destroyed their existing wood flooring. They told the retailer they wanted to settle for a tile floor, but the retailer upsold them on a combination adhesive/moisture barrier, telling them that he could "install the wood flooring in a swamp" with no issues. Approximately 1,700 square feet of ⅜-inch-thick prefinished engineered acacia was glued directly to the slab throughout the main living areas. Three to four months after installation, the homeowners noticed hollow spots, the wood began to blacken, and in some areas it was releasing completely from the slab. The retailer offered to discount 30 percent off the removal cost of the flooring and told them to "find someone to fix their water problem." He said he hadn't checked the slab moisture before installation because it was unnecessary.
The Inspection
There were many areas throughout the home with rotting wood and black discoloration, and some flooring was buckling. There was a pungent odor of mold/mildew.
The RH was 69% at a temperature of 73 degrees Fahrenheit, so the wood's equilibrium MC should have been 12.8%. A non-invasive moisture meter found the hardwood flooring to have 18.6–42.9% MC; other wood objects were from 6.4–12.9%. A pin meter found the wood objects to be up to 10.8% MC. The wood flooring readings showed a sizeable difference from the bottoms to the tops of the boards, with some bottoms of the boards as high as 36.4% MC.
There were two areas where boards had been removed. A concrete moisture meter had high readings of 4.9–6.9%. The backs of the wood flooring boards did not have the 100% coverage required by the adhesive manufacturer. The slab had areas of crumbling skim coat floor patch and evidence of contaminants, such as paint.
I determined that the failure of the hardwood flooring was due to the moisture intrusion from the slab and an inadequately prepared substrate.
How to Fix the Floor
The flooring must be removed and the source of the moisture identified and managed.
In the Future
No adhesive/moisture barrier or floor is impervious to excessive moisture levels. Always check moisture and follow the flooring and adhesive manufacturer's recommendations.