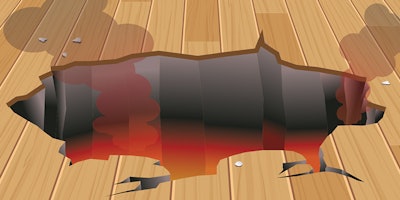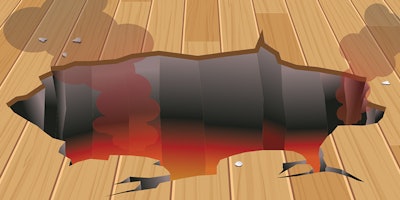 Jason Heald of Novato, Calif.-based Aged Wide Floors recalls a moment from his first large refinishing job—which involved sanding about 3,000 homes in Australia in 1992—when a resident's flooring modification nearly had him in over his head:
"I got a call on the CB radio that said, 'Jason, in the living room there's no floor.' I said, 'What do you mean there's no floor?!' The crewman said, 'They've cut the whole floor out and have dug in the dirt and made a big fire pit for cooking food.' So I drive out there and when I went in through the door in the back, I just about fell in. They'd cut out such a big hole that was waist-height, and then inside there was a big fire pit. The oven and the cook top in the kitchen was brand new and hadn't been used—instead they were cooking the food inside the middle of the house where they'd cut out the floor. The foreman for our client told us just to sand what we could and they would try to work out what to do about the hole—so that's what we did."
Read another wacky story from this unusual project here.

See a collection of wood flooring job-site stories on the WFB Pinterest Tales From the Front board. Do you have a funny or bizarre job-site story? Email it to WFB. If we use it, we'll send you a WFB T-shirt.