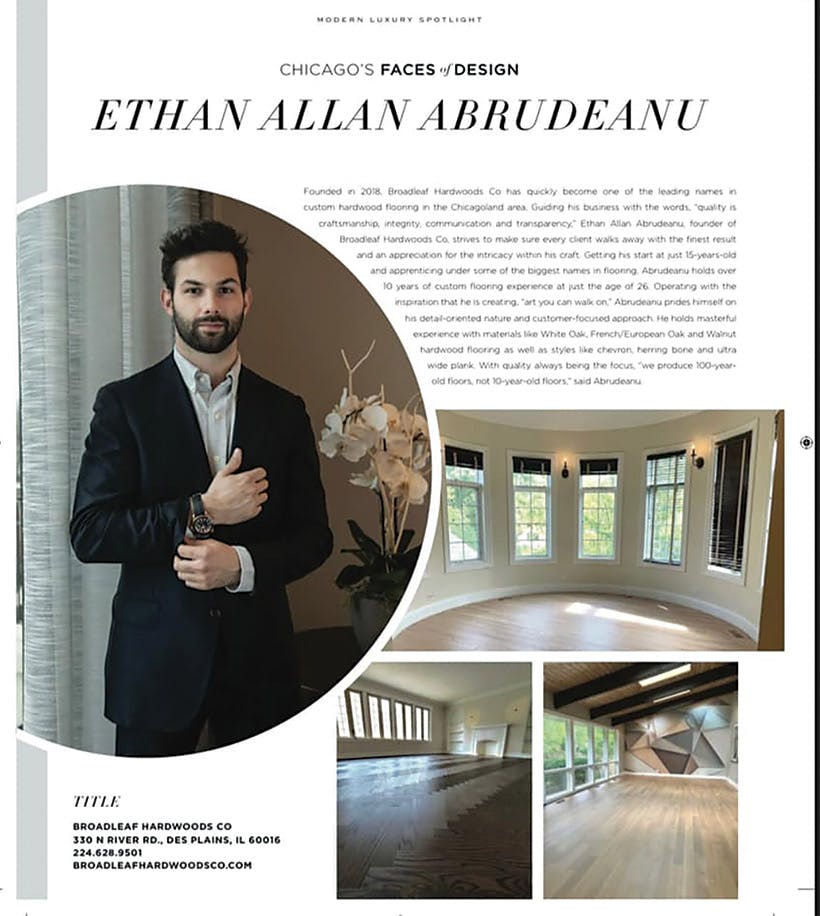 This spring I was featured in the "Faces of Design" section of the magazine "Modern Luxury Interiors Chicago."
Only a few years ago I was a wood flooring contractor working on average homes. I had a network of people who were funneling me work, so I was staying busy, and I had people helping me here and there—maybe a buddy who needed work or kids in and out of college. I was staying busy, but I had specific ideas about where I wanted to go in the industry with my business. The goal was never to just make a small living and sand floors. When I was first interviewed for the Next Generation article in the February/March 2019 issue of Wood Floor Business, I said I wanted to be the best of the best. For me, that meant having a successful business and producing the kind of work that is high quality, aesthetically pleasing and well-regarded. When I think of well-regarded, I think of the best that the industry has to offer: Birger Juell, Archetypal Imagery and State of the Art Wood Floor Gallery.
In the two and a half years since, I can't say I'm there, but I'm at least five steps closer. The quality of our clientele has improved drastically. We are working with high-end builders, architects looking for a specific style, and homeowners who are more appreciative of what we have to offer. We have built sustainable relationships with clients who prefer our work to anyone else's, and in turn, quadrupled our revenue. Here are some of the things I've done to transform my business.
1) I build my network—all the time
I believe the best way to grow is to network. I have never been embarrassed to chat with anybody I could, whether they were friends, family or a stranger on the street.
2) I talked, and talked, and ...
I also used a tried and true method my dear friend Nate Kelly calls "boots on the ground and donuts." Any time I was free between coats, I went to a local designer, architect or high-end builder's office and brought donuts. I would talk, and talk, and talk. I didn't bring Dunkin' Donuts or Starbucks—I went to the local bakery where you get that perfect chocolate croissant or that perfect apple turnover they are known for. Yes, it costs more money than Dunkin' Donuts, but it goes a long way with people who respect quality. At first my brother, who now works with me full time, told me I wasn't seeing any return from it, but not everything comes at once. Maybe one out of five people would reach out to me right away, and sometimes it was none. But I've also had situations where they contacted me a year later and asked, "We have this interesting project, would you come take a look?"
When I did this, I was also targeting specific areas where I wanted to work. If you work on the South Side of Chicago, you're not selling herringbone at $40/square foot, but that's the market I was shooting for.
2) I surrounded myself with people I wanted to emulate
You know that saying, "Tell me who your five best friends are, and I'll show you your future?" I'm a believer in that. Everybody has their own path, but being surrounded by people you respect who are running successful businesses gets your wheels turning. You're able to look at your own situation, assess it, and say, "How can I get there?"
I like to work with people I genuinely enjoy being around, and I believe in relationships above all else. For me, it came down to surrounding myself with people who:
A - Brought value to the table
B - Had integrity
C - I developed a relationship with outside of work.
A turning point in my life was going to the International Wood Flooring Association school in February of 2019. At that time I was pointed in the right direction. At the school I was surrounded by some of the industry's best, like Avedis Duvenjian and Vartan Arutyunian of Archetypal Imagery, and that gave me a clear trajectory. Jenny Riddle, who was running the school, became a mentor for me and challenged me to think in different ways. Around that time I also reached out via Facebook to Eric Herman of State of the Art Wood Floor Gallery with some specific questions, and he was nice enough to answer them and continue helping me. Now I've flown out there several times to work with him.
---
RELATED: How a Floor Pro Increased Profits Using 'Olympic Pricing' Estimates
---
3) I learned about the luxury market
Way back when, I was looking to work with a very prominent builder in my area, and he saw my price and told me, "Chuck Crispin's not getting out of bed for that." I thought to myself, "Well, if Chuck isn't, why should I?" Ever since then I think to myself: What is it going to take to get me out of bed for this? What we do can be very miserable at times, and I won't sell myself short.
I've worked with Chuck on and off since then, and he opened my eyes to a different aspect of this industry that I knew existed but hadn't really experienced: the world of the obscenely wealthy. I have yet to achieve working in that world, but courtesy of Chuck, I've gotten a taste of it. I've learned ways of presentation and communication with that market, including how to be detailed but vague at the same time. From Chuck I've also learned some of the older techniques of doing things on the job site that can be retrofitted to fit our modern way of doing things.
At this point I have very little issue asking for a lot of money when I do a job. I always make them understand the gravity of the situation. I find that if you can explain the reason why and then give them the price, they will understand it.
4) I took the leap even when I was scared
When I started doing high-end jobs, I was terrified. I had self-doubt. Am I good enough to operate in this area? Did I skyrocket myself into someplace I shouldn't be? I wondered if I had let myself be tossed into the deep end of a huge pool when I couldn't swim. I'm still learning and having my moments, but it's getting faster and easier. I'm starting to see my lines and angles a lot quicker. I've realized that rather than look at how complex something is, I need to break it down and look for the simplicity in it. My good friend and fellow pro Jake Schlichte always tells me: You'll never know unless you try. He's been instrumental in pushing me to go past my comfort zone.
Along the way, I've asked for a lot of help. As men, and as flooring guys in particular, we have huge egos. Admitting that you're lacking or inexperienced in a particular area is difficult. Nobody likes to admit they don't know what they are doing, but for me, I think that was the key. I had to get to a point where I could admit that I had no idea what I was doing. At the end of the day it's all about doing the best you can and going up from there. When you admit you know nothing, I think the whole world opens up to you.
5) I maintained my integrity
The most important thing is that we have maintained our integrity throughout while delivering what was promised as well as going above and beyond—a principle that was instilled in me from one of my earliest mentors in the industry, John Ciupuliga. There have been trials and tribulations along the way. At one point we got involved with what we thought was a custom builder who turned out to be more of a developer, and we had $100,000 of work lined up with him. But there were red flags on the first project, like telling us the house was ready for us when there was still mudding left to do, and asking us to short the client on a coat of finish. When we saw how things were going, we completed the job and walked away. At the end of the day, integrity will always be at the forefront of my business. Everything we do is to protect ourselves, and by doing that, we are protecting our clients, too.
My dad always told me an analogy about taking a path through a forest, and the more you walk that path, the better you know how to navigate the twists and turns and roots that will trip you. As you do it over and over, eventually you'll be able to instinctively navigate it safely until you could run the path or do it blindfolded. I'm not there yet in our business, but we're very intentional about navigating that path, and, above all, I know where I want it to take me.
---
RELATED: Upselling Wood Flooring Can Set You Free from the Rat Race
---