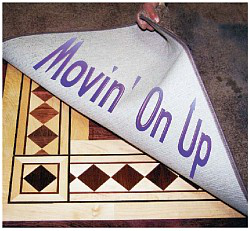 For some hardwood flooring professionals, life consists of a daily grind banging in 3/4-by-2 1/4-inch oak flooring. Job sites and customers may change, but the task remains the same. Sometimes it seems like business is getting tougher, not easier, as time goes on. There's incessantly increasing competition, half of whom you may have trained. Margins are being squeezed tighter and tighter as lowball estimates become more common. Customers comparison shop your No. 1 common red oak against the next guy's and you're more expensive. More money has to be spent on advertising in an effort to catch more customers in the rat race.
Some wood flooring contractors have discovered there's another world out there — one without the race and fewer rats. Whether they took the plunge by dropping in their first medallion or by installing a simple feature strip around a fireplace hearth, the contractors began a business with more variety, more job satisfaction, more referrals and, hopefully, more money. What they did has a simple name — upselling.
Upselling has myriad advantages. It distinguishes your company from the rest of the pack, causing people to ask their neighbors, "Who did your floors?" It releases workers from a production mentality and replaces it with creativity and artistry. Because you're producing something special, upselling thwarts consumers from comparison shopping your floor all over town. In the process, it should also increase your company's profits.
"Upselling spells the difference between just 'just getting by' and having a very profitable year," says Dr. Jon M. Hawes, director of the Fisher Institute for Professional Selling at the University of Akron, Ohio. "Revenues from upselling are usually over and above a store's break-even point, so the extra sales turn quickly into profits."
Whether you run a floor covering store or work out of your dusty work van, the same ideas apply. The toughest part may be getting started.
At the Beginning
One obstacle that stops some contractors from getting started is intimidation. "A lot of times people are afraid to make that first step," says Ken Schumacher, president of dealer Schumacher & Company in Newport, Ky. "A lot of things you can buy already made up, for example, huge custom parquet patterns 30 or 36 inches square. When it's all down, it looks complicated, but they're just square tiles; it's very easy." Pre-made medallions or inlays are another feature that can look impressive when they are done, but are really quite simple to do. Deciding to try that first job can be the beginning of a better business.
Doing higher-end work is a learning curve, both in terms of skill and bidding. Networking with other wood flooring professionals is one of the best resources to learn the tricks of the trade. Industry training opportunities provide instruction on advanced installation, sanding and finishing skills. More than anything, practice is key.
In some markets, doing that first job may mean not making much money, if any. Perhaps on one job you threw in a feature strip for free in hopes that during the customer's dinner party next month, the 30 guests would take notice and want something different in their own floors. Or maybe you took on a job and drastically underestimated the time it would take.
Instant higher profits were not the motivating factor for Steve Smith, owner of The Osterlund Company in Santa Ana, Calif., when he was trying to break into a higher-end market. "I wanted to get the job because I wanted to do that type of work," he says. "If I would come in too high, I may have lost the job, and some other guy could come in on a whim and fake his way through it. I got the bare minimum for the job, but the next time I got better and better at it — 'okay, this one will take 15 hours; I'll charge for 20 to cover me' — I learned how to bid the jobs."
That was years ago. Smith took a hit on many jobs but learned everything he could about doing quality work, and his business today deals with high-end clients exclusively, with the average job billed at $40,000. The referral base is so strong that he screens calls and turns away anyone who is not a referral. He hasn't done a plain strip floor for at least the last eight or nine years.
Steve Marley, owner/contractor of Cal Coast Hardwood Flooring in Simi Valley, Calif., says that when he began doing high-end work, "the word of mouth just spread like wildfire." Today his business focuses on a high-end clientele, and while he does all types of upscale projects, he's developed particular notoriety for hand-scraped floors. "It's a major calling card, because our business is 100 percent word of mouth," Marley says. "It separates us from the average joe who's out there."
For some dealers, it was opening a showroom that jump started the momentum for high-end work. "The best thing for us is the showroom," says John Mollica, owner of Mollica's Hardwoods in Colorado Springs, Colo. "Since we put that in, it's just been phenomenal what it's done."
Mental Shift
Deciding to make upselling your way of doing business means not only a shift in skill levels on the job site, but also a change in how you look at customers and the entire selling process.
"The biggest problem we face at the retail level is convincing retail salespeople to stop thinking about what a person can afford and start thinking about what the person really wants," says Ron Hendricks, a district manager for Boa-Franc who also conducts sales seminars at the NWFA Regional Schools.
---
RELATED: How a Floor Pro Increased Profits Using 'Olympic Pricing' Estimates
---
"Quit showing the common, everyday things, because at that point, the consumer has got you. If that's what she's shown, she probably knows where all these displays are at every place within a 25- to 30-mile radius of her house. At that point, you're just order-takers; the guy with the lowest price is going to get the business."
Being afraid to show customers something more expensive not only minimizes your profits, it does a disservice to your customer. As the wood floor expert, it's your job to figure out what their needs are and install the appropriate floors.
A first step is to trash your preconceived notions. "I've been in stores where a guy walks in straight off the farm in his dusty overalls," Hendricks says. "A typical person will look up and say he can't afford anything. Nine chances out of 10 he's probably got 15,000 or 20,000 bucks sitting in his pocket, and the guy who waits on him is the one who'll get his business."
"The magic in sales is to stop thinking of yourself as a sales person of merchandise and services," says Dr. Wolf J. Rinke of Clarksville, Md. "Think of yourself as being in the business of meeting the needs of the customer. The only way to do that is to get your mental attention away from you — and your merchandising features — and concentrate on the customer."
Seeing is Believing
In order for customers to communicate what they want, they have to be educated about their options. Many perceive hardwood floors as a a commodity type of product.
"Customers have no clue what they want," Schumacher says. "We have to dig for that and ask a lot of questions. Most people only know about the oak strip, but when they see these other products, the sky's the limit."
The easiest way for customers to see the possibilities is in a showroom, but that's not the only way. Large product samples, manufacturers' brochures, portfolios of past work, and magazines are all tools hardwood floor professionals use every day to upsell. In addition to all the available photos and literature, Marley invites customers to his own home to see for themselves what the possibilities are.
Marley uses a soft sell approach as he begins to figure out what the customer wants. "Once we start talking and I get a feel for what other type of work they're doing in there, whether it's wainscoting, cabinetry, painting or whatever the case may be, then I start throwing options out there," he says. "What are you looking for in a floor? Is this more rustic or contemporary? Have you seen inlaid brass? Distressed work? Mixed media? Almost every time, they say, 'What is that?' That opens the door for me to bring samples in there."
For clues about what the customer may be interested in, "You've got to pay attention to the area and house you're working in," Smith says. "I'm not looking to take advantage; I'm going to say, 'What does this customer potentially go for so I can meet their need?' I end up zeroing in on that need, because while I was doing my bid I was looking around the house at the same time and getting the feel of what they want."
---
RELATED: Stop the Excuses and Take Responsibility For Your Wood Floor Business
---
Salespeople highly skilled at upselling know how to walk the fine line of impressing customers with creativity and skills without giving the impression that they're out to get the customer to spend as much as possible.
"You've got to be the one who always puts in that extra thought of 'Hey, we could do this,' but you don't want to oversell it, either," Smith cautions. "People could walk away saying 'You're ridiculous, you're getting out of control with me — I just want a nice floor with a little border' and you scare them off. You don't want to oversell the job."
Down to Earth
"But I don't live in L.A. or Miami," dealers and contractors commonly argue. "My customers won't spend that kind of money on a floor." What you may not realize is that upselling doesn't necessarily mean asking for their $60,000 dream floor. Customers in every region are willing to spend more if presented with the right options. A little something extra on most of your installations can add up to a better profit margin on your bottom line.
At Yerke Hardwood Floors in White Lake, Mich., many customers who come into the showroom are sent there by their builder, and they have a fixed idea of exactly how much they're allotted for wood floors. If they don't want to upgrade to a border or exotic species, all is not lost, says President Bill Yerke. "We try to do small upselling projects with them — getting them to put in custom vents, sometimes a feature strip of a different species, and always selling the maintenance products," he explains. "That helps the bottom line big time. We keep track of direct sales to builder customers and it makes a big difference." Although these items are small, their profit margins are not — wood vents and maintenance products often carry a 100 percent markup.
At Schumacher & Co., account rep Laura Wallar shows builder customers what their budget allows — typically a red or white oak strip floor with poly — but also walks them through the upselling options in the showroom. "When they come in here, they think all they're supposed to look at is red or white oak," she says. "I tell them to bring in trim, wallpaper, anything else they've got with color in it. They may find their cabinets match the walnut floor and they love it from that point on." If customers don't seem interested in a more expensive upgrade, Wallar still presents different design options. "At that point, I'll offer to do different installations, like on a diagonal or in a border pattern, just so they still have some more added interest and it is an upsell," she says. Wallar also has success sending clients home loaded up with brochures from inlay and border manufacturers. Once they sit down at home and look at what's available, they frequently find something they can't resist.
A market like Omaha, Neb., is a good example of a region where contractors complain about the lack of high-end work. But at Heartland Wood Floors, upselling has become a way of doing business. Vice President/Owner Jim Kwasniewski avoids a hard sell when going over design options. "Customers will bring in a set of prints, we'll take a look at the rooms that they're doing and then throw little recommendations out there on how to upgrade a little bit." Making smaller suggestions here and there can be just the beginning. The company uses its website, product literature and its extensive showroom to educate customers about the options, while always being open to new ideas. "A lot of our customers aren't afraid to say,' Can I do this?' and we never say no," Kwasniewski says.
Prefinished Possibilities
With the products available in today's market, it's easier than ever for dealers to say "yes" to creativity, even when they're dealing with a prefinished or engineered floor. With all the prefinished exotics, borders and medallions, upselling should be a given.
Schumacher gives an example of a customer who was sent to him by a builder client. The builder had warned him that the customer wanted something cheap for his basement. When the customer finally paid a visit to the showroom, he saw the santos mahogany engineered product and wanted it. He had no idea that exotic species were available in an engineered floor.
---
RELATED: How Do You Know What to Charge Your Wood Flooring Customers?
---
"A lot of people think they just want to go with the basics, and that they don't have the budget for it, but you never know until you try," Schumacher says. "Once he saw it, he liked it; he thought it was so beautiful. Money wasn't the object."
As with every product, educating the customer about the options is vital. With prefinished products, salespeople need to take the time to explain different finish technologies and product warranties. Especially in the prefinished, engineered side of the business, customers seem to have little understanding.
"Product knowledge is huge with prefinished, because people think it's like Pergo," Mollica says. "They come in and see we've got the solid prefinished product with the aluminum oxide finish down on the floor. Once they see the quality of the finish and the warranty, then we sell people up to the prefinished."
Product knowledge about wood isn't only necessary for the customers, it's generally lacking in the retail floor covering world, says Hendricks. "Talk to average retailers today, and when it comes to wood flooring, they become brain dead; they're scared," Hendricks says. "They're thinking, 'I don't know this, I'm going to sell something I know. 'It's educating not only the retail salespeople but also the retail owner. It wouldn't take a guy long to figure out that what he makes the most profit on is wood flooring, bar none."
Despite wood's relatively high profit margins and increasing market share, it still takes a back seat at many stores. "You walk into any typical retail floor covering store today, and the first thing you see is a bunch of carpet," Hendricks says. "Then you see wood, ceramic and laminate sitting over on one side somewhere. You have to get through the carpet to get to wood or hard surface displays. I ask people, 'Why do you have 70 percent of your showroom tied up in carpet when the industry's telling you 50 percent of what you sell out your door is hard surface?'"
At Dixie Floor Coverings in Bartlett, Tenn., General Manager Hershell Wright encourages customers to look at floor coverings not in terms of price, but value. "If you compare carpet price to wood price, you look at years of service," Wright says. "Good carpet in five or six years will be dirty, or the color will be wrong, and you'll be ready to change it. Years of service adds more value to the house than anything else."
If a customer comes into his store looking for "something different," Wright leads her directly to wood. "You know, carpet is carpet, but you can do a lot of different things with wood," he says. And when it comes to first impressions, wood can't be beat. "Whether it's a glue-down or nail-down floor, the perception with wood floors is that it's an upscale type of house," he says.
Even when he's upsold a customer to buying a wood floor, Wright doesn't stop there. "We do custom rugs; it's an easy sell," he says. "When you sell wood floors, it's a natural to go right into the area rugs and pick up extra money on the job."
If you're in the wood floor business, upselling in general should be a natural. The beauty and appeal of the products you work with is on your side. "We tell customers, this is a onetime thing when you put your floor in, so you want to do it right," Mollica says. "Once they see the quality of the products, they want them pretty badly." The simple key is taking the bold step of asking customers to step out of the commodity world. Once you begin striving to meet their needs,you're on your way to making your hardwood flooring world a more satisfying and profitable place.
Why They Buy
Why do consumers make the choices they do? If you're in sales, it shouldn't be a mystery to you. Following are the top priorities of consumers, according to retail experts:
1. Color: If customers have already decided on anything when they start shopping, this is it.
2. Style: Will they upgrade to a plank, border, medallion or parquet pattern?
3. Knowledge: Does this salesperson know enough to help them make the right decision?
4. Trust: Can this salesperson be trusted, or does just talking to him make you feel violated?
5. Store appearance: Is it a clean, organized, pleasant place to be?
6. Product details: Maintenance and warranties are examples of considerations at this point.
7. Price: Note that this is the last item on the list.
Wood Floors vs. The Rest
Whether you're a small contractor or a retail floor covering chain, it doesn't hurt to remind customers that wood floors can't be beat.
On a lifetime basis, wood floors are the best value dollar for dollar.
Wood is a beautiful product of nature that can be regenerated.
With today's floors, maintenance is minimal.
Wood is a healthy surface that doesn't harbor allergens.
Most wood floors can be recoated or refished to look brand new.
No other floor covering can be repaired so well.
Wood floors won't ever look dated in the home.
Wood floors make it easier to resell a house.