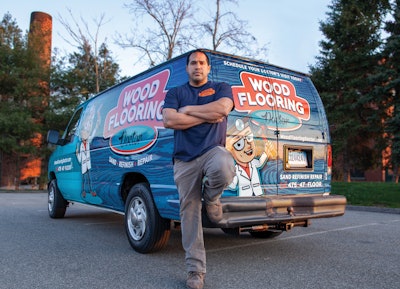 It's been two years since we held the WFB Truck & Van Contest, but this year's submissions were just as creative, inspiring and fun as ever. The contest was designed to highlight the trucks, vans and rigs that bring wood floor pros and their equipment to the job site every day, as well as the ingenuity and creativity of the pros who drive them. The top categories include Best Exterior Graphics, Most Organized Interior, Most Unusual Work Vehicle and Biggest Disaster, but we didn't hit the brakes there. To see how pros are making the most of their work vehicles—whether turning them into rolling billboards, huge time savers, or even honorary family members—scroll down.
---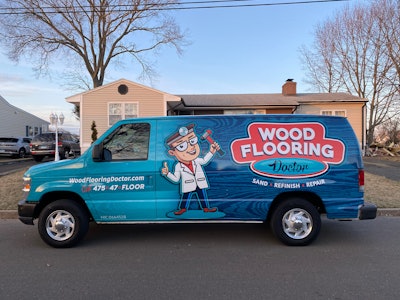 Best Exterior Graphics
Wood Flooring Doctor
East Haven, Conn.
Felix Roman approached his van's wrap design with a surgical precision—a method befitting his "Wood Flooring Doctor" brand. "I'm in the wood flooring business, but mainly in the marketing business, if you think about it," says Roman, who launched his wood flooring business in early 2022 after a long career in construction. Roman immediately noticed there was a lack of wrapped vehicles in his area and saw an opportunity to set his business apart quickly. "I went to school for motion pictures, as well, so I have a creative background in photography, and I did a lot of graphic design," Roman says. "I thought, 'I can come to this market with a different twist.'"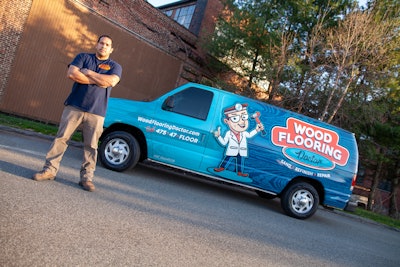 After coming up with the name for his business, he knew he wanted a mascot that people would connect with. He worked with a couple different designers on the logo and mascot at first, but eventually decided to roll up his sleeves and tackle it in-house. Roman also knew he wanted a vintage feel to his design and discovered that orange and navy blue colors were often associated with rustic, vintage designs. "My market is mostly homebuyers, and these people like rustic homes and farmhouses, and that's why I went with those colors," Roman says.
Roman created the wood grain design in the background of the wrap from scratch using Adobe Illustrator. "I wanted it all to match, and I was so picky moving it up two pixels, three pixels," he says, noting every part of the wrap design was an original creation. "I had a vision." Roman's wife, Laura, came up with the idea to fade to a lighter blue in the front of the van.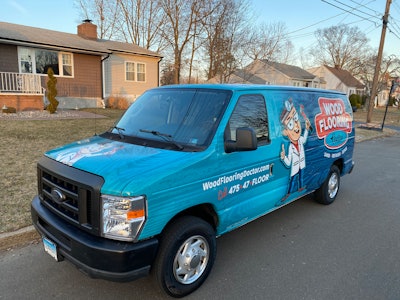 Roman also made sure to grab a vanity phone number for his new business and include it on the wrap. "I searched, and I ended up getting lucky and the number was available," he says. "I didn't want too much information. I just wanted you to see the logo and the number. That's all you need."
When the vinyl wrap was completed and applied to his Ford E150, Roman set about ensuring everything else he needed for his business synced up with his van design. "I ended up doing my yard signs the same way, doing my door signs the same way, as well as my business cards and website," Roman says. "Everything is branded, even down to my emails when someone inquires."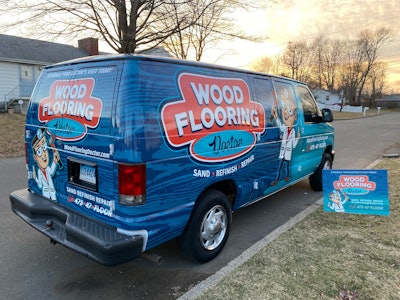 Roman's biggest advice for creating a vehicle wrap is to go bold and be memorable—and it doesn't hurt to sprinkle a little "movie magic" into the design, either.
"Even kids, like my nephews, are like, 'Oh my god, can I get a ride in it?'" Roman says. "It's like a Disney character. It just attracts so much attention."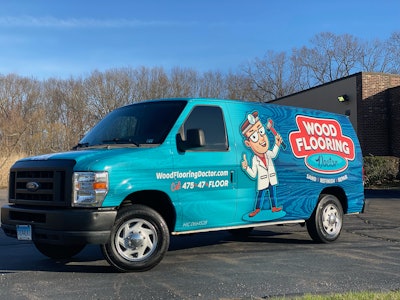 ---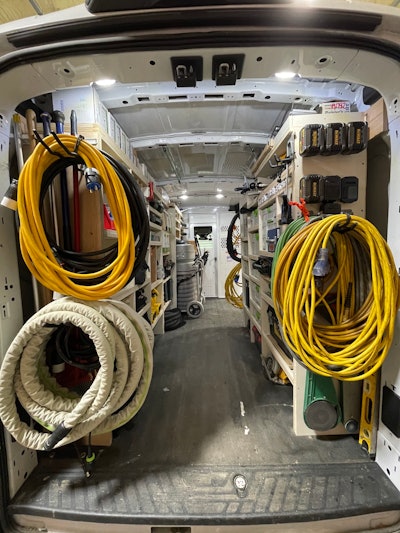 Most Organized (Tie)
Sheaves Floors
Staunton, Va.
Aaron Sheaves' decision to trick out the interior of his work van was motivated in part by the need for a little peace and quiet. "I finally got tired and fed up with the loud and obnoxious metal shelving units that were installed in the van," Sheaves says of his Ford Transit. "So one day I just started on one side, and then it turned into doing the rest of it."
A second big motivator was all the wasted space he saw with the van's metal shelving. "Not only do those metal shelving units make a lot of noise, they always have wasted space that is unable to be used for any given tradesman setup," he adds.
Sheaves set aside a couple weekends to start building his own ¾-inch plywood shelves for the van, beginning with some serious measuring sessions: "I went about measuring every tool I needed in there." He cut the shelving with a table saw and chop saw, then glued and screwed everything together. He drilled holes in long oak boards to bolt them to the existing metal walls of the van, allowing the new shelves to be screwed to the oak anywhere he needed. The plywood shelving ended up 6 inches slimmer than the former metal shelving, Sheaves says.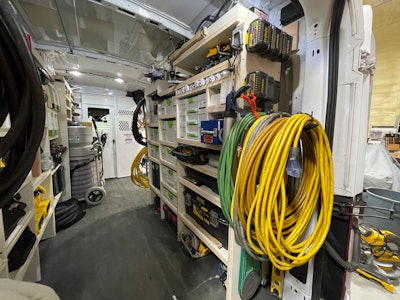 Some of the shelves are dedicated to Sheaves' Festool boxes that he can change in and out, and some shelves are dedicated to tools he keeps there all the time for refinish jobs. Sheaves also organized a battery charging station in the back above his cord hooks, and he has a designated shelf for horizontally holding his adhesive sausages.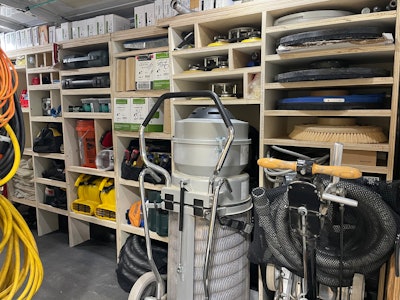 "I can keep anything I need for a sand and finish job in there," he says, noting that he often works in remote areas, and missing something at the job site can be a major time-killer.
The interior took about a month to complete, but spending the time to organize the new shelving saved him a ton of time in the long run. Such an effort came naturally to Sheaves, who has always been meticulous about keeping things tidy. "I want to know where every single tool is at the minute I need it," he says. "I take a lot of pride in what my setup looks like, and I bring that same care and attention to each job I'm on."
The interior also generates plenty of compliments for Sheaves, but in the end, the sweetest sound is … nothing. "It's so quiet," he says.
Watch a video tour of Sheaves' van here:
---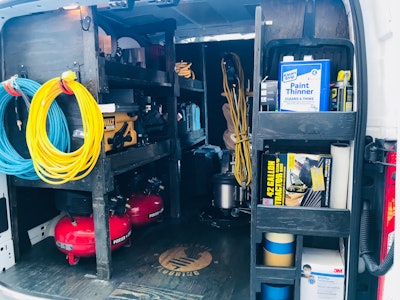 Most Organized (Tie)
Victoria Flooring
Kearny, N.J.
Before starting his own business, Tiago Gontijo worked for other hardwood flooring contractors for many years, and during that time he felt every van he worked out of was missing something. Most were messy and inefficient, and some were just plain dangerous—one, he recalls, didn't even have seats.
"I always had this dream: When I get my van, I'm going to equip it with everything that I want," Gontijo says. Gontijo made that dream a reality after starting Victoria Flooring. He purchased his first brand-new company van, a Ford Transit, in 2016 and outfitted it with everything he felt the previous vehicles were missing. "The way I designed everything, I rarely need to go to the store," he says. "It saves so much time."
He began by arranging the seating, making sure there was enough room for five crew members to ride comfortably and safely. He also installed a ¾-inch plywood backboard separating the seating from the tools in the back of the van.
Gontijo then installed ¾-inch plywood on the walls and floor in the back to attach the shelves to and protect the original interior of the van from the usual bumps and dings of the workday. He knew he didn't want to use the metal shelving systems available for work vans, as many don't take wood flooring equipment into account. He mapped out the interior and hand-made each shelf with a specific tool in mind.
The van interior of Gontijo's dreams was always black, so after everything was installed he sanded the plywood and applied a coat of ebony stain. He made a sticker of his company logo for the center of the van's flooring, which he peeled up after staining. He then coated the floor with water-based finish.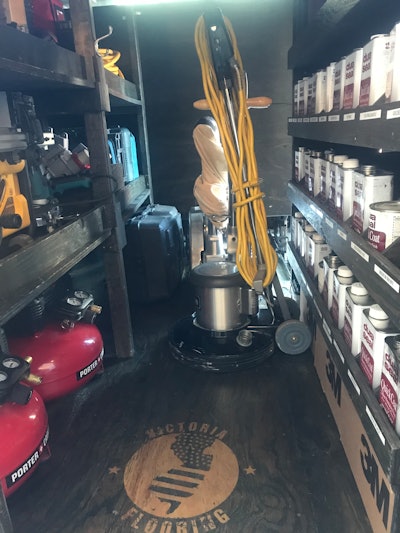 It took five to six months to complete the custom interior. "It's not a long process, but I really wanted to spend some time in this van, because it was the first one I'd bought new," Gontijo says. One of his favorite parts is the base he built for the big machine, which keeps the wheels suspended about an inch from the floor to keep the sander in place and prevent damage to the wheels. The shelving for his stains has also been an immense time-saver, capable of holding enough stain for 1,500 square feet of flooring.
"The first thing we see in the van should be what we need for the day's work," Gontijo says. His biggest advice for organizing a work van is to make sure it is customized to your own needs. "You need to have your van designed for the way you work," he says. "Just make it easy for yourself."
And perhaps most importantly, make sure no one has to ride without a seat. "It's not just about organizing the back—we have to drive safe," Gontijo says.
Watch a video tour of Gontijo's van interior here.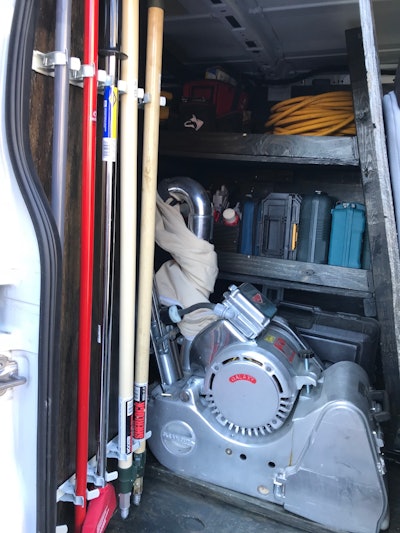 ---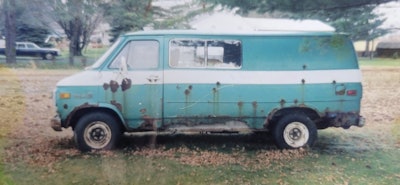 Biggest (lovable) Disaster
Rob Johnson
Albany, N.Y.
There are many ways to describe the first van Rob Johnson and Pete Schuurman purchased for their flooring business in 1988 for $800. "Greatest van ever." "A van for the Beverly Hillbillies." "Part of the family." "A movie star." But perhaps the most consistent is simply, "Vanny."
Purchased at 60,000 miles and laid to rest in 1999 with 276,000 miles, Vanny carried much more than simply wood flooring equipment for Johnson, who is now a trainer for Bona—she also carried treasured memories of his young family.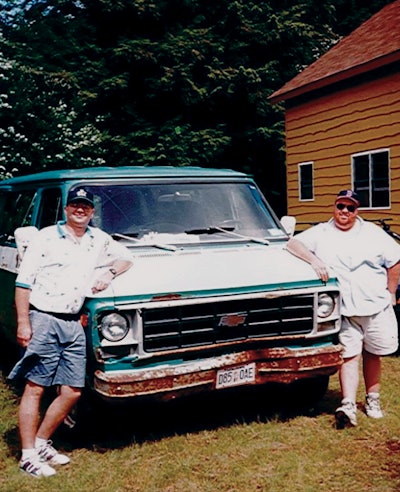 "One day I was putting sandpaper shelves in Vanny and my youngest daughter, Rebecca, asked what I was doing; I told her it was bunk beds for camping, and she was so happy and excited," Johnson recalls. "We went on camping trips, fishing trips and beach vacations, and Vanny always got us to our destinations and back home safely."
Johnson's children often thanked Vanny for getting them to their destinations, and upon dropping his daughter off for her first day of nursery school, "you would have thought I rented a limo," Johnson says.
The rust and dings accumulated over the years only added to Vanny's charm, and drew comparisons to the family and the Clampetts from "The Beverly Hillbillies." When Vanny hit a quarter of a million miles, the Johnson family celebrated with a "Vanna-versary" party.
"We emptied it out, opened all the doors and drove friends and family through the neighborhood like we were giving hay rides," Johnson says. "It was an awesome day. Also on that day, we gave Vanny's personal doctor/mechanic, Joe Tremblay, a special lunch—a twin lobster platter while the rest of us had hot dogs and burgers."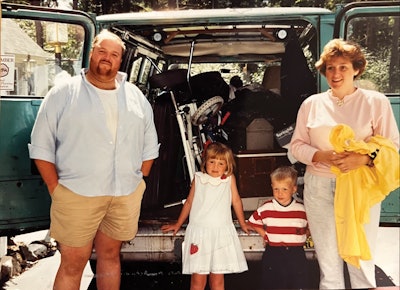 Vanny also got her 15 minutes of fame in the fall of 1996, when a film crew was shooting a movie called "Disoriented" in Albany, N.Y. "Pete and I were working in downtown Albany and had to go out to get something out of the van, and we couldn't get to it because they were shooting a scene right in front of Vanny," Johnson says. "She was famous. It was definitely a low budget film, but she was in it!"
As much as the camera may have loved her, Vanny's real adoration came, and continues to come, from the Johnson family.
"Vanny was a great part of our young family, and the memories will live forever," Johnson says. "She was an amazing van!"
---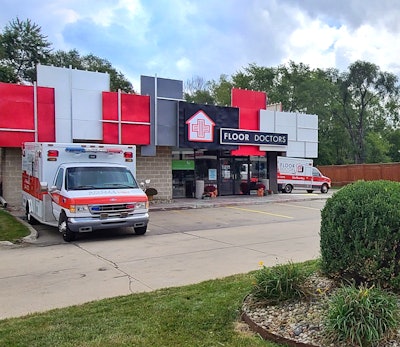 Most Unusual
The Floor Doctors
Des Moines, Iowa
Chris Friest only uses the lights and sirens on his flooring company's retired ambulance showrooms during local parades and home shows—but that doesn't mean some cars don't still react a little differently when they see him out on the road.
"People still pull over for us, even without lights on," Friest says.
The Floor Doctors started out four years ago with one repurposed ambulance, a 1997 Ford Medtech, and soon added a second to its unusual and attention-grabbing fleet of flooring vehicles. "My father-in-law is a fire chief in Northwest Iowa, and he has the feed on the retired decommissioned units," Friest says. "They're relatively inexpensive to pick up out there."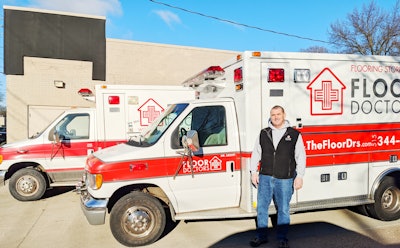 Friest knew they'd be a great addition to his company's doctor-themed brand's recognition—and he was right.
"Probably 40 percent of our traffic is driven by our ambulances," Friest says. "Clients love it."
The original idea was to use the ambulances as work vehicles for refinish jobs, but they eventually were converted into mobile showrooms capable of holding flooring samples of nearly all the company's product offerings. Friest had a contractor partner trick out the interior with shelving for flooring samples and even added a desk and workspace—keeping the ambulance padding on the doors, of course. "My kids still like riding to school in it," Friest laughs.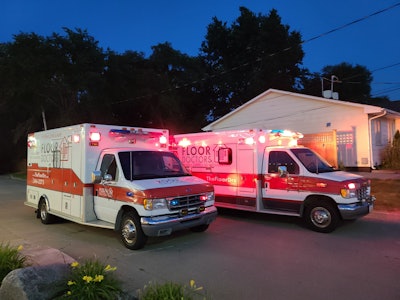 The vehicles' wrap was designed in-house. "We just started drawing out and pitching some ideas and bouncing ideas off friends and contractors and that's how we settled on that," Friest says. The company also uses a Ford Transit and truck that feature similar wraps to match the ambulances. They coordinated the design with their building's hospital-like exterior, as well.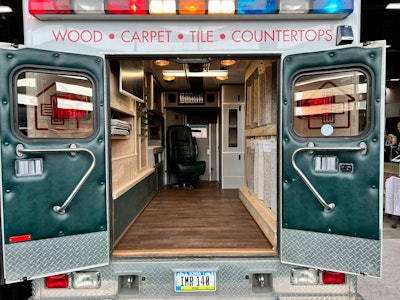 Friest, who worked in the flooring industry for about 20 years before starting The Floor Doctors, says cohesion is key in marketing.
"Make everything look and feel like it's done right," he says. "What I did was look at what marketing ideas catch my attention and look at them for guidance."
Although the unique vehicles attract tons of attention and business, there's no rescuing them from terrible gas mileage, Friest notes. "They're also heavy and awkward as f*** to drive around," Friest laughs. "They're big diesel vehicles."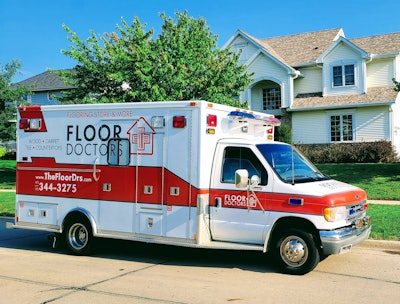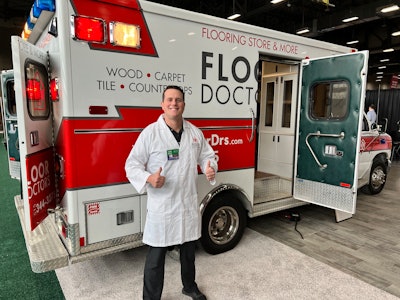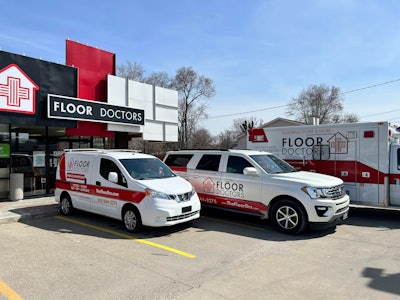 Watch a video tour of The Floor Doctors' mobile showroom here:
---
While this year's five winners were impressive, the following entries were just too good not to have a moment in the spotlight, as well:
---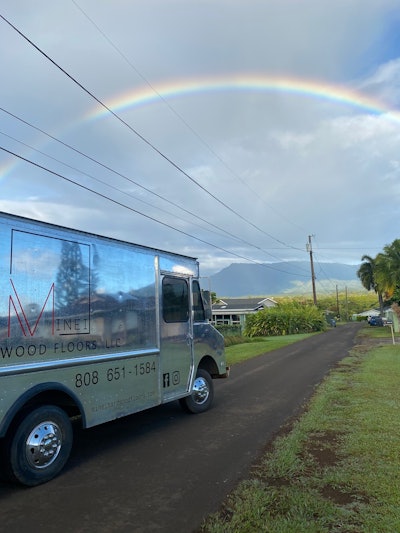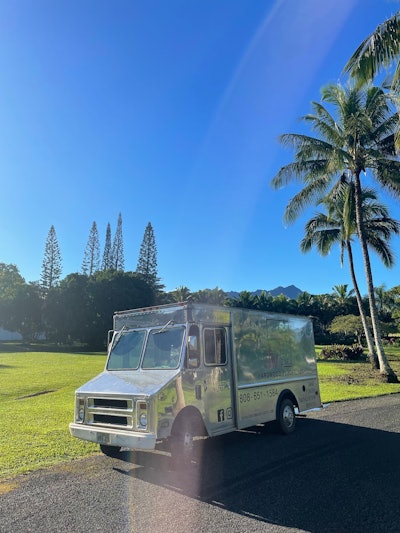 Most Reflective Work Vehicle
Daniel Minei
Minei Hardwood Floors
Kapaa, Hawaii
Daniel Minei's wood flooring vehicle's design reflects his community—literally. The 1985 Chevy P30 has an exterior of polished aluminum that helps it stand out on the road. And if you're going to have a wood flooring vehicle exterior that mirrors its surroundings, there are few locations more worthy of reflection than the gorgeous island of Kauai. But in the end, it doesn't matter if the unique ride ever makes it to the end of one of the island's dreamy rainbows—Minei has already struck marketing gold.
---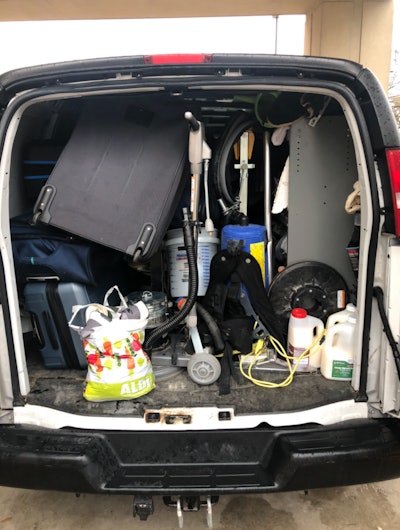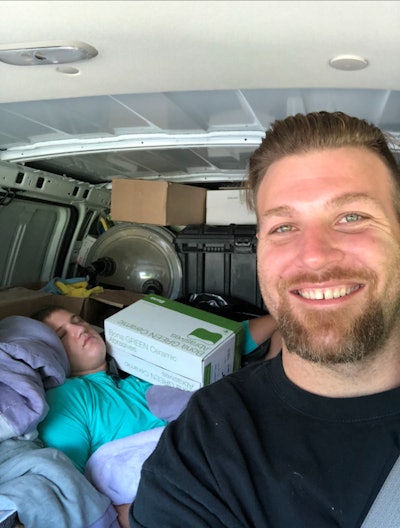 Best Journeymen Vehicle
David Friedland
Friedland Hardwood Flooring
Winter Park, Fla.
Not many people would consider a box of abrasives an ideal pillow, but occasionally, while out on the road, David Friedland and his crew make do. "We are journeymen who travel to malls all over the United States to refinish Microsoft retail stores," Friedland says. "We take turns driving and usually travel at night." Friedland and his crew have been living the "journeyman" life for the past eight years and have found a reliable van that helps them handle the unexpected and transport everything they need, including suitcases. And when you're out on the road, the difference a trusty van makes can be night and day.
---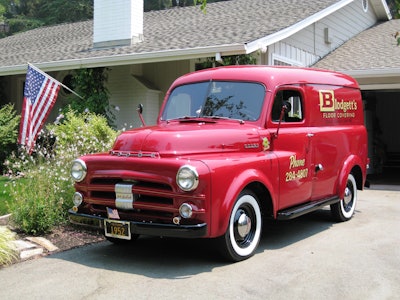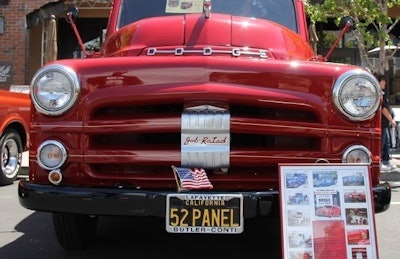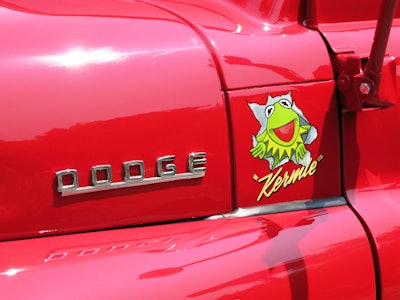 Best Vintage Ride
Larry Blodgett
Blodgett's Floor Covering
Lafayette, Calif.
Before there was Kermit the Frog, there was Kermie the wood floor pro. The original Kermie's grandson, Larry Blodgett, restored this 1952 Dodge Panel Truck to match the one his grandfather used when he founded the family business in the early 1950s. "It's nicknamed 'Kermie' to honor my grandfather, whose name was Kermit and was known by his friends as 'Kermie,'" says Blodgett, "well before the frog."
---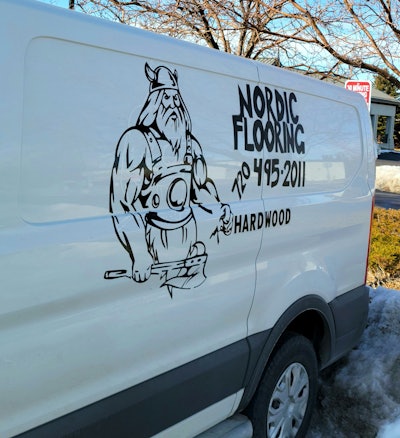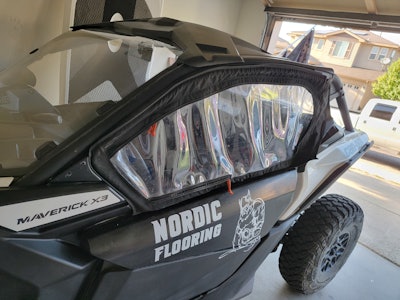 Best Viking-Inspired Landship
Clint Vinet
Nordic Flooring
Littleton, Colo.
Clint Vinet says he embraced his Norwegian heritage when developing his wood flooring company brand. The imposing company mascot says it all: "Big tough viking for a big tough job," Vinet says. The mascot even made it onto Vinet's ATV, proving that strong, versatile branding can be effective on any terrain.
---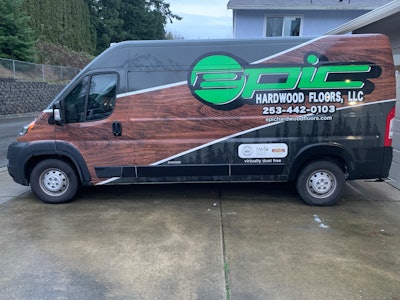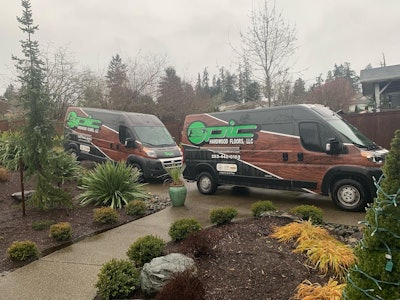 Best Mountain Graphics
Jorge Perez
Epic Hardwood Floors Llc
Tacoma, Wash.
Jorge Perez's wood flooring van can move mountains—specifically, Mount Rainier. Perez set out to highlight some of the spectacular natural aspects of Tacoma, Wash., by incorporating the iconic Mount Rainier and fir trees into the wrap on his work vehicle. Conversely, the bright color chosen for the company logo was designed to stand out among the less spectacular natural aspects of the Pacific Northwest: "We wanted a bright color to complement our gray, rainy state," Perez says.
---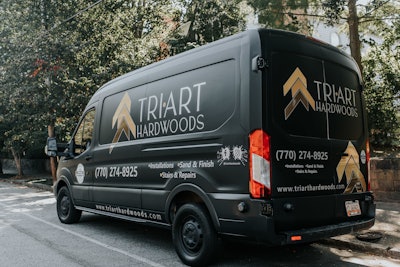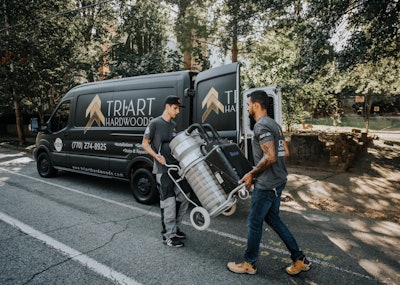 Best Matte Wrap
Hugo Simoes
TriArt Hardwoods
Atlanta
TriArt Hardwoods brought the "art" in their company name to the design of their van wrap, too, with this pristine matte-black wrap. They set out with three goals when designing the sleek van wrap, Hugo Simoes explains: "Simple design, elegant and eye-turning." It's apparent in the finished project that none of those goals were glossed over.
---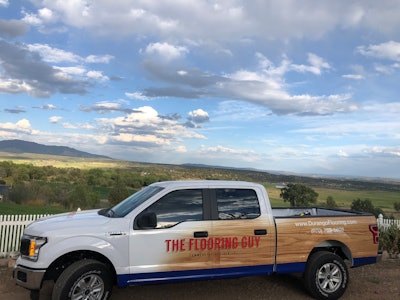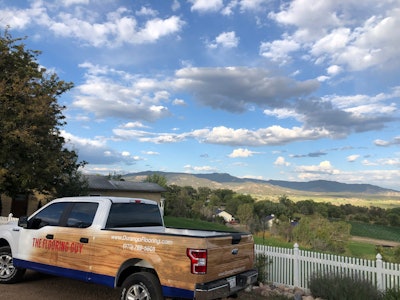 Best First Impression
The Flooring Guy
Durango, Colo.
When there are stunning visual distractions like the Colorado Mountains around, your vehicle marketing needs to get to the point fast. Brent Walter's truck wrap achieves that goal in style. "The wood on the outside makes the statement without saying much," Walter says.
---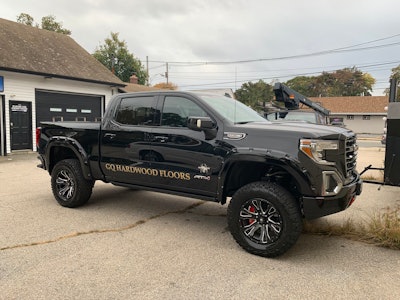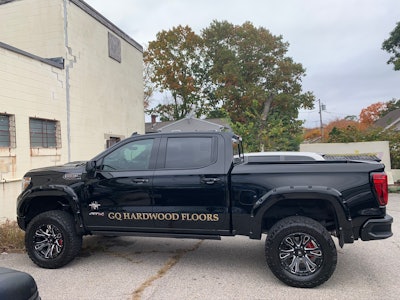 Most Badass Truck
Jonathan Gramajo
GQ Hardwood Floors Inc.
Central Falls, R.I.
Jonathan Gramajo lives in the smallest town in the smallest state, but you wouldn't know it by his huge GMC Sierra 2021 AT4 Black Widow Edition. The badass truck simply features the company name and website, but it's been more than enough to make an impression on Gramajo's clientele so far. "I'm getting work just for showing up to my estimates and meetings in this truck," Gramajo says.
---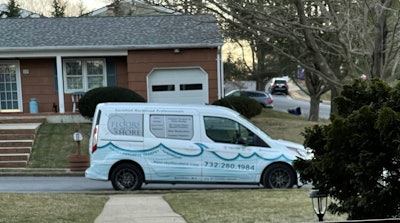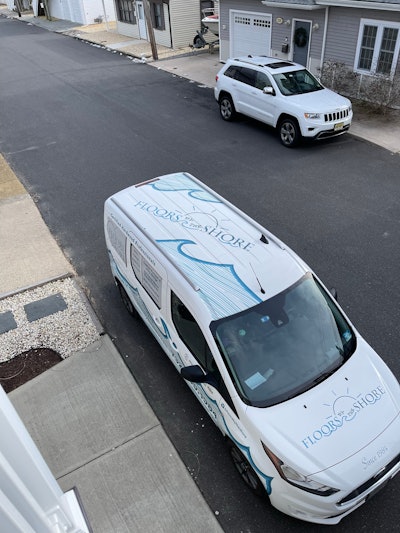 Biggest Wave
Adam Bissey
Floors By The Shore
Belmar, N.J.
Working in the Jersey Shore, Adam Bissey's van wraps let him ride a sweet wave to the job site every day. "I wanted my van to represent our uniqueness as a company," Bissey says of the wave designs on the top and sides of his vans. "I also figured if I'm going to drive a minivan for work, I might as well make it look interesting." The vans have made a big splash in the area, both from the side and from above with its unique roof graphics, and Bissey says they're a big part of his referral system. And the calls they generate aren't just the "hang loose" signal. "We get calls weekly because homeowners saw our vehicles," he adds. "It's ultra-important to our success."
---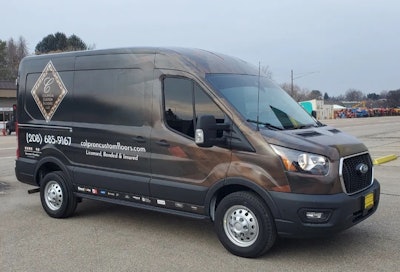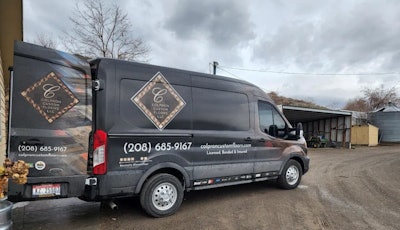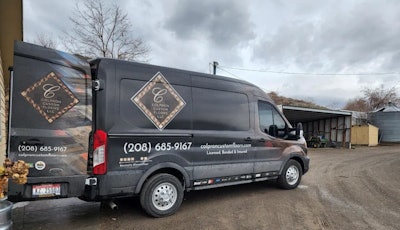 Best Original Wood Floor Incorporation
Jonathan Colpron
Colpron Custom Floors LLC
Emmett, Idaho
Jonathan and Jessica Colpron are continuing to ride the success of an eye-catching multi-species basketweave floor they completed in 2021—and they'll likely ride it for some time, given that they incorporated the floor's design into their work van's wrap. The unique parquet featured western maple, hard maple, Brazilian cherry and walnut, and became both a stunning dining room floor and an unforgettable work vehicle.
---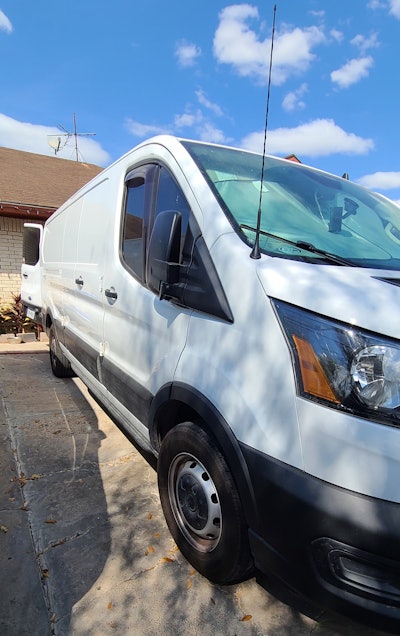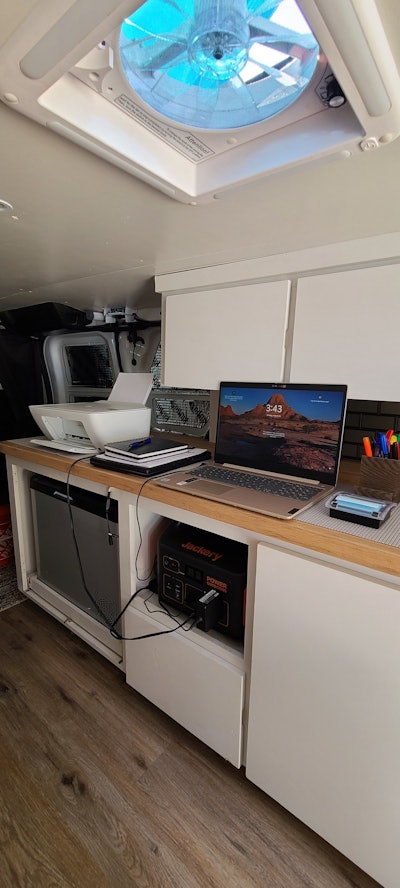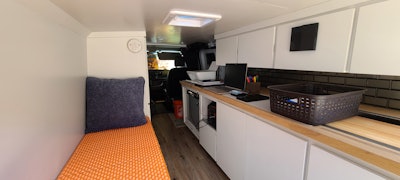 Best Mobile Office
Alfonso Urbano
RGV Floor Pro
Alamo, Texas
Servicing over 20 cities in the southern tip of Texas, Alfonso Urbano needed a way to bring the office with him. He found the solution in one of his new transit vans, which he converted into a mobile work office: "My van is fully insulated, so I usually park somewhere after meeting a potential client, draw up the estimate, email it, and print it for my records, then I go to the next and repeat." The van includes a power station for all Urbano's electronics, as well as a stove, fridge and toilet. "I have a bench that converts into a bed in case I want to take a break," Urbano adds. The best part is, now that Urbano's van is an office, his home doesn't have to be one. "I can arrive home after visiting estimates and job sites and not worry about spending hours working into the evening on estimates or contracts," Urbano says.
---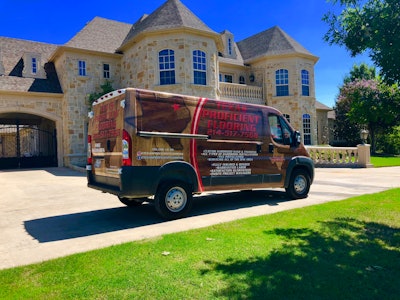 Most Texan Wrap
Rene Nunez
Texas Proficient Flooring
Balch Springs, Texas
There's no mistaking which state this Ram ProMaster services—or what material its driver specializes in. The custom wrap features wood patterns all over and stands out from competitors' vans while still highlighting the essentials, Rene Nunez says. But just because it's the Lone Star State, doesn't mean it needs to be a lone star work van—"She has a new sister, a Ford Transit, waiting on a matching wrap, as well," Nunez says.
---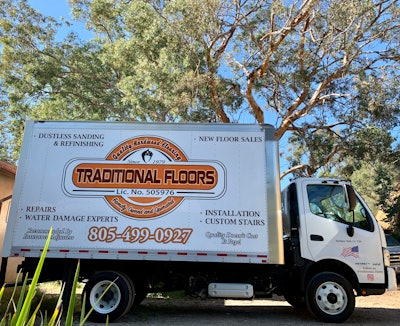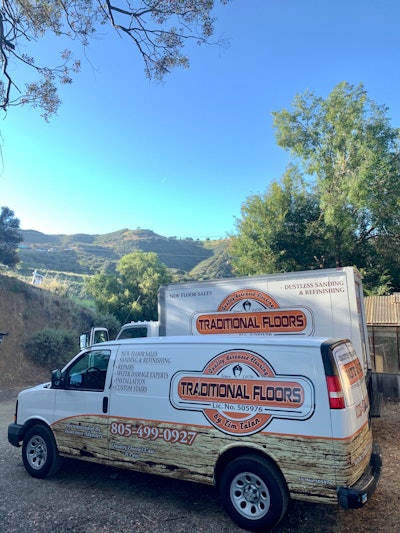 Best Matching Box Truck
Trevor Talan
Traditional Floors
Simi Valley, Calif.
This 2018 Toyota Hino box truck is the newest addition to Traditional Floors' fleet, and it's a perfect fit for the company in more ways than just the matching wrap design. "Whether it's hauling flooring and subflooring to the job or acting as a mobile workshop, this truck becomes the home base for all aspects of our projects," Trevor Talan says. Even after work hours, the box truck is a match made in floor pro heaven. "On the weekends we even substitute it for a great beach camping vehicle or a warming hut for our excursions to Mammoth Mountain," Talan adds. "This truck is truly the heart of our company and family!"
---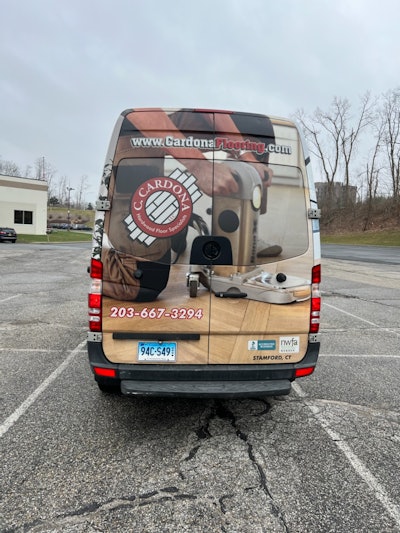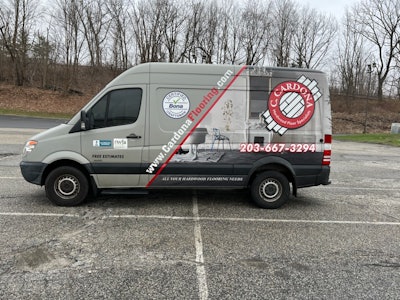 Best Interior on the Exterior
Cesar Cardona
Cardona Flooring
Stamford, Conn.
Cardona Flooring brought the inside out with this custom wrap, highlighting room scenes and giving an eye-catching glimpse into what their company can do. The dramatic slash separating the room scenes from the front of the van also brings attention to the company website and no doubt leaves the passersby wondering what other flooring possibilities lie behind the van's doors.
---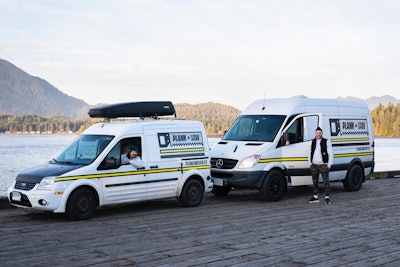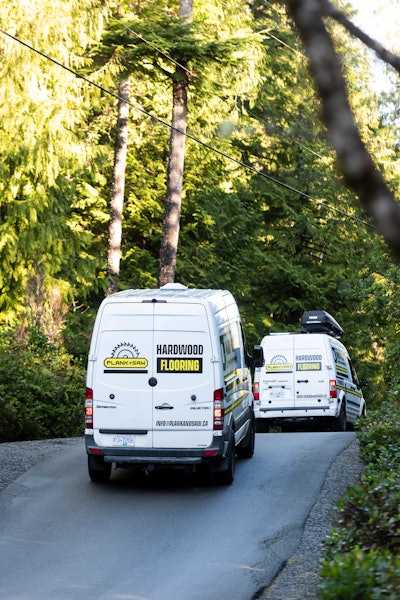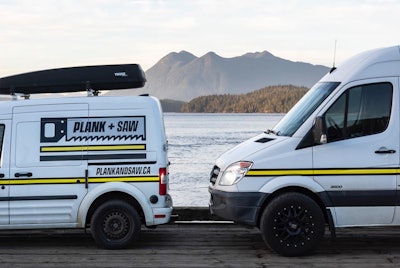 Best Saw-Inspired Graphics
Zech Inkster
Plank & Saw
Victoria, B.C., Canada
They came. They saw. They put saw graphics on their vans. The team at Plank & Saw found the ideal saw graphics to go with their company's name and included them on their work vans, along with the company website and email address, keeping the van exteriors clean and simple and "cutting" anything else. And when it came to syncing up the designs on both vehicles, they clearly conquered.
---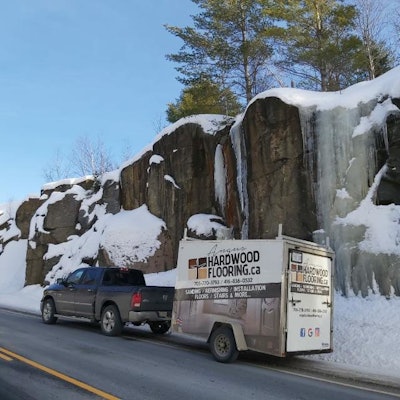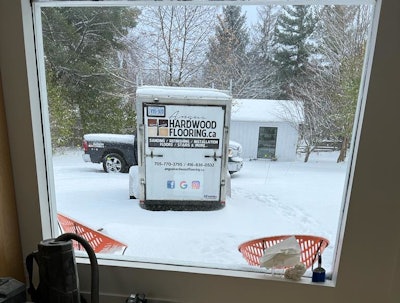 Best Winter-Weather Rig
Jose Araya
Angus Hardwood Flooring
Angus, Alberta, Canada
When you live in Angus, Canada, you need a ride that can handle freezing winters. If the photos are any indication, Jose Araya's rig can do just that. Araya says his logo and graphics were designed to highlight wood flooring and its relationship with trees. "I didn't want to add too many things and color to my graphics," he says. "I wanted to make it simple and easy to read for everyone on the street." Being able to see it through snow flurries no doubt comes in handy, too.
---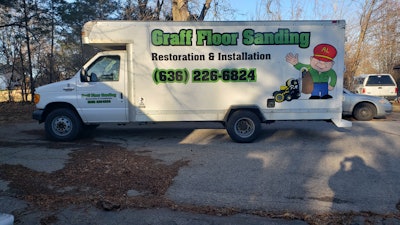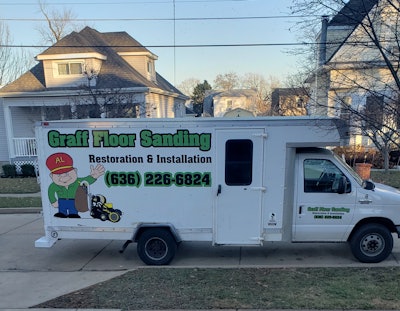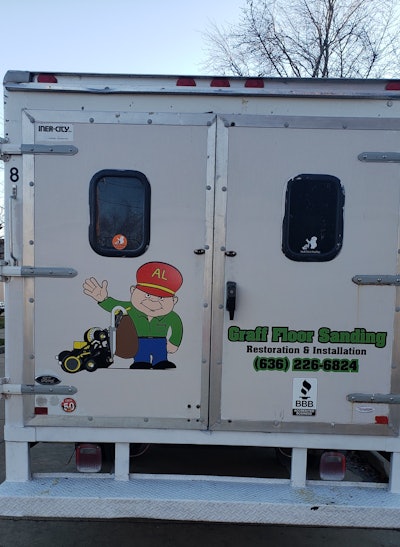 Best Rolling Billboard Mascot
Keith Graff
Graff Floor Sanding
Fenton, Mo.
Given Keith Graff's love of vintage wood flooring tools—his growing collection includes a circa-1920s American Universal big machine—it only made sense that he would incorporate one onto his wood flooring truck. Along with the vintage American Universal big machine graphic is the company's mascot, Al, who is based on a drawing that Graff's grandmother made of Graff's grandfather. The combination of the two images is an opportunity for history-loving Graff to share two great stories while also promoting his company. "It has lots of room for tools and workers," Graff says. "It is also a big rolling billboard. At least once a week someone is asking who Al is."
---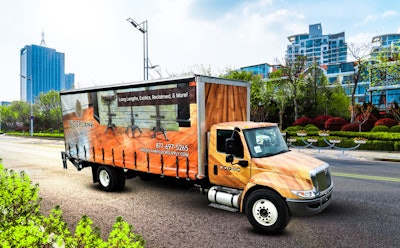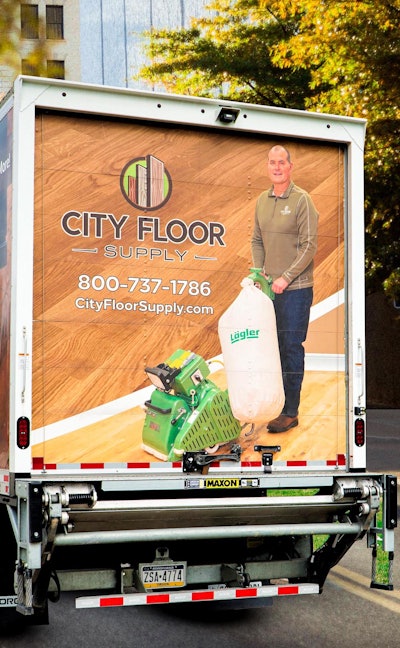 Best Distributor Truck Wrap
City Floor Supply / Wide Plank Floor Supply
King of Prussia, Pa.
When it came to wrapping their curtain truck, City Floor Supply decided to go the extra mile. "Wrapping an entire cab and top of a curtain or box truck is highly unique," Caran Baxter says, "you don't often see this type of detail on vehicles like these." They wanted it to double as a "mobile billboard" for the company and its subsidiary. "The side curtains highlight custom wide-plank hardwood flooring, while the back of the truck promotes City Floor Supply and features Joe Glavin, co-owner and star of City's Floor Supply's large library of industry-related videos," Baxter adds.
---