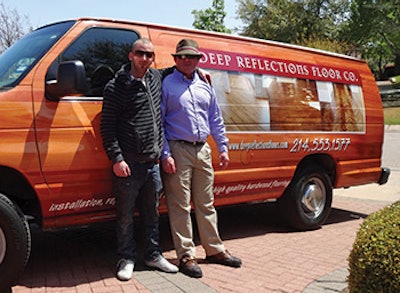 When Joe Robbins started his wood flooring business at the age of 21, it was just him, his machines, and-only in the event of a difficult client-his dad. The business, Dallas-based Deep Reflections, now has 10 employees including Robbins' younger brother John, and it is one of the most highly rated and recommended wood flooring companies in northern Texas, having won the Angie's List Superior Service Award for the region every year since 2007. In April, Hardwood Floors got to ride along with Robbins to see what got him all of those rave reviews.
8 a.m.
Robbins starts his day navigating Dallas' cutthroat traffic, driving from his home office to his first appointment at 9 a.m., leaving plenty of time to get stuck in rush hour congestion. He's bringing the hand-written contract to get a signature so his guys can start replacing the floors. The car's engine roars as he pulls onto the tollway, moving around erratic drivers who seem to cut people off just for sport.
Soon the rush hour traffic gives way to the peaceful, tree-lined streets of Highland Park, one of Dallas' oldest and priciest suburbs. The exceptional school system draws many of the residents, who work to afford not only the beautiful, historic homes, but also the accompanying property taxes.
Robbins meets with the homeowner's parents at the original Highland Park house. They are signing the contract and writing the check so Robbins' crew can start work. The couple greets Joe like a friend: A few years ago, he replaced the carpeted floors in their home, so when their daughter was looking to replace her tattered oak and dated tile, they told her to call Deep Reflections. Much of the company's business comes from referrals, although an equal number seem to come from Angie's List and other business review websites.
The rooms are mostly empty except for a pair of sofas and an upended table. The crew will soon have the sofas thoroughly wrapped in plastic and moved out of the way, but the table needs to be disassembled, and the clients don't have the tool for the job. Robbins takes a quick look and tells them his guys should have a hex wrench that will work as he removes some loose bolts by hand.
The floor itself is in rough shape. A stair nosing is pulling away from the step, there are 1/8-inch gaps all across the floor, and some of the areas adjacent to the wall are disintegrating. Near the entrance to the kitchen, the wood has pushed up into a visible hump. There's no saving it. It and the dark green kitchen tiles will be ripped out and replaced with 2¼-inch red oak.
The crew shows up and quickly starts wrapping the sofas in sheets of plastic. Robbins explains the plan for the kitchen to his trusted crew leader, Robert, who has been with Deep Reflections for more than 12 years. Robbins trained him his way and trusts him to call immediately if anything should go wrong. Robbins has a strict employment policy: He only hires "clean-cut" guys who will make a good first impression, he trains them his way-do it perfectly the first time-and he makes sure to pay them more than what any of his competitors offer. As a result, it's a low-turnover company. If he's going to take the time to train them, he's going to make sure they are happy to stay.
9:42 a.m.
With the signed contract and check in hand, Robbins gets back in the car and checks his schedule, a fat spiral-bound notebook with names, dates, and phone numbers scrawled in it.
"I usually put this in my iPad," he says motioning to the backseat, where the tablet sits under a clipboard and papers. "I've been writing it while I'm on the road, putting it in here [the notebook] and then I put it in the iPad."
His next appointment is at a gated community in Farmers Branch, located northwest of Dallas. He has some time to kill and returns a phone call using his car's hands-free phone rather than his shattered iPhone, which has been dropped on hard floors a few too many times.
11:38 a.m.
Robbins pulls into the gated community and is greeted by the enthusiastic Texas drawl of the home's landlord. She explains the situation as they walk to the door. The tenant is going to be moving out soon, but his dogs' nails have left dents all over the lower level's prefinished engineered floors. She says she's mainly seeking advice on whether or not the floors can be sanded and refinished.
She walks to the kitchen, pointing out the floor damage. The tenant waits in the kitchen as the landlord runs to get a sample piece of the flooring.
She brings back a plank with a paper-thin wear layer. Robbins tells them that the flooring is not very high quality and explains that sanding it would leave them with a plywood floor. The tenant jumps in, asking if a normal floor would have stood up to his "two small dogs." Robbins tries to stay neutral and suggests she replace the floors with easily refinished solid hardwood, which could be repaired or resanded in the event of future wear and tear. The tenant insists there must be another option besides tearing up the floors.
Robbins tells them about an old product that could just remove the finish from a floor, but it was discontinued several years ago when the toxicity outweighed the benefit. The tenant asks if Robbins can make some calls or scour the Internet to find more, but Robbins tells him he did that right after it was discontinued and has since used up his stockpile. Robbins assures him if anyone still has a bucket, he would surely not part with it.
Finally resigned to replacement, the landlord asks if Robbins could install the same prefinished product. He responds that he can do it, but he will have to special order the flooring because Deep Reflections doesn't keep prefinished or engineered products on hand.
With all of the options finally laid out, Robbins measures the rooms with his laser measuring tape. An argument between the tenant and landlord erupts over nail holes in the walls as he quietly writes down numbers.
12:10 p.m.
Back on the road, Robbins vents a little about the whole situation.
"I hate walking in on a tenant that doesn't want to pay the landlord. They're both mad and I'm in the middle." But what's worse than a legal ambush? Poor quality products and work.
"There's nothing I can't do with a real wood floor, but that? I just laugh. I don't mean to be rude, but it's trash. With solid, you can refinish it several times. If there's water damage, you can match it perfect every time. Why would you want to get a fake floor?
"Tell people the truth. Why would someone say they can sand that? Guess what? You'll end up redoing the floor for free. We don't do redos. I stress that with my guys when I'm training them. No callbacks. We do it perfect the first time."
He has time to stop for lunch, but once in the restaurant, remembers why he generally doesn't. His phone rings several times, but the place is too loud to take professional calls.
12:46 p.m.
After the Tex-Mex lunch, it's back to the car. His phone rings immediately upon starting it. He uses the car's hands-free with the notebook and pen at the ready. It's a cold call from a woman who found Deep Reflections on Angie's List. They schedule an appointment fairly quickly, but the caller then takes another half hour picking Robbins' brain about everything from proper installation procedure to types of sound barriers to the rating formula of the Better Business Bureau (Robbins has an A+ compared with a competitor's A rating).
They discuss the logistics of having a painter come in to paint and finish the baseboards during acclimation, and she asks about wood dust getting stuck to still-tacky paint.
"No, ma'am, our sanding is dust-free. We have the most powerful, most advanced dust containment system in the world," he assures her.
She sounds genuinely surprised that dust-free installation is an option. "I'm glad that you mentioned that, because the main goal of us having hardwood put in is because my boys have asthma," she says.
Robbins tells her that Deep Reflections is the only wood flooring company in the area that does dustless installations.
Robbins first heard about Bona's Atomic dust containment systems in 2003, and immediately asked his local distributor if he could see one. His distributor didn't have one in stock, believing no one would spend that kind of money, so Robbins went to the source. He drove his van all the way to Colorado to see Bona's Atomic DCS in action and brought home the first of his company's three Atomic trailers, which are deployed at every job site.Robbins says he justified the major expense at the time thinking he was just staying competitive-surely everyone was going to get one of these systems to offer a cleaner process to their customers. But none of his competitors bought the expensive new technology.
Ten years later, Deep Reflections is still able to market itself as the only dust-free flooring business serving northern Dallas. Robbins takes pride in setting his business apart from the competition, from the services he offers to the quality of work to the name of the company. He didn't want to be another Wood Floors by So-and-So, he says-he wanted something more inspired.
1:40 p.m.
After getting off the phone, Robbins heads to a jobsite in Irving to touch base with his brother, John, who leads his own crew. Even the GPS gets turned around in the labyrinthine subdivision. John and his guys are in the process of sanding a new floor and stairs. John catches his brother up on what's been happening at the site and goes back to running the big machine. There is someone with an edger or scraper in every room and hallway of the home. The blue vacuum tubes run out the door, past one of the company's four vinyl-wrapped vans and into the trailer.
Robbins trained John to do floors his way. "Because he's family, I trained him military style," he laughs. He's been bragging about John throughout the day, praising his work ethic and willingness to work around the clock to meet deadlines. "He's hardcore about it," Robbins says. "And people look at him like, 'Really? You're going to work until 3 in the morning?' And he'll answer them, 'You want this finished on time? This is what I have to do.'" That work-around-the-clock attitude seems to be in the brothers' blood. Their father and grandfather were master electricians, and Joe recalls going out on all-night jobs with his grandfather when he was 13, just for fun. The brothers also share a passion for woodworking, which got them both in the business to begin with.Robbins does boast that he's a faster sander than his little brother and the other employees he's painstakingly trained. "Of course," he concedes, "I have been doing it a lot longer than they have." But speed isn't most important to Robbins. "Most important is that it's perfect."
Robbins got his start in the industry in 1994, he recalls, working for a company he felt was lacking in quality and customer service. After only a few years of watching the owner not reinvest in the business, he struck out on his own with just the skills he'd learned and a few pieces of equipment.
2:53 p.m.
Robbins is nice enough to open his in-progress showroom to show his visiting journalist. Deep Reflections has just moved to a mid-rise office building in Addison, another suburb on the north side of Dallas, where Robbins feels there will be more traffic than his previous showroom on the other side of the city. It was in a strip mall, and aside from the fact that there was very little through-traffic, he felt it didn't properly represent the company.
He jokes that the new building looks like an attorney's office, but he thinks it will make a good impression with prospective clients. He waves to the building's security guard and takes the elevator to the fifth floor. His space doesn't look like much yet, but it has clear potential. It includes private and shared conference rooms, and the windows overlook the park-like courtyard.
Robbins plans to lay his most popular species and finishes throughout the space and mount more exotic samples on the walls. He just has to find the time. "It's hard because I can't pull guys off jobs just to set up the showroom. We try to do it after hours, but the guys are tired, they want to go home. So if I can schedule a Saturday and I have guys who want to work, they can work half a day and go over to the showroom." For the most part, though, it's up to him and John.
To keep overhead-and prices-low, Deep Reflections' showroom is open by appointment only. Robbins maintains a home office for administrative tasks, keeping the showroom dedicated to clients.
3:25 p.m.
Robbins gets a call from the tenant in Farmers Branch asking for an official statement saying he and his dogs are not responsible for the scratches in the floor. Robbins is able to maintain neutrality, saying he just is not familiar enough with the product to say what it should have been able to stand up to.
4 p.m.
The final appointment of the day is in Plano. The homeowner, who found Deep Reflections on Angie's List, wants to increase the value and attractiveness of her home in case she needs to sell it. She explains that she and her husband recently moved down from Toronto because of his job, and they may have to move again in the next five years. While she was impressed with the comparative value of the home, she's afraid the white, shaggy carpeting will put off any prospective buyers. "It's a $400,000 house with gross-looking carpet," she says.Another problem in the home is the variety of flooring. The dining room has solid 2¼-inch oak, the kitchen and hallways have large-format tile, and the office has wood-looking laminate. She'd rather the whole house be consistent, ideally with dark, wide plank floors. She points out a cherry china cabinet as the color she'd prefer.
As Robbins takes measurements, he asks about the island of carpet in the living room. It seems out of place with a walkway of tile around it and no transition. She's torn. Her realtor told her that people like to have carpeted living rooms because it makes the room feel cozier. But it is ugly. Robbins suggests replacing the whole room with wood floors, but she's wary of wet feet walking in from the pool over a wood floor. Robbins assures her that the floors in his house have tolerated such traffic perfectly. She's still on the fence, so he measures both the carpet island and the whole room for future reference. She faces a similar problem in the bedrooms. Her realtor told her that people like carpeted bedrooms, but she's noticed the carpet aggravates her allergies. She asks Robbins to measure them to be safe.
The stairs are another problem. They were built to be carpeted, so the wood edge the balusters sit on are one inch higher than the steps. It will be tricky and require removing the railing to put in new steps, but she's desperate to make sure that carpet isn't the first thing people see.
As Robbins writes down measurements and notes about what areas to figure in separately, he offers a rough per-square-foot estimate. She finds it reasonable and mentions one other bid she received that was substantially lower than the others. "When there's too big a discrepancy in prices, I know something has been compromised," she says. Robbins explains that his prices make sure he keeps his skilled, trustworthy workers who he feels comfortable sending into his customers' homes.
4:45 p.m.
With all of his appointments done, Robbins heads back to his home office. It's Friday, which means payroll in addition to returning calls, emailing estimates and hand-writing contracts. It's not as much fun as running a sander, but it is vital to keeping happy employees, happy customers and that A+ rating.