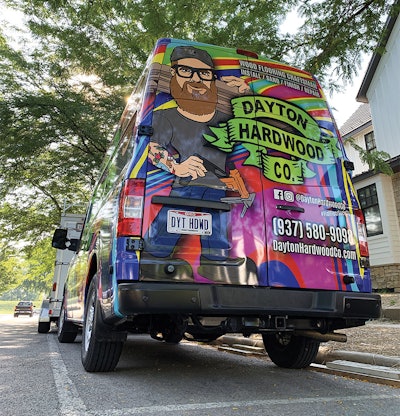 Best Exterior Graphics
Dayton Hardwood Co.
Oakwood, Ohio
Ian Cheadle works to always leave clients happy after a job, but the arrival of his multicolored work van can sometimes leave the neighborhood children feeling disgruntled.
"They always think the ice cream truck is pulling up," Cheadle says. "So I disappoint children when I go to estimates." Cheadle's incredibly creative van wrap started out as a cartoon logo of himself made by an acquaintance at Foothill Ranch, Calif.-based Drastic Graphics. When Cheadle realized wrapping his new black Nissan NV would cost about the same no matter what the design was, he says he decided, "Well, let's just make it crazy."
He connected with Flawless Wraps, a local company, and went back and forth about the wrap design for about a week.
"They had a bunch of cool different ideas, but tie dye was on top of the list," Cheadle says."My dad was kind of a hippie guy when I was younger, and he would restore old VW vans and sell them. I'm not a hippie, per se, but I just have a colorful personality, so it just seemed to fit."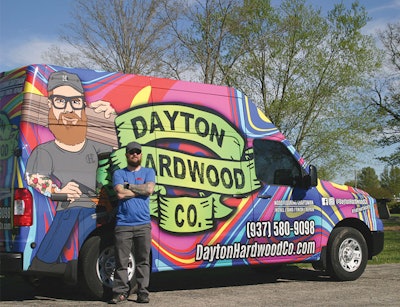 The rest of the design was equally personal, including the Teenage Mutant Ninja Turtles-inspired banner with the company name on it. "I just liked the way the banner looked, and it's all familiar to me, and stuff that I grew up with and liked," Cheadle says. "It's my business, so why the hell not, you know?" The personalized marketing philosophy has been paying off, as simply leaving the car parked in his driveway generates calls, not to mention the heads it turns while out on the road. "For a while I told my wife I wanted to put dash cameras up so I could catch people's reactions," Cheadle laughs. "For some reason motorcycle dudes love it. I'll get a wave from guys on motorcycles or other not-ordinary vehicles."
And while the design is far out, he made sure to keep the wrap's text conservative. "I didn't want to overload it," Cheadle says. "The designer's really well-educated. He says there are psychological studies, and you get like 1.2 seconds to get your message out."
Cheadle likes to think his van's message is something of a pre-qualifier for his customers, as well.
"I knew it would kind of have a 'love it or hate it' effect, and if people don't want to hire me for it, they're probably too square anyway," he laughs. "I like to think that when someone hires me, they know that they're going to get a slightly different product than they would from more of a cookie-cutter scenario," Cheadle adds.
There is certainly nothing cookie-cutter about Cheadle's van, nor is there any cookies and cream, as disappointed neighborhood children can attest.
---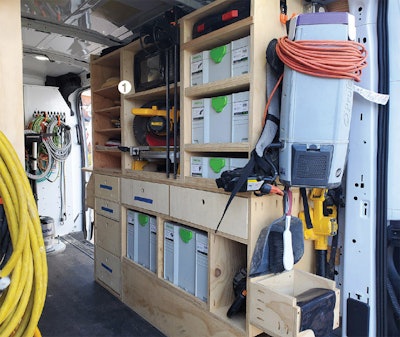 Most Organized Interior (TIE)
Fitzgerald's Hardwood Floors
Perkasie, Pa.
When James Fitzgerald set out to build his Ford Transit's interior, he wanted it to increase productivity—and offer hot meals.
"I do a lot of meal prep, and I knew when I made this that I wanted to put a microwave in there," he says. "So that's what I did."
The microwave is now nestled in a cubby (1) right above his chop saw on the ¾-inch plywood shelving in the van. Fitzgerald spun other ideas for his interior from YouTube videos, picking styles that would fit his needs. Once he figured out what he wanted for his shelves and cut the foundational sections, installing them went smoothly, as the Ford Transit already had bolt holes in place. All told, outfitting the interior was about 60 hours of work.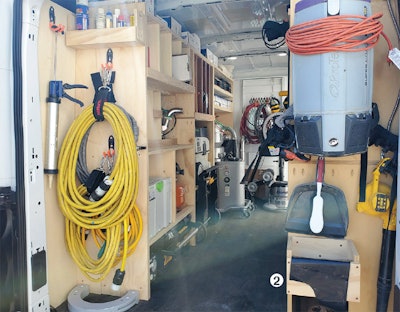 Fitzgerald says the ultimate goal for his setup was to have everything ready to grab and go in a pinch, and the custom box for garbage bag rolls by the back doors (2) has been one of the many time-savers in his design.
"I built it so that the whole roll could fit in there and you don't have to get up in the van," Fitzgerald says. "In our old setup, you had to crawl up into the van, and if there was stuff in there you just couldn't even get to them."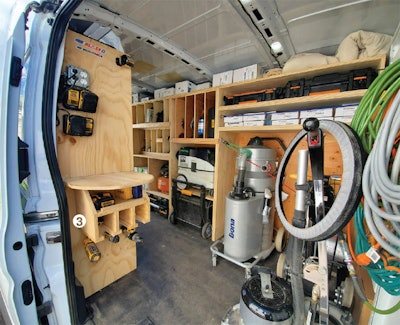 Fitzgerald also built a small workbench near the van's sliding doors, (3) underneath which he hangs his drills.
"In our old setup, all of our drills were in a bag," Fitzgerald says. "That was always a pain in the neck. So I knew that I wanted them so I could just open the door and get to them right away."
The workbench itself has proved a convenient feature. "That comes in handy a lot," Fitzgerald says. "If I need to mix finish or something like that, I can just mix it right there."
To power up the outlets installed above the workbench, Fitzgerald can simply run an extension cord to the buildings he works in.
The ultra-organized interior has resulted in a huge productivity boost and turned Fitzgerald into a self-described "van Nazi" when it comes to putting things back in their place. Still, he's always tweaking things.
"I was actually just building out a drawer the other day," he says. "Everyone talks about when they build out their vans, it's a never-ending project."
But whatever he ends up adding, there's some comfort in knowing it won't be added on an empty stomach.
"It's really nice," he says. "Hot meals for lunch!"
Watch Fitzgerald give a tour of his van interior here:
---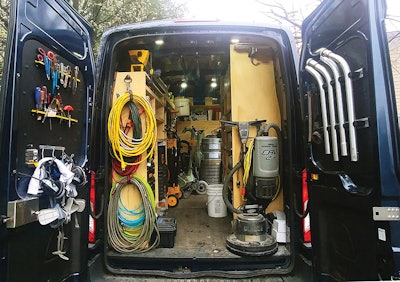 Most Organized Interior (TIE)
Rinker Hardwood Flooring
Doylestown, Pa.
When it comes to van organization, Jaymes Rinker has always run a tight ship.
"I have OCD about being well-prepared about all my jobs," he says, "and I cannot stand not having every single thing that I need in my van."
So when he made the switch from a Ford Econoline to a larger Ford Transit with a 7-foot-high interior, Rinker vowed to make use of every square inch of space the van had to offer—and even some it didn't. "Transits, they have this high-density plastic on the inside, it just hides all the framework of the van," Rinker says. "So I was able to cut that out with an oscillating saw and then my shelf drawers were able to slide further into the body of the van."
Rinker used a sturdy cabinet-grade plywood for the shelving system in his van, cutting, scribing and installing them in two weekends. He dedicated one side of the van to his installation equipment, and the other to his sanding and finishing.
"I made it easy enough to where if I ever wanted to change anything, I could unscrew stuff and move it," he says.
One of the most time-saving elements has been his sandpaper drawers, organized by type and grit. Rinker did away with the company's previous stacking system so that all of the grit numbers are vertical and easy to see once the drawers are unlatched and slid out.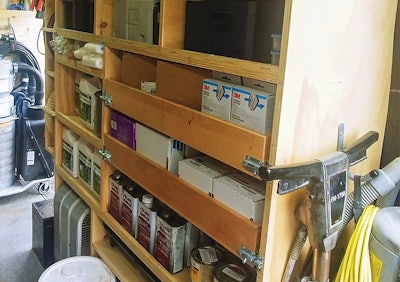 The clear aisle in the van is another point of pride for Rinker, as he can now fit up to 300 square feet of flooring. And the amount of easy-access shelving helps ensure he's well-stocked.
"I pretty much set it up to where I can complete any 3,000-square-foot job at all times and have everything I need in the vehicle," Rinker says, adding that the reorganization has also made it simple to keep tabs on his inventory. But although staying well-stocked sounds good, the sound of everything staying put when rounding a corner is perhaps the sweetest sound of all.
"My pet peeve is driving around and hearing stuff fall off your shelves," Rinker says. "So I made sure that everything stayed in its place, that everything had anchors."
The system has continued to save time for Rinker and his equally organized cousin and father who work with him. And yet, the quest for more space in the setup hasn't stopped.
"You can never have enough space," Rinker laughs. "And if anything, my OCD has gotten worse."
Watch Rinker give a tour of his van's interior here:
---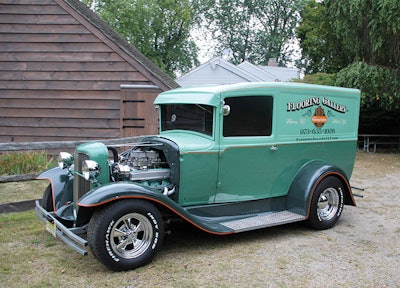 Most Unusual Work Vehicle
The Flooring Gallery LLC
Whippany, N.J.
Starting from the time he was 16 years old, Rich Svorec would call up a family friend about twice a year and ask to buy the 1931 Model A Ford Panel Truck in his backyard.
"I'd say, 'Warren, come on, come on, sell it,'" Svorec recalls. "He'd say, 'Nah, I don't want to get rid of it.' I'd say, 'Come on, it's going to rot to pieces in your yard!'"
The antique truck had been made into a hotrod by Rich's father, Paul, and Warren back in the 1960s, before Paul sold his share of it. Rich's quest to buy it back went on for 15 years before Warren called one day out of the blue and told Paul to come pick it up: "He told my father when he gave it back to him, 'Rich has to wind up with it, because he's the one that's been bugging me all these years.'"
The Flooring Gallery's 89-year-old flagship truck was refurbished again by Paul when it was bought back. Few Model A Ford Panel Trucks survive today. "They were delivery vans, basically," Rich says. "For that reason, not a lot of them survived because they had to work until they were done or destroyed."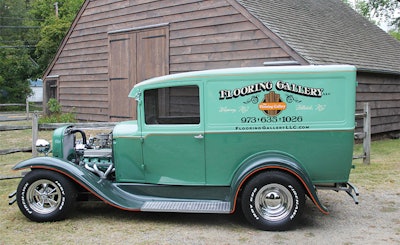 And one like Rich's certainly can't be found anywhere—the truck isn't just one vintage car, but a smorgasbord of classic cars mixed together. Its exposed motor is from a '66 Buick Electra, and the roof is from a Cadillac Escalade (the original panel truck roofs were wood and canvas). The seats inside were sourced from a mid-90s Mustang.
When he took ownership of the one-of-a-kind hotrod, Rich didn't immediately plan to use it for his wood flooring business. But as he drove the eye-catching, four-wheeled Frankenstein of cool, he pieced it together.
"I said to myself, 'You know, if I'm going to be driving this around, and it gets all kinds of attention, it's like a traveling billboard,'" he says.
Paul developed the three shades of paint for the custom vehicle, and Rich approached a local designer to create the old-timey vinyl lettering to surround the company logo developed by Rich's wife, Shane.
"Clients love it," says Rich. "Their kids want to see it and stuff like that. People get excited about it."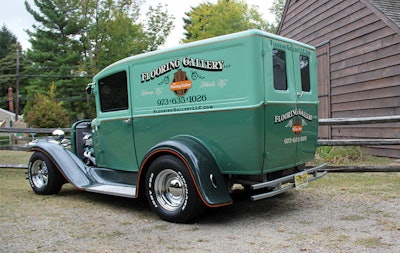 And while the look of the car is stunning, for Rich, nothing beats the purr of the engine.
"It just rumbles," he says. There's a loud exhaust and it just rumbles. It's a nice sound."
A passion for vintage vehicles doesn't stop with Paul and Rich in the Svorec family, as Shane drives a 1955 Ford pickup truck, as well.
"I tried to convince her to put the company name on it, but she wouldn't do it," Rich says.
But Rich can be fairly persuasive—given 15 years or so.
"I'll keep asking," he laughs.
---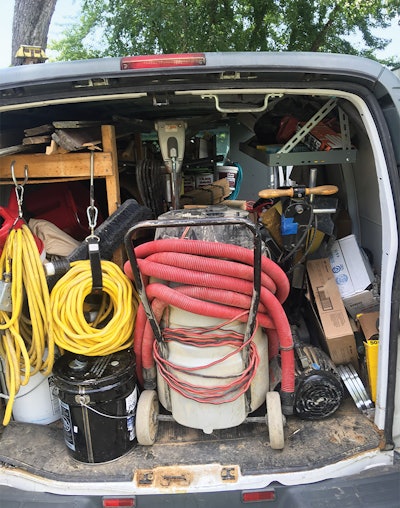 Biggest Disaster
Brian Deflice
Saint Louis, Mo.
When Brian Deflice decided to take a picture of his jam-packed 2001 Chevy work van, he was moved by the same spirit that might lead an artist to paint Pompeii: "I just thought, 'Oh, that's a freakin' disaster,'" Deflice says.
The pictures of the van's disastrous state were taken during a period where Deflice was left with no helper for two weeks in the midst of several big jobs. He'd also just picked up some boards from his father-in-law and had to slide them on top of the mountainous pile.
"Things got out of control," Deflice says—and that was before a whole gallon of stain spilled in the van. "That's the first time that's ever happened," he laughs. "Some of the stain got on a brand new Primatech nailer that I got. I was pissed."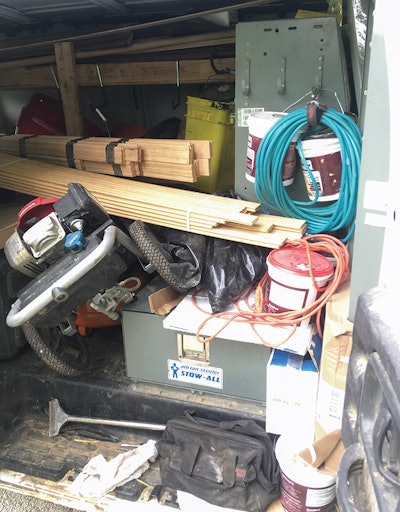 The hardest tool to fish out from beneath the sea of products has been the table saw, Deflice says. "You can't really see where the table saw is in there, and it's one of my least-used things, but when you need it, you've got to have it," he says.
Wood storage is another pain to keep organized when the van gets in this state. Deflice does a lot of historical restoration work and often has a few replacement boards on hand. "Sometimes I end up just having to drag everything out to see what's there," he says.
The van is a former AT&T vehicle, which explains the two shades of white on the exterior.
"I got a great deal on it, but the guy I got it from, he just did a quick roll-on paint job," Deflice says.
But despite the few hiccups, there are positive aspects to the van, Deflice notes, including the Adrian Steel slide-out shelving it came equipped with. Deflice uses it to store his abrasives and touchup markers. "It's fantastic, it slides out like 4 feet," he says.
And just as a marine biologist is grateful for the bars of the shark cage, Deflice also gives props to the metal bulkhead behind the driver's seat, separating him from what's on the other side. "On those quick stops or something, I'm protected," he chuckles.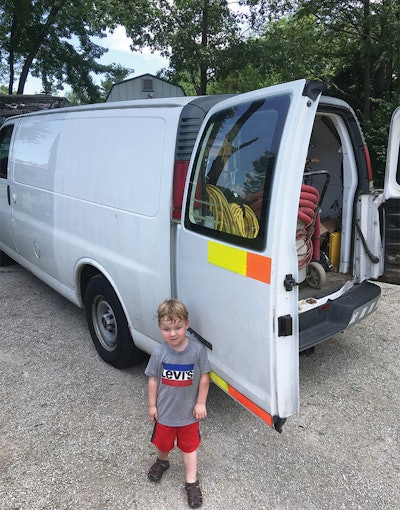 ---
While this year's five "winners" were impressive, the following submissions were too good to not have a moment in the spotlight, as well.
---

Best Drive Down Memory Lane
Marques Flooring
Nerang, Australia
Much has changed for Josh Marques in the 31 years separating these two pictures (note the beard). But for the family flooring business, a few things have remained the same, as well. "Still the same phone number!" the company writes. The first photograph of Josh was taken in 1989, three years after the business was founded. "This is simply a photo of Josh at age 2, proud of his father's business," the company writes. Pride in the family business also remains: Josh is now the director of the company.
---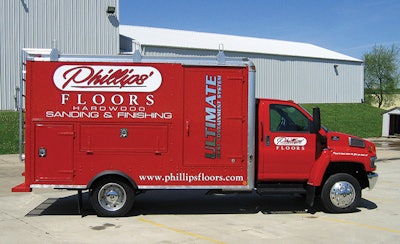 Best Fire-Engine-Red Wood Floor Truck
Phillips' Floors
Indianola, Iowa
The eye-catching red of Phillips' Floors' fleet of modified Chevy Kodiak C5500 trucks grabs no shortage of attention for the company out in the field. "It's a moving billboard for our sand and refinish business," says Phillips' Floors VP Scott Laube. "They are hard to miss." And while they catch a lot of eyes, they do so while carrying a large amount of equipment. Aside from the interior, the unique exterior compartments on the trucks are about 20 inches deep and make for convenient storage space for stains, hand tools and sandpaper. The company also transports trim in a PVC tube strapped to the top of the truck, which they can easily access using the ladder on the back. As the fleet's mileage adds up, Phillips' is starting to transition its fleet to other vehicle options, which will be less expensive in terms of fuel use. But while the trucks may be phased out, they likely won't be forgotten by the company, just as they rarely are by clients, according to Laube: "Many customers mention that they heard about us from seeing our trucks in their neighborhoods."
---
Most Likely to Also Be A Secret Agent
Mackintosh Floor Sanding
Melbourne, Australia
When Jason Mackintosh drives his 2019 Renault Trafic, it looks like he could be on his way to either a flooring job or a secret surveillance mission for the prime minister. The slick black design achieves a "professional presence" out on the road, says Mackintosh, and the elegant "Mackintosh Floor Sanding" decals on the front and back provide enough info without giving away any state secrets. Mackintosh has more plans to trick-out the van in the future, as well. "I'm still going to do leather front seats matching the decals," he says, "and a full stereo for those long drives," which he'll use to blast—we're guessing—"Secret Agent Man."
---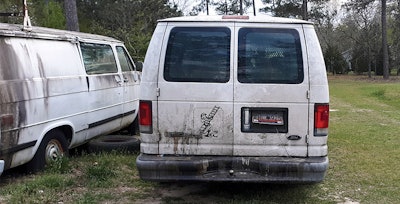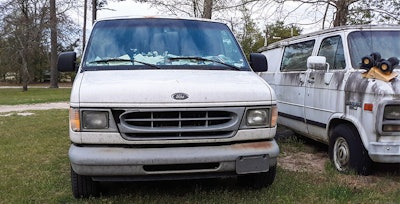 Best Van with One Wheel in the Grave
Carolina Timeless Floors
Bethune, S.C.
The faded vinyl ladder shown on Carolina Timeless Floors' weatherbeaten work van might just be the one that finally leads it to the pearly gates of Zion—Lord knows the van has earned it. "It has survived hitting a deer, being rammed-and-bammed on jobs by non-associated trade workers and vehicles," Bobby Watkins Jr. says of his ride. "Everything that could break has broken and been replaced, but the garage owner has told us it is on its very last leg." If that weren't enough, the unfortunate van is forced to gaze upon a foreshadowing of its grim future, as it's parked next to its worse-looking twin that appears to have given up the ghost. "The mileage is double over what this vehicle 'should' last through," Watkins says of his van. "So, unless it sprouts wings, it has long ago gotten its first, second, third and fourth winds." But if this van does end up sprouting wings, chances are there'll be a harp involved as well.
---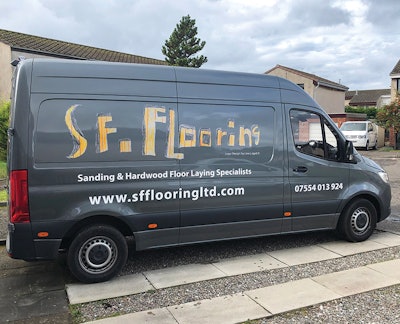 Best Design By a Scottish 8-Year-Old
SF Flooring
Edinburgh, Scotland
When Steve Ford decided to get a new Mercedes Sprinter for his wood flooring company last year, he told his 8-year-old son Lewis that if he could come up with a good logo, he'd use it on the van. Lewis got to work, basing the lettering off of old floorboards. A year later, Lewis's design is out on the road, where it's gotten a great reception. "It's always a talking point on jobs," Ford says. "When I'm sitting in traffic, you can see people's reactions, and there's even been a few people taking pictures." Ford credited the artist by including a "Logo Design by Lewis aged 8" decal beneath the one-of-a-kind logo. "Lewis is really proud of it," Ford says. "He tells his friends he is famous, as his drawing gets driven around Edinburgh all the time."
---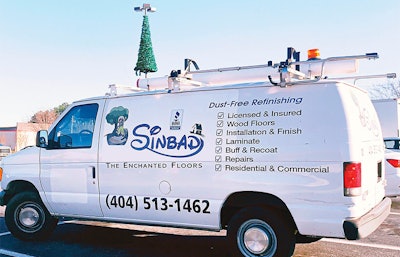 Most Enchanting Logo
Sinbad the Enchanted Floors
Marietta, Ga.
With a name like Sinbad the Enchanted Floors, one might think the company travels to jobs via magic carpet (or a magic wood floor, as the case may be). But the company saves its magic for its finishing and installation work and instead travels by van, outfitted with a mascot designed to put customers at ease. "Our crew is represented by this little boy, who is waving to welcome every customer before we enter into their house," Helen Altamirano of Sinbad says. The logo's tree, meanwhile, was picked as a reminder of where wood floors come from, while the house represents the company's respect for the client's home. Altamirano wanted to use a child as the company's mascot to represent optimism and willingness to embrace opportunities. "It means we have to keep dreaming like we were kids," she says. Along with the company name, the fun cartoon might just awaken the inner child of clients when they first see it, too. "Customers have said it's a lovely name for a company, and they love the logo," Altamirano says.
---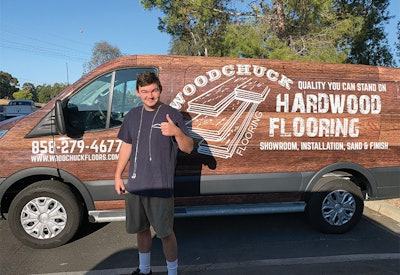 Best Wrap of Distressed Hardwood Flooring
Woodchuck Flooring Inc.
San Diego
As Woodchuck Flooring commenced its 35th year of operation in 2020, the owners decided to drive into it with their van wrapped in an image of what they do best. "All of our company vehicles in the past have had our logo and a few key words, but we decided it was time to change things up and really stand out from the other work vans on the street," Woodchuck's Chuck Kelly says of the distressed wood flooring wrap. The company used a contest-based design platform called 99 Designs to source the look. "We sent in a list of what keywords we wanted, our logo, and an idea of how we wanted the layout of the wrap, and designers from all over the world sent in their work and we chose a winner," Kelly says. The design certainly helped them speed into the next 35 years of business in style, although there have been a few stops: "Our crew that drives the van has been getting stopped weekly to hand out business cards," Kelly says.
Looking for more truck and van design inspiration? View winners from previous years below:
2017 Wood Floor Business Truck and Van Contest Winners
2018 Wood Floor Business Truck and Van Contest Winners
2019 Wood Floor Business Truck and Van Contest Winners