Long before my hard-won salt-and-pepper head of hair flourished, I stooped over my first oak bundle with explicit instructions on racking. "Pop, whack, pop, whack, whack, pop" echoed through the hall and into the large, hollow room I was awkwardly occupying. As a voyeur, the task seemed simple, but now that the clock was ticking and I was the one responsible for the puzzle, it was quite the opposite.
It was the summer of 1998—three years since my tenure at northern New Mexico's Farmington High and my last part-time job as a carpet hack. Most of my time since high school was filled with rock climbing and biking around my new home of Fort Collins, Colo., but my coffers were beginning to run dry—climbing rocks wasn't paying the bills.
The house I was renting had hardwood floors, and the entryway was a mess of rotting wood and loose boards. Early one morning the homeowner pulled into the driveway; behind him was a big white van with "T.H.C." emblazoned on the side. The meaning behind that abbreviation was opposite of my adolescent fantasies: It was one of Thomas Hardwood Concepts' work crews.
I had some old carpet tools near the front door that caught the eye of a crew member. One thing led to another, and pretty soon I was getting the 101 from Mr. Thomas himself and had talked my way onto his team.
I was accustomed to visualization and had managed expectations and productivity on the regular while rock climbing, and the stress of fatigue was also quite familiar. So, after patient tutelage from my colleagues and a hefty amount of psyche, I developed a groove and became a cornerstone within the T.H.C crew.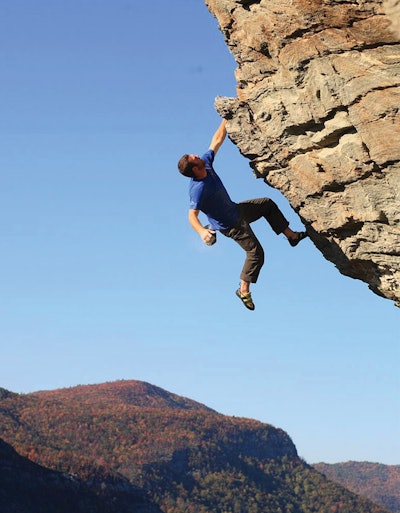 A couple of years or so after my first swing of the mallet, my obsession with rock climbing grabbed hold like a full spread of Bostik's Best: Outlines of distant mountain ranges swapped with the mental images of wood flooring profiles, and the sweet scent of freshly cut flooring was replaced with the piney aroma of alpine tundra. I was like a rat on a Cheeto, vehemently devouring climbing literature, training and planning my next foray into the wilds, as well as scheming up ways to make a profit climbing rocks.
---
RELATED: How I Started: $37, No Car and No Connections
---
In 2003 I migrated to Boone, N.C.—a bewildering move from the perspective of my climbing compadres living in the rugged mountains of Colorado, but I had a plan and needed to break the complacency of routine in order to stand out and become marketable. Much like branding your flooring business, athletes need a hook, too. In climbing, my expertise was finding new routes with a seemingly unshakable nerve. The stunning Appalachian (note: it's pronounced "appa-latch-uhn") Mountains had a wealth of undiscovered climbing opportunities, as well as a rich culture of unpretentiousness: This was the perfect ground to propagate my professional climbing career.
Several years after relocating, my plan had secured monetary support from major brands like Kraft Foods and Mountain Hardwear/Columbia. I was steadily climbing up into the hierarchy of the outdoor industry and globetrotting year after year: China, India, South America, Europe, Pakistan, Canada. The bigger and harder the objective, the easier it was to get funding.
In return for funding, my job was to work with product design teams to help establish top-notch apparel and adventure gear. Professional climbers are also imparted with the responsibility of brand recognition and work closely with marketing departments. We're pretty much the boots-to-the-ground workhorses that establish a face-to-face relationship with customers by means of teaching at climbing festivals, as well as sharing stories through multimedia presentations and lectures on subjects like self-motivation and why you should "eat that frog" first thing in the morning.
Longing to travel the world climbing is wild logic: It's perceptibly self-serving and in the case of accidents and rescues, one could consider the entire activity an albatross. So why, then? Why would a perfectly healthy human being subject themselves to the extreme hazards of fighting gravity and the elements?
In the summer of 2011, I was in the Karakorum mountains of Northern Pakistan, also known as Baltistan. Two other climbers and I were already a few days up and away from solid ground on the cliff face of a big Himalayan granite wall that crowned to a summit altitude around 20,000 feet; the air was thin and cold. No person had ever set foot on this wall, let alone the summit we were risking it all to find. We traveled light: meager rations, rope and rack, no sleeping bags for the night. Just a light tarp known as a bivy sack we could all gather under and shiver the night away.
One night the mountain unleashed a hailstorm of debris. Gravel and ice piled upon us, and explosions of larger stones boomed at a deafening pace all around. I was on the left edge of our tiny perch, somewhat hidden from the fury. The climber on the far right suddenly cried out in pain. It was pitch black, save for a cacophony of sparks dancing about; it was chaotic and terrifying. Just as suddenly as the thundering event came to be, the night returned to absolute silence.
We were lucky. My partner's helmet took the brunt of the rockfall, and we escaped with little more than some minor abrasions. Our ropes, however, had seen better days.
The next morning, we speculated the summit was within a half day's climb. So, we continued upward. The summit was glorious. The juxtaposition of that perch with the normalcy of life in the noisy, anxiety-ridden, brightly lit civilization we came from was not melancholy. Hindu philosophy says that happiness is our essential nature. Whenever we might be unhappy, it's because we've allowed our perception to become clouded—those clouds shield us from what is always there. Summits, in whatever form they take, take us through and above those clouds.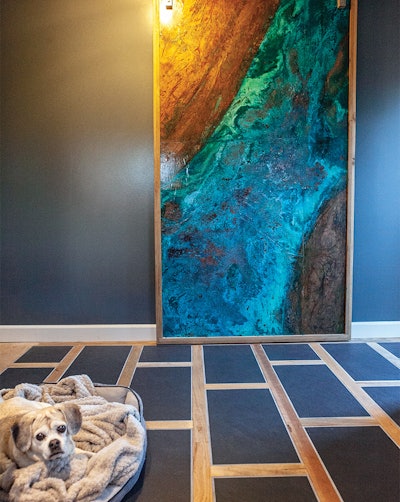 (Read more about the above project and see more photos here.)
The mechanism for my happiness changed slowly, as did the connective tissues in my shoulders and elbows, and my ambitions began to come full circle. Throughout my years of climbing, I maintained an awareness within the flooring trade and kept up with trends and education. Even in my early 20s I knew I needed to be more than just a climber, and not long after that Pakistan trip, I moved to Fayetteville, W.Va. The housing was affordable, and the availability of outdoor fun was literally at my doorstep.
I still get out and climb, sometimes even in the big mountains. But nowadays I'm mostly focused on flooring projects. Site-sourced materials are a big emphasis for me. They offer unique opportunities like a live-edge floor I put together using trees from my customers' front yard that blew over in a storm. Mixed media and reclaimed projects are also a big part of my focus. As you might suspect, the rural area I live in is not teeming with flooring professionals, so I sort of have an advantage or perhaps just more flexibility than businesses in packed urban areas—and that was all part of the plan.
---
RELATED: My Journey from Army Ranger to Creative Wood Floor Pro
---