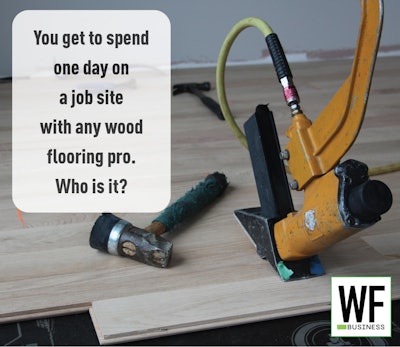 WFB asked followers on Facebook and Instagram which wood flooring pro they'd want to spend a day on a job site with. Here's what they said:
Josh Hansman
I only get to see the residential side of hardwood, so I think it would be exciting to step out of my comfort zone and do a bowling alley with T.J. Haas or a gym floor with Dax Williams.
David Friedland
I would want to spend the day with Dima Efros at the Parquet by Dion factory.
Rob Griswold
I have multiple choices here. In no particular order:
To fine tune my precision, I'd choose Leonard A. Hall.

To better learn about scaling and maintaining multiple locations, as well as improving my TikTok abilities, I would choose Jamie Jordan.

To better learn out-of-the-box thinking and designs, I would choose John Yarema.
Eric Nylin
Dan Churchill
Ben Suer
Nathan Hourigan, so I can see his amazing floor and then we can hang out while confusing other people.
Cardona Flooring
Howard Brickman. One day with this gentlemen, and I'm sure I would learn a lot.
Christopher Cook
Jim Clarey. He is not only the most professional floor guy I've ever known but on top of that he's a gentleman and a scholar. On a serious note, though, I'd like to work with Fino Oficio, Greggles Ceglarski, or James Toal. Those guys are legends and I would love to show them what I got and soak up as much knowledge as I could.
Archetypal Flooring
Howard Brickman. The stuff he knows you can't learn that in any schools or any books.
Justin Steiner
Fino Oficio or Greggles Ceglarski, two fantastic guys in work and design.
Jeff Lay
Fred Cobb! Been working together 20 years. Wouldn't change a thing.
The Lane Group, Architects
Daniel Boone, looking forward to the next time we have him on one of our projects.
Tony Cuomo
Bill Price.
Daniel Springer
Mark Hanes. Dude is an absolute wealth of wisdom and knowledge.
Rui Jordan Gonçalves
Fino Oficio would be my ONLY choice 💯.
Fino Oficio
Too many to name just one, to be honest. These days I would love to be with Matt Garcia or Josh Hansman. But again, I would throw in a lot more names. But we're truly blessed. Already had the opportunity to work with my Guru Leonard A. Hall and my better half from the other side of the world, Greggles Ceglarski. Already dined with Ethan Allan, met Ralph Brookens in one of our job sites in Lisbon, was interviewed by Becky Matchette in Belgium, restored a 300-year-old Castle parquet with Corey Osman, Benno Broen and Johan Zwartbol, etc, etc. All in all, our flooring life has been a roller coaster of amazing people. We love this industry !!
PS: I'm not retiring before making a dream penthouse project with Eric Herman or a one-of-a-kind parquet with Daniel Antes.
Dennis Cudd
In a perfect "dream world " I'd love to have William Cudd, our older brother Donald, my oldest brother Mike and our Dad, Harvey Cudd (both deceased) on a jobsite. And then invite my pal Howard Brickman, AKA "The Lord of Floors," out to teach us a thing or two! 😆😆😆
Ron Teljeur
Daniel Antes, in his shop learning all his tricks for inlays, etc. And Leonard A. Hall, just because. Also, Tom Michael Ourada for the wicked stuff he does as themed installs. Already did a very cool week with Dave Marzalek just before Covid in 2019.
Jeff Munsch
My son. Not because he's a pro, but because I want to enjoy every minute I can with him before he moves on to his own life.
Jimmy Grady
I'd give anything to spend one more day on a job with Frank Youngblood.
James Petrey
David Merrill for sure. That guy is a traveler.
Mike Reissig
Joe Rocco at Artistic Floors By Design.
Tim Moneke
That's easy, my father.
Dave Byrnes
My dad.
Jeremiah Vino
I can't believe I'm the first to say Sprigg Lynn. Lenny is on that list, too.
Kent Rogerson
There are many, but my go-to would have to be Jamie Lambert.
Patrick J. Russell
Angel Olalde.
Eric Thomas
The Cal Ripken Jr. (The Iron Man) of wood floors, Mike Alstad. He's been doing it at a high level for a long time! I want to learn where the consistency and longevity come from.
Jonathan Hartgraves
My father. He gave me my passion for building trades.
Greg McBroski
David Rasmussen and the A-Team.
Gregg Pierce
Jaime Espinoza
Kenny Williams
My uncle Bill.
Roc Beysd
Howard Brickman, of course.
Troy Stanfield
Cody Rhodes
Eric Herman or Greggles Ceglarski.
Travis Fritzel
Jason Duron
Ramiro Hernandez.
Terry Brown
Lewis Bosco.
Kristopher Jeter
I'm going with Jim Fitzgerald.
Jimmy Salisbury
Matt Garcia!!
Chris Brennan
Robert Chacon.
Ron Begg Jr.
Nate Mclemore.
Justin Hiers
Sprigg Singleton Lynn, Leonard A. Hall, Joshua Crossman, Daniel Antes, Fino Oficio, just to name a few.
Jorge Perez
The crew at #woodfloorbusiness it be a dream to be on the inside and have access to a wealth of knowledge.
Ken Ballin
Jon Namba, no doubt.
John Prater
Nels Ingebrigtsen. It's been way too long.
Ed Reneau
One more time with my dad. Period full stop. That man taught me so much.
Victoria Andres
Jose Zuniga.
dawsonhardwoodfloors
@ouradadesigns.
ovi_treadline_hardwood
I'd love to do a floor with my father again. Pretty sure he's still watching every cut I make.
proelitefloors
@toddshardwoodflooring.
floorsbytheshore
I'd like to hang with my instabuddy, @daytonhardwoodco.
cashpyle_loba_wakol
Grandpa.
clintfudge.floorsander
There's several I'd love to spend a day or two working with... but, we'd get nothing done. I talk and muck around waaay too much to get any serious work done 🤣.
adams_hardwood_floors_
My dad and my uncle. 🙏
floormasterco
@floorsbytheshore @daytonhardwoodco @sprigglynn @ouradadesigns @kissmyhardwood I would really like to meet you guys 👊👊👊👊👊
jeff_loba.wakol
Ash Stuart Smith.
thompsonfloorsnw
@nickofferman.
j.l.vivash
All time: Eugene Klotz!
Living: John Yarema.
ewfreeland0815
@middletennesseelumber 👍
thatchrisvelazquez
Loba's Joe Dalgren.
amishwoodfloors
Birger Juell. The first hardwood icon I've heard of when I got into the biz and had the pleasure of meeting.. Luckily, he was in Chicago.
elite_ltd
Brian Maize.
troy.abbott.182
Avedis Duvenjian, Archetypal, NY, and Vartan Arutyunian.
hle.flooring
brownswoodflooringsc
girlwithpowertoolsss
@missmyhardwood with this woman! Her work is amazing!
unconcerned559
elevated_flooring_nv
Those Pure Hardwood peeps. @kissmyhardwood @missmyhardwood.
weloveparquet
@victorparkett is my hero in parquetry flooring. @picassosflooringdesigner for the floorboard installation work and the wood staining.