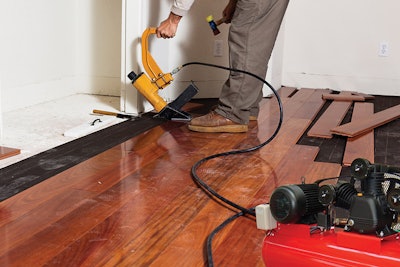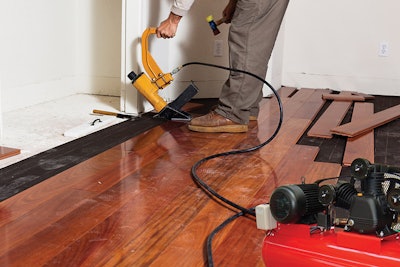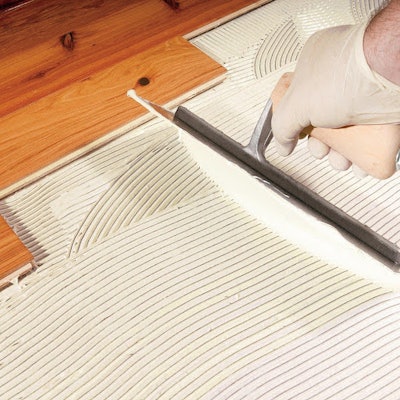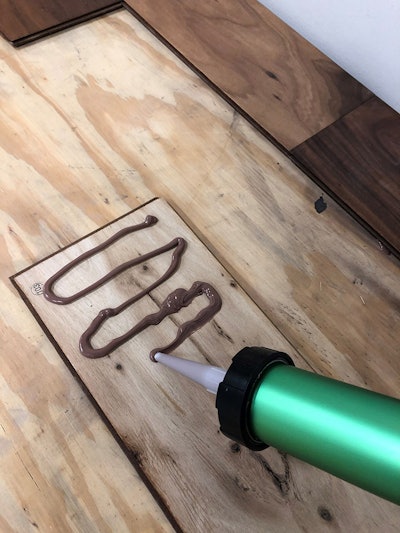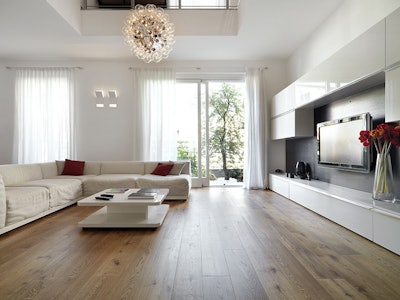 Glue-down installation of hardwood flooring can be successful on a wide variety of substrates, and one application that's becoming more common is using adhesive in tandem with fasteners on nail-down projects.
In particular, "glue-assist" for wide plank flooring is very common in today's market. Long, wide-plank flooring can behave differently than narrow 2¼-inch material. Strip flooring is much less prone to twisting and warping than the wide planks often used today, and some flooring, particularly some engineered flooring, now has very small tongue-and-groove profiles. Relying on fasteners on one side of a wide plank and just the groove on the other may not be enough to keep a plank with some warping in place, and glue-assist is an excellent solution to remedy such concern.
Typically when glue-assist is used, the installer doesn't use a full spread of adhesive. Rather, adhesive is spread on the floor or on the back of the board in an S pattern or in lineal lines. If there are boards that are a particular concern, additional weight can be added on top of the board while the adhesive cures.
Because glue-assist isn't a full spread of adhesive, it's relatively easy to deal with the adhesive; you only need the cartridge or sausage as opposed to a full bucket of glue. That also helps prevent potential waste that can happen when using only a partial bucket of glue—there's no worrying about not getting the lid on tight and having the leftover adhesive skin over.
When doing glue-assist, it's important to use an adhesive formulated specifically for wood flooring. Wood flooring adhesives are elastomeric, so they expand and contract with wood flooring throughout its lifetime. One type of adhesive becoming increasingly popular for glue-assist installations is MS-polymer. Not only are these adhesives easier to gun than a traditional urethane adhesive, they are also easier to clean up.
It should also be mentioned that MS polymers have been formulated to meet today's "need for speed." They typically will cure in 12 to 24 hours (depending on conditions, of course). Since glue-assist installations also have fasteners, people can walk on the flooring right away, and furniture can also be moved in more quickly.
One additional note: When doing glue-assist installations, use the adhesive consistently on every board—don't selectively use it only here and there on boards you think might need additional help. You don't want some areas of the floor to be more free to move while others aren't.
In construction, using the best of mechanical and chemical fixing together is proven to create the best long-term durability, whether it's a floor joist or a wide-plank wood floor. If you have any questions, be sure to contact your adhesive manufacturer.