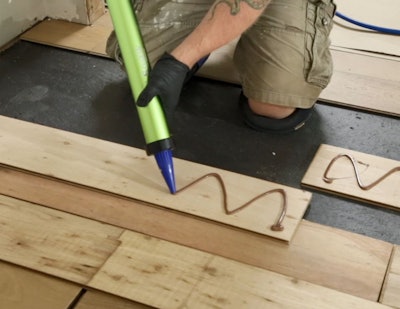 Bostik
Someone told me I shouldn't use Liquid Nails when gluing any wood flooring, even just for final rows or stair treads. Why does it matter?
Jake Stadler, market manager—hardwood and soft flooring systems for the North American Consumer & Construction Business Unit at Wauwatosa, Wis.-based Bostik, answers:
Using a general construction adhesive (like Liquid Nails or Gorilla Glue) to install hardwood flooring or stair treads can seem like an enticing solution; these products tout heavy-duty bonds, and multiple material compatibility, and they are carried by most installers on a daily basis. While construction adhesives are great products, they are not the best for installation of hardwood flooring or tread caps. We all know that wood floors expand and contract based on seasonal and even, to some degree, daily temperature and humidity changes. Construction adhesive's inability to move with the wood flooring can result in cracking or splitting of the wood flooring, as well as the possibility of the adhesive bond breaking, potentially causing hollow spots and loose boards—and the noise associated with loose flooring. Adhesives made specifically for wood flooring provide great bonding of the flooring to the subfloor while remaining elastomeric and flexible after full cure. This allows the adhesive to move with the flooring as temperature and humidity change.
Log in to view the full article