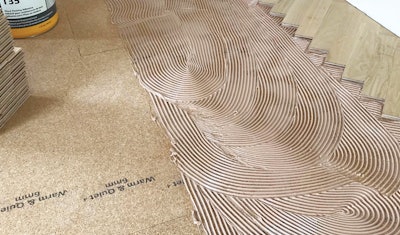 Now more than ever, there's a daunting variety of products to choose from related to moisture mitigation, underlayments, patching, skimming and wood floor bonding when you are doing a glue-down wood flooring installation. Figuring out which products to use can be confusing. Here are some factors to consider:
Moisture protection: A glue-down wood flooring installation begins with measuring the moisture of the subfloor, where moisture vapor emissions can pose a threat. Destructive moisture effects could appear at the time of the installation or months or years later, so it's critical to establish the right foundation early by protecting the wood flooring from potential moisture. Traditional countermeasures have included epoxy moisture barriers or plastic sheeting that is usually semi-permeable. Newer products include two-part epoxy and single-component polyurethane resin moisture barriers, which are engineered to provide moisture protection in addition to substrate consolidation and adhesion promotion; these products are fast-curing (in as little as one to three hours).
Flattening the subfloor: The industry specifications for a glue-down job require that the subfloor be flattened to within 3/16 inch in 10 feet or ⅛ inch in a 6-foot radius. This often entails removing high spots by mechanical means and filling low spots with cement-based patch mixes. Newer options include cementitious self-leveling underlayments that are rapid-setting (with cure times as fast as 90 minutes) but also durable and capable of handling unlimited moisture.
Log in to view the full article