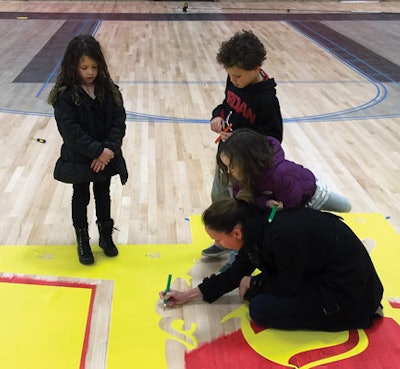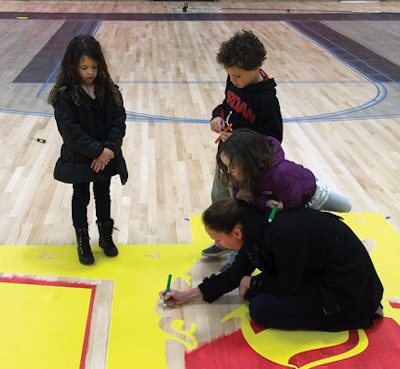 Marcus Packard, athletics division project manager for Schmidt Flooring in Waukesha, Wis., hid something powerful under the gym floor paint at Shorewood High School in April—a tribute.
Mark Harris, an administrator at the high school and intermediate school, had passed away unexpectedly from bronchial asthma 18 months prior, leaving behind his wife, Erin, three young children and a shocked community. Packard knew one of Harris' closest friends, and he felt compelled to do something.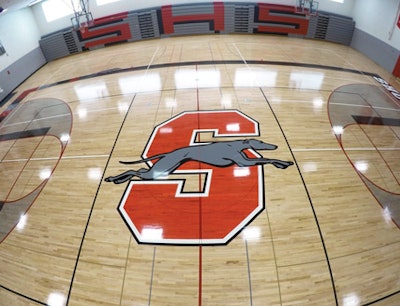 When Schmidt was hired to resand the high school floor, Packard asked Erin if her kids wanted to leave a message to their dad on the court's greyhound logo before it was painted. They were thrilled.
After the floor was sanded, stained and the lines laid out, Packard gave Harris' children carpenter pencils: Cooper wrote his dad's name and the No. 33 (Harris' jersey number when he played for Marquette University), Lucia drew her dad and herself on a log ride at the Mall of America, and Ceecee, with some help from mom, drew Harris holding a No. 33 banner. Erin printed a poem.
Then the Schmidt team finished painting and sealed the court. For Packard, no other project has reached the emotional level as these hidden memorials.
"Seeing the kids, their interactions, their demeanor, it meant something to them," Packard says. "That was what I was looking for."
A fund has been started for Harris' children. Donations can be sent to the Mark Harris Family Fund, Chase Bank, 111 E. Wisconsin Ave., 2nd Floor, Milwaukee, WI 53202.