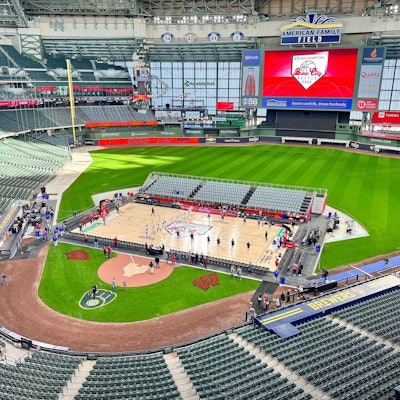 Praters Flooring Instagram
Praters Flooring has a knack for bringing basketball court designs to new levels, but this weekend the company brought the courts themselves to some unexpected places—including a baseball stadium and a Nimitz-class aircraft carrier.
As part of "Brew City Battle"—a men's and women's college basketball event held Nov. 11—Praters installed a portable basketball court in American Family Field, the home of the Milwaukee Brewers baseball team. "We are honored to provide our portable court for a first-of-its-kind basketball game," Praters said in a post on Instagram. A time-lapse video of the unique installation can be found here.
Baseball Diamond 🔜 Basketball Court 👀

The "Brew City Battle" is Friday at American Family Field! https://t.co/YlR1tSyKr5 pic.twitter.com/uYkwbHKrME

— Wisconsin Basketball (@BadgerMBB) November 9, 2022
That same day, Nov. 11, another Praters' hardwood floor was being played on in an unexpected location—this time over the water. As part of the 2022 Armed Forces Classic, Praters provided a
basketball court on the flight deck
of Nimitz-class aircraft carrier USS Abraham Lincoln at Naval Base Coronado.
Both courts drew national attention. But for Praters, it's all in a day's work.