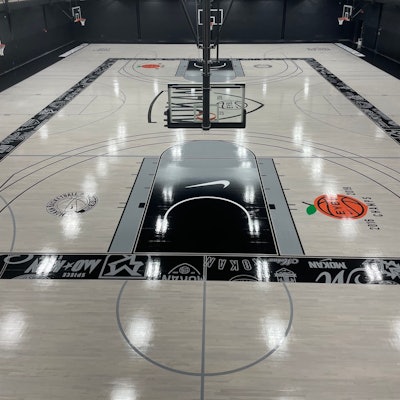 With the amount of acclaimed basketball courts Luis Perez has done across the country, the pro could likely net just about any project he wants. But lately, he's focusing on ones that mean something beyond the hardwood. "I'm trying to do a lot more passion projects," Perez says. "Something that's more than just a floor for me."
So when the opportunity arose to refinish this 15,000-square-foot gymnasium with a fresh design for MOKAN, an elite Nike-sponsored youth basketball program, Perez jumped at it.
"They find and recruit some of the greatest, most talented kids," says Perez, who runs Cincinnati-based Hero Flooring LLC. "These kids wouldn't have the opportunity if it wasn't for MOKAN."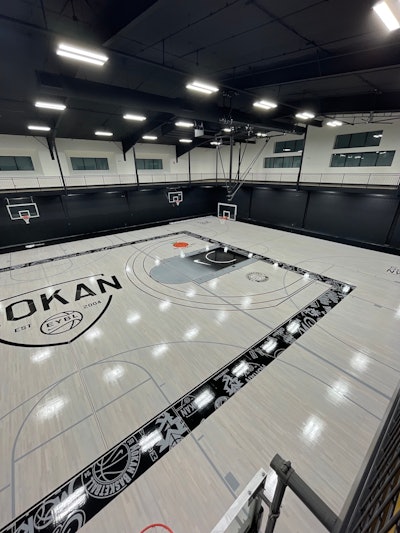 After sanding the court, Perez began the color-sampling process for the floor, which was designed by Ryan Parker of Dallas-based FreeKey Three. "We sat there for a whole day choosing colors, trying to make the right tone," Perez says of creating the court's "ice gray" stain.
He then began applying the white-and-gray-tinted finish, a process that posed its own technical challenges. "The hardest part is keeping the coating consistent over such a large space," Perez says. "You take it a little half-step slower, just to make sure you're not puddling up … It's kind of a one-shot-go thing."
When the third coat of finish was down, Perez abraded and began painting the court's ambitious "tattoo" borders, center and keys. "There were well over 50 logos on that border," says Perez. "And that center logo was blown out about 30 feet wide."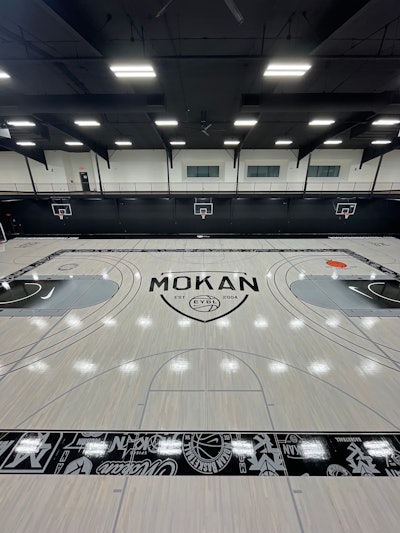 The gradient key lanes were achieved with a paint sprayer. "You just start from one end and kind of grade from side to side, out to where your arm doesn't reach any longer, then just repeat that," Perez says. "It's a layering effect, and it takes a lot of time."
With some starting and stopping in between, the entire project, which included striping three side courts and one main court, took about four weeks to complete. "It was a very hard project and tested every facet of my skills and creativity just getting it done," Perez says. But the best part for Perez was seeing the young players experience the new court for the first time and chatting with them about his craft.
"It's a lot deeper than just basketball," he says. "It was really important for me to be a part of something like that. It was an awesome experience."
SUPPLIERS:
Abrasives: Norton Abrasives | Buffer: American Sanders | Finish, Paint: Bona US | Masking: Simon Signs