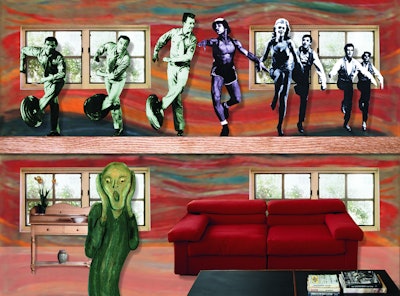 There was a time not that long ago when wood and other hard-surface flooring materials were prohibited in some condominiums and apartment complexes. People were not about to pay good money to live there, only to have their neighbors' footsteps echo like a tap dance from the floor above.
At the same time, people who could afford to live in high-end condos and apartments wanted upscale interior finishes — including hardwood floors. Clearly, a compromise that would shield downstairs neighbors from the noise was in order.
In truth, sound-reduction systems have been used in South Florida, Los Angeles, New York City and other metropolitan areas for many years — sometimes demanded by building codes, more often by condo and co-op boards. But, as wood flooring has found its way into more multilevel residential and commercial locations, new solutions have evolved to solve the sound-transmission problem.
Solutions
One of the oldest — and most complex — solutions involves installing sleepers in a bed of mastic, with sound-absorbent material installed in the spaces between the sleepers. The wood flooring is then installed over the sleepers.
Simpler solutions include rolls or sheets of foam, cork or other sound-absorbent material installed between the wood floor and the subfloor. In installations over concrete slabs, the sound-absorbent material is often installed above the slab, with a layer of plywood above the material, followed bythe finished floor.
Janos Spitzer of Janos Spitzer Flooring Co. inNew York City, who's been doing high-end residential work for about 15 years, borrows something from the 20 previous years he spent installing gymnasium and dance floors. In those installations, resilience — not sound control — is the main concern, but the same methods seem to work.
"We've never had a problem with the condo or co-op boards with our system," says Spitzer. "It seems to satisfy their needs."
Spitzer attaches 3/8-inch rubber pads (the kind often used in gym floor installations) to the bottom of a layer of 1/2- or 3/4-inch plywood, which is then loose-laid over the concrete slab. A second layer of 1/2- or3/4-inch plywood is then laid over the first layer — at a right angle — then glued to and screwed into the first layer. The wood floor is nailed into the plywood subfloor.
Spitzer prefers to put down the thickest subfloor he can — "the more mass you have, the better it will absorb sound" — but notes that aesthetic concerns often dictate a thinner subfloor. "People don't want to give up alot of vertical space," he says.
A sound-reduction system like the one Spitzer uses will typically add $3 to$4 per square foot to an installation —and even more if a lot of material is required to level the concrete slab. "To have this work right, the slab has to be as level as you can get it," he says.
A similar system utilizes a foam or cork pad, which is loose-laid over the subfloor. A double layer of plywood— glued and screwed together at right angles — is then laid over the pad, and the wood floor is nailed into the plywood. To maximize the sound absorption qualities of the system, no metal fastener should penetrate the foam or cork pad, so the fastener should be set to penetrate no farther than the depth of the plywood.
A common and relatively simple foam or cork pad system can be used for either glue-down or floating floors. For a glue-down floor, the pad should be glued to the subfloor, with the wood flooring glued to the pad. In many cases, the same adhesive can be used for both. Some adhesives also have good sound-absorption qualities, so the combination of adhesive and foam or cork can provide fairly significant noise reduction. Fora floating-floor system, the underlayment pad — foam or cork — is loose laid over the subfloor, and the wood flooring is floated above that.
Some underlayment manufacturersalso recommend installation of a"perimeter isolation strip" at thewalls. The isolation strip is designedto prevent impact sounds on the floorfrom being transferred to the wall andinto other rooms.
The cost of these systems can vary,depending on the level of sound-absorption required and on labor costsin different regions. However, most will fall within a range of $1.50 to $3per square foot, installed.
Requirements
In many locales, flooring contractors should be aware that sound-absorption is not merely a nice add-on, but rather a requirement. In California, for example, floors in multilevel buildings are required to meet Impact Insulation Class (IIC) and Sound Transmission Class (STC) codes, with a rating of at least 50. IIC codes refer tothe sound transmitted by impact on the floor — footsteps, for example. STC codes refer to airborne sounds,such as voices. Condo associations may set even higher rating requirements. In fact, says Ann Wicander, president of WE Cork Enterprises,"condo associations in most metropolitan areas are really the strongest force dictating ratings."
Bob Galgano, director of sales and marketing for Badger Cork, notes that code requirements are more common in western states, while condo associations hold sway in Chicago and Florida.
Sound-reduction has long been a fact of life in places like Miami, NewYork and Los Angeles, according to Eric Buchanan, director of customer service for Natural Cork, "but we're seeing it develop in places you wouldn't necessarily expect — like smaller cities in the Midwest."
There may be many installation solutions that will provide adequate sound-absorption, but building codes or condo association requirements may dictate that flooring contractors provide documentation that the installation meets code. Manufacturers of products specifically designed for flooring underlayment will typically provide that documentation. For example, a contractor who purchases cork that isn't designed for flooring underlayment may not get the sound absorption he needs — and he certainly won't get the documentation a condo association might demand.
Beyond the demands of building codes and condo boards, flooring contractors might also find that more one family homes are looking for sound absorption qualities in their floors. If a contractor knows how to provide that sound-absorption, he may find that second-story wood floors are a more attractive option for his customers. And that should remove yet one more place sometimes thought to be off-limits to wood flooring.