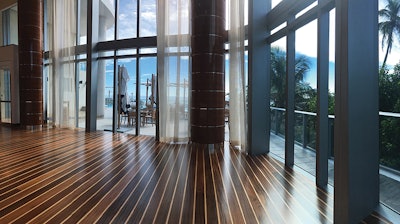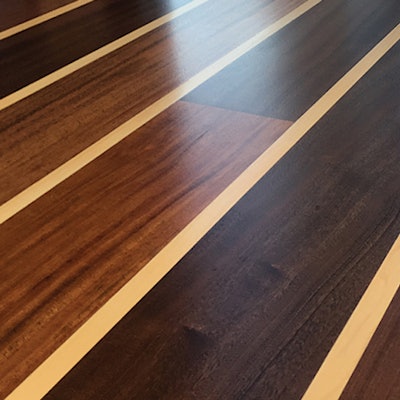 The designers of this high-end condo building in Miami wanted the lobby's wood floor to immediately transport the residents to the luxurious feeling of being on a yacht. That was no problem for Fernando Avila, owner of Natural Wood Floor Studio. He'd installed "yacht" flooring on his own small flybridge boat, so he spec'd the same design but doubled the board width and height to resonate with the expansive 3,500-square-foot lobby.
He chose 6-inch-wide Burmese teak with 1-inch-wide strips of African holly; both species are used on boats because they can withstand sun and seawater. The lobby is surrounded by floor-to-ceiling windows and is right off the beach, and Avila angled the floor to point to the waterfront, pulling attention toward the ocean like the bow of a ship.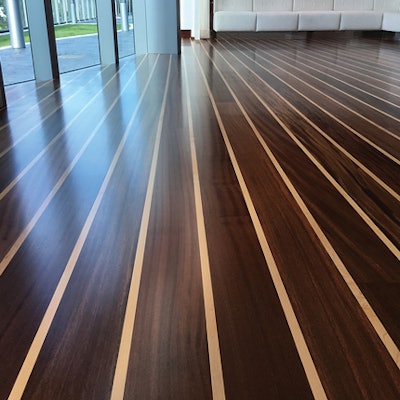 First the concrete was flattened and a moisture barrier was applied. The flooring was nailed and glued using Bostik's Best on top of two 3/8-inch layers of floating plywood. Avila used Bona Traffic to finish the floor, choosing satin for its ability to hide wear for a busy commercial space.
The designers love the final product, and that's Avila's benchmark for a job well done. It isn't just about putting down a wood floor, Avila says. "You need to look at illumination, where the floor is going to be, what the designer is thinking about. You have to have great communication with the designer and architect. Installing is the easy part, the more difficult part is achieving the concept."