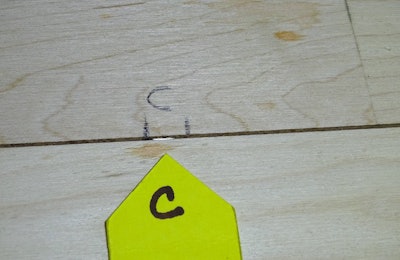 I was called to do an inspection in the middle of the sanding process of a newly installed wood floor. The client was concerned that they could see the flooring fasteners between the planks and stopped the floor sanding process.
The inspection revealed that the flooring fastener was a ½-inch crown 15-gauge staple. The flooring fastener appeared to be nearly at the surface of the wood floor. Using a 1/64-inch steel rule, the distance from the top of the floor to the top of the tongue measured 8/32 inch. From the top of the floor to the top of the flooring fastener measured 4/32 inch. The National Wood Flooring Association states minimum wear layer for refinishing is 3/32 inch. This typically is for stability of the groove side of the plank for breakage either from seasonal change or usage (light deflection). In this case the flooring fasteners were consistently ⅛ inch higher than the tongue instead of being flush with the nail pocket. It is the flooring installer's responsibility to check and make sure the flooring fastener is properly seated when setting up compressor air pressure. In this case, with the flooring fastener ⅛ inch above the height of the tongue, the life expectancy of this new wood floor has been compromised by 50 percent. 
With wider plank flooring today, installers are doing full-spread adhesive and nail-assist or nail-down with glue-assist. In either case it is not uncommon for the adhesive to become built up on the bottom of the nailer shoe. What this does is change the position and/or height when the fastener is inserted into the flooring, diminishing the life expectancy of the wood floor.
Unfortunately, in this case the wood floor was installed prior to cabinets, and the client does not want to live with a compromised wood floor and wants it replaced. With the cabinetry installed on top of the wood floor, replacing the floor will now involve removal and re-installation of the cabinets and granite countertops. In many cases doing this will result damage to the cabinets and granite and may require replacement. It is not uncommon for the associated costs to range from four to eight times the original cost of the hardwood flooring. 
The best advice I can give installers is this: Slow down. Take a few minutes to ensure all standards are met before proceeding with the installation. Otherwise you may be involved in a claim like this and could be held responsible for associated costs—your insurance may not cover it. A few extra minutes could protect your livelihood.