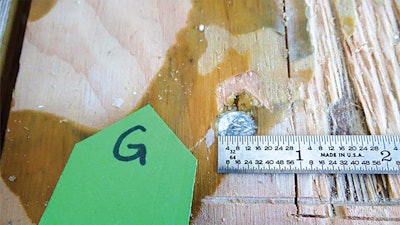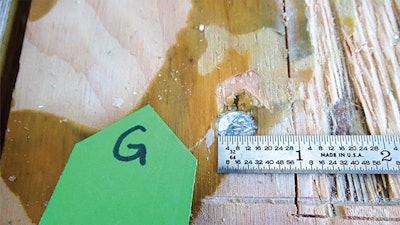 The Homeowners' Issue
Soon after purchasing their condo, the homeowners decided to add wood flooring. Afterwards, the neighbors below filed a grievance with the homeowner association for audible noise when the wood flooring was walked on. Sound testing was completed by an acoustician, who found the Apparent Impact Insulation Class rating was 53. The HOA required a minimum AIIC of 60. The homeowner contacted both the builder and flooring contractor about the problem.
Roy: The Inspector's Observations
I was retained by the builder's insurance company to identify where the noise was coming from. On site, a carpenter removed the baseboard and shoe molding, and I saw the expansion gap failed in two ways: the gaps were too small, and there was no acoustical foam and sealant, which were required by the HOA bylaws. In some areas the flooring was touching door casings, which causes sound to travel through other building materials (this is the reason HOAs often require acoustical foam and sealant between the flooring and all vertical surfaces). Removal of the wood floor also revealed the plywood subfloor was mechanically fastened to the concrete, failing to comply with the HOA requirement to float the plywood over the acoustical membrane. The audible noise from walking was transferred through the mechanical fasteners and into the concrete. I concluded the flooring contractor failed to follow the HOA building requirements.
Blake: The Attorney's Analysis
Clearly, changes need to be made so the condo unit complies, but the question will be who must pay for that work. The answer depends on the contractor's agreement with the customer. The HOA guidelines are not laws or codes, and are likely not even in the recorded title documents for the property. So if the contractor's work complied with all normal industry practices and applicable building codes, it is technically the homeowner who must comply with the HOA rules. If the contract is silent on this issue, then the customer can argue that the contractor was negligent in failing to check what was required. However, when I draft a contract, I usually add language stating the customer is responsible to provide the contractor with any special rules or restrictions that apply to the work. With that said, the contractor knew he was working in a condo unit and should have inquired about any special requirements. Absent language in the contract shifting responsibility to the customer for determining the rules and informing the contractor, the contractor made a costly mistake.
---
RELATED: The Lowdown on Wood Flooring Underlayments
---