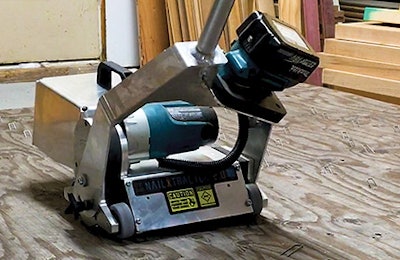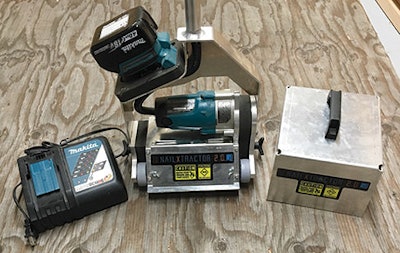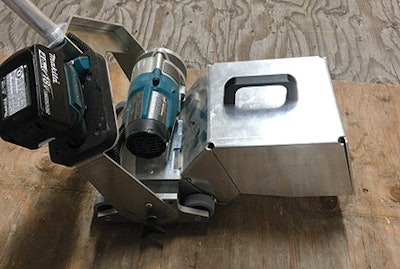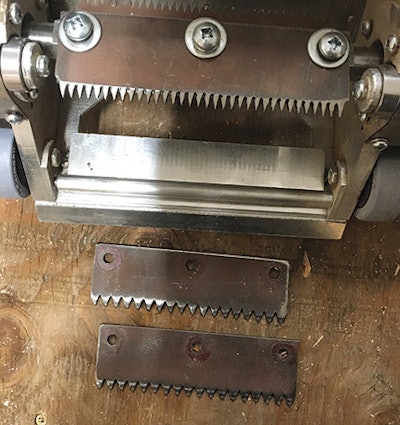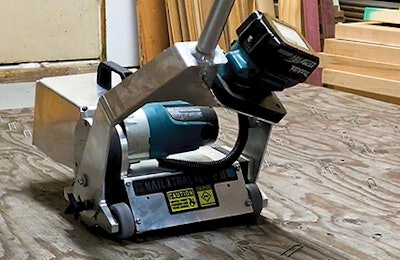 Nate Sitz of Park Rapids Hardwood Flooring in Park Rapids, Minn., tried the Nailxtractor 2.0 HD Deluxe.

Demo is no fun, so when I saw some other pros talking about the Nailxtractor 2.0 HD, which the manufacturer says is a cordless roofing nail and hardwood floor staple remover, I was interested in trying it. The device is pretty simple: you put on the nail catcher, install the 18-volt Makita battery, adjust the handle angle so it's at a comfortable height, then push the device back and forth like a vacuum cleaner. It has a head that spins like a vacuum, except it has teeth on it that grab the staples that are sticking up and are supposed to throw them into the nail catcher box. The motor is also a Makita, so if there were any issues like needing new brushes, it would be easy to get replacement parts.
I had told the manufacturer I wanted to try the tool on underlayment and carpet staples, which it's not designed for, so they had also sent a different set of blades with more teeth. I tried both sets of blades on ¼-inch-crown underlayment staples and carpet pad staples, and instead of pulling most of them, it mangled them. When I tried the blades it's supposed to come with on the wood flooring 15-gauge staples, it probably pulled 70 percent of them and broke the rest, leaving one or both legs in the plywood. I had set up a test where I removed staples using this tool versus a demo bar, and I thought the demo bar was actually faster than the standard blades after I got done pulling the broken staples manually.
Out of curiosity, I decided to try the finer-toothed blades on the flooring staples, and I found it actually worked perfectly on them. To test it, I peppered a 4-by-4-foot plywood panel with three quarters of a magazine of staples from my old Bostitch floor stapler. Using the Nailxtractor, it probably took me 45 seconds to remove all the staples except for two broken legs (most of them came out of the front instead of going in the box that's supposed to catch them). Using that blade, it was definitely faster than pulling the staples with my demo bar.
I also tested it on L-shaped cleats (which it isn't designed for), and it pulled almost all of them. Most of them went in the nail catcher; I assume it would do even better with cleats with a T-shaped head. Then I tried it on ring-shank nails, because sometimes you see those with underlayment, and it grabbed them but ripped the heads off.
For someone like me—a one-man operation—it would take a few years to get your money back on this tool. But if I were doing more tear outs, the Nailxtractor is definitely something I would look into purchasing.
Price: $678 for Deluxe (includes battery, charger and nail catcher); $597 without nail catcher; $457 without battery, charger or nail catcher
See the Nailxtractor 2.0 HD Deluxe Staple Remover in action:
Watch the video of Nate Sitz discussing the Nailxtractor 2.0 HD Deluxe Staple Remover: