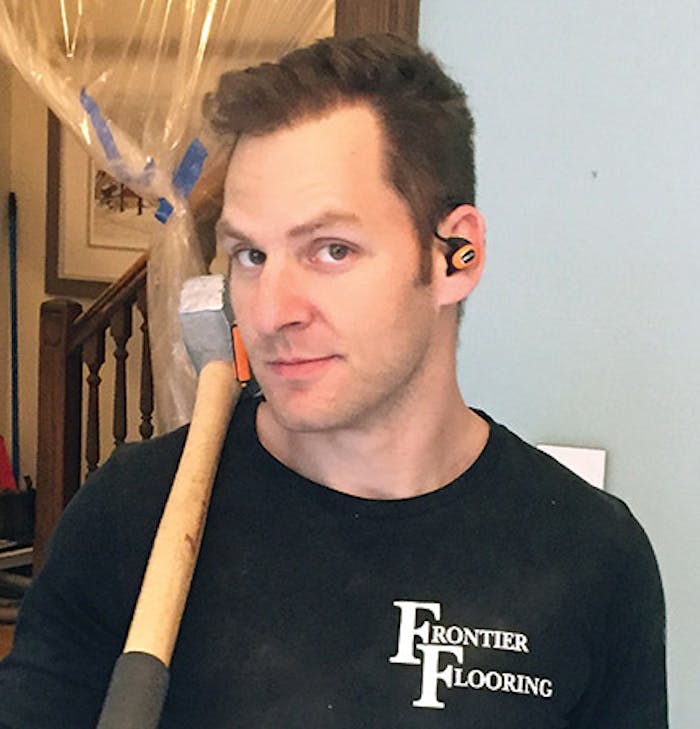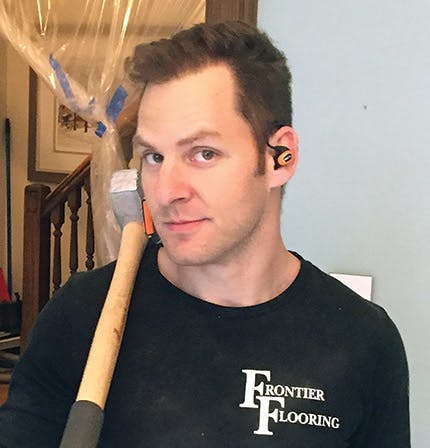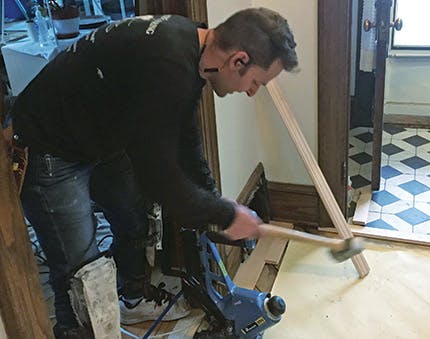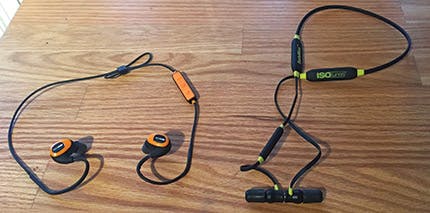 The ISOtunes earphones allow you to listen to music and take calls while using ear protection on the job. The Pro version (bottom photo) wraps around the top of the ear.
Cory Vanasse, owner/operator of Frontier Flooring Ottawa in Ottawa, Ont., tried the Bluetooth-enabled hearing protection earphones by ISOtunes.
My apprentice and I use hearing protection routinely on our wood flooring job sites, but we usually use ear muffs with built-in radios, so I was interested to try to the earphones from ISOtunes. We received both the ISOtunes Pro and Xtra versions. Both of them have an ANSI-certified Noise Reduction Rating of 27 dB and have a USB-rechargeable lithium-ion battery.
I tried the earphones in various situations, including installing and sanding wood flooring and installing ceramic. I also used them for walking my dog and mountain biking, figuring that if someone is buying these, it's likely they wouldn't just use them for work.
As far as reducing sound, they worked, but neither unit worked as well as our ear muffs. I found the quality of the music often sounded somewhat muffled, lacking bass and overall quality, even with high-quality MP3s, and the Pro unit had issues keeping a connection to my iPod via Bluetooth. Changing from one song to another requires holding the change button for about 3 seconds, which is fairly long wait if you just want to skip a few songs. You can use them for talking on the phone, although I found that the sound quality wasn't great and the mic didn't pick up my voice super well.
---
RELATED: Tool Review: Bosch's Palm Edge Cordless Router
---
The company says the Pro version has 10 hours of music playback and talk time, while the Xtra version has 8 hours. We found it wasn't that long but was close, which seems to be the norm for most devices.
The packaging was very good for both units; they both come with a hard case that contains additional ear buds: 4 sizes of foam earplugs and three sizes of rubber double-flange eartips.
My apprentice and I both think that although they aren't perfect, we will continue using these on the job (I'll be using the Xtra version that doesn't fall out of my ears). I wouldn't use them for just hearing protection, but I will use them when I want to listen to music. It's nice to not have to worry about batteries, and honestly, when I'm on a job site, I just want to protect my hearing and listen to some music—the sound quality doesn't have to be a 10 out of 10.
Retail: $89.99 for ISOtunes Pro, $79.99 for ISOtunes Xtra