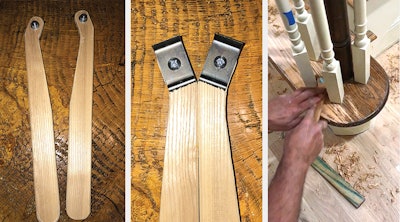 This issue's trick is from David Green of Nicholasville, Ky.-based Town & Country Hardwood Floors LLC.
I've been woodworking since I was 7 years old, but it wasn't until about two years ago that I got the idea to make these bent scrapers to get at hard-to-reach places when refinishing stairs. I never showed anyone until I made another set recently and posted them in a wood flooring Facebook group, and the post blew up. To make them, I select the vertical grain out of ash lumber and plane it down for a nice even surface. Then I cut long pieces on my table saw, use a router table with a dovetail bit so the blade tucks in, cut the angles on my scroll saw or band saw and then use a drill press for the blade fastener. I use jigs for everything, and they come out a little less than 1/2 inch thick and super strong (I say they're the Louisville Slugger of scrapers). (I'm now selling the scrapers for $20 each; go to www.facebook.com/DavidGreenWoodScrapers for more info.)
---
RELATED: Building a Stairway to ... a Niche for My Flooring Business
---

See a collection of previous job-site tips on our Pinterest Trick of the Trade board. Do you have a Trick of the Trade to share? Email it to WFB. If we use it, we'll send you a WFB T-shirt.