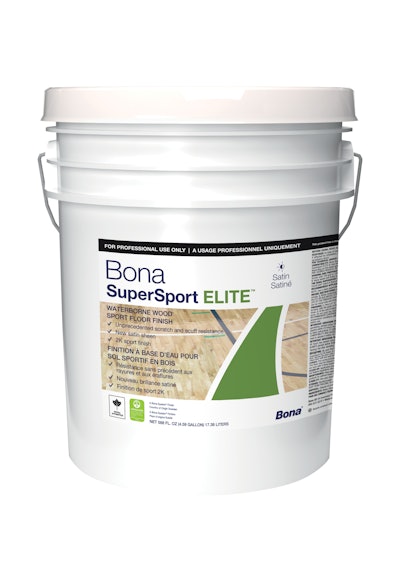 Englewood, Colo., April 20, 2023 — Bona US, a global, sustainably-driven company that supplies products for installing, renovating, maintaining, and restoring premium floors, is launching Bona SuperSport ELITE, the latest innovation in its full suite of sport floor products. This two-component waterborne urethane finish is specifically formulated for professional use on maple sport floors and the new technology of Bona SuperSport ELITE Satin Sheen helps minimize glare and reflections on the court surface.
"We are excited to introduce Bona SuperSport ELITE and, specifically, the new Satin Sheen which is unique to the market," said Bill Price, Director of Sport and Jan San Sales at Bona. "More sport floors are interested in a satin sheen surface not only because of the unique look but also to reduce light reflection on the floor surface. Bona SuperSport ELITE also provides unprecedented scratch and scuff resistance as well as exceptional sheen retention with its non-yellowing properties that remain clear and colorless."
Bona SuperSport ELITE is easy to maintain for lasting beauty with its superior durability compared to traditional waterborne finishes or solvent based systems. With low VOCs and a consistent look that lasts, this newly formulated finish is available in satin and gloss sheens. It also offers superior protection against wear and tear while simplifying daily cleaning practices – making it ideal for any high traffic area such as gymnasiums, fitness centers or sports arenas.
In addition, Bona SuperSport ELITE offers a sustainable solution for sport facilities with low VOCs and GREENGUARD Certification for indoor air quality. The product is also approved by Maple Flooring Manufacturers Association (MFMA) and is MFMA compliant.
For more information on Bona SuperSport ELITE, please visit Bona.com or contact your local distributor.
About Bona US
Bona is an innovative, environmentally conscious company dedicated to creating beautiful floors since 1919. Bona US, the North American subsidiary of BonaAB in Malmö, Sweden, manufactures and distributes floor care and home cleaning products. The first in the industry to offer a full system of waterborne hardwood floor finishing and floor care products certified for indoor air quality by GREENGUARD, Bona products can be found throughout the U.S. and Canada. From residue-free hardwood floor cleaners to a beautiful array of stains and high durability finishes, consumers, distributors and contractors trust Bona. For more information, please contact Bona US at (800) 872-5515 or www.bona.com.