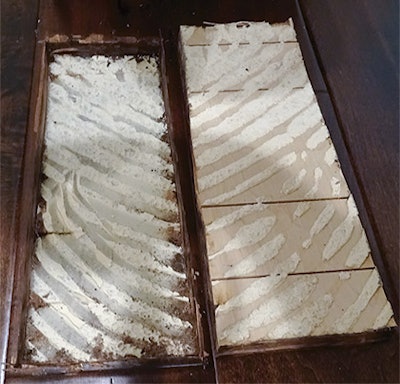 The Homeowner's Issue
The customer purchased a new home and installed 2,500 square feet of engineered prefinished wood floor. The home was slab on grade and butted up against a lake, so the retailer was concerned about ground moisture. Cupping occurred within two months and got progressively worse. The installer and retailer looked at the job and concluded it was a manufacturer defect. The retailer filed a claim with the manufacturer, and an inspection was scheduled.
---
RELATED: The 10 Contract Clauses Every Wood Floor Contractor Needs
---
Roy: The Inspector's Observations
Multiple areas were cupping, but the cupping appeared to have a pattern behind it. The first 4- or 5-foot section of flooring was fine, the second section was cupped, the third section was fine, and so forth. I contacted the installer about concrete moisture test results, but he said he did not test because he used a two-in-one adhesive system and the flooring had come wrapped in plastic from the mill. I performed destructive testing in the cupped areas. The moisture content was 9 percent on the face and 16 percent on the back of the flooring. I observed adhesive transfer of 80 or more percent, which would be satisfactory for a two-component sealer/adhesive system, but not for a moisture control system, which requires 100 percent transfer, per the manufacturer. I concluded the cupping was caused by moisture migration from the concrete due to the lack of complete coverage of the adhesive/moisture control system. This was confirmed by the flooring moisture imbalance. The unusual pattern of the cupping would have been consistent with the installer waiting too long to change his trowel and the slab wearing down the trowel's spacer edges; the recommendation for this product was to change the trowel every 210 square feet.
Blake: The Attorney's Analysis
In the flooring world, manufacturer warranties are given with generally this one condition: You must follow the manufacturer's guidelines. I took a moment to read the spec sheet for the adhesive that was used in the above example, which states:
Adhesive must transfer 100% to the wood floor… [I]nstructions, including acclimation of the wood flooring, must be strictly followed or the [MANUFACTURER] warranty will be void.
It also is explicit about spacer wear. I'm guessing the installer in this case has installed many floors over the years and simply went with his gut regarding what was needed. In this case, the installer was in error by not making sure that the adhesive received 100 percent transfer. It's a great reminder to always review the specs for all of the products you plan to use in the installation, rather than assuming what is required based on past experience.
---
RELATED: Contractor Gambles for a Trendy Look and Pays for Failure
---